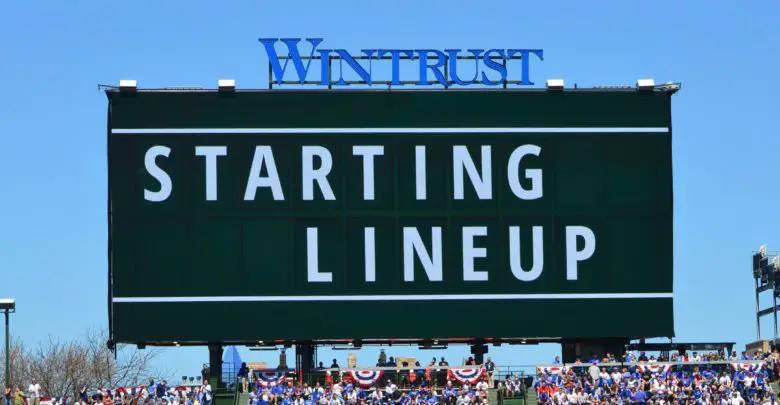 Chicago Cubs Lineup (7/26/20) – Chatwood Makes Start as Cubs Look For First Series Win of 2020
The Cubs were unable to keep the Brewers off the board Saturday afternoon in front of thousands of animated fans at Wrigley, once again scoring three runs but suffering a decidedly different fate. They just couldn't get anything going and the bullpen did what just about everyone feared it would. It's just one game, though, so that could all change again today.
Here is today's #Cubs lineup for the rubber game at Wrigley Field!#WhereStoriesPlay pic.twitter.com/Z5EuFpeiZK

— Chicago Cubs (@Cubs) July 26, 2020
It's a familiar lineup today, with David Ross sticking with what appears to be a standard look to start the season. Kris Bryant leads off, still looking for his first base hit of the season from the top spot in the order. Anthony Rizzo hits second, followed by Javier Báez, Kyle Schwarber, and Willson Contreras.
Batting sixth yet again today is Jason Heyward. He's gotten off to a slow start but Ross is sticking with him for now. Nico Hoerner bats seventh, followed by Victor Caratini at DH, and Ian Happ in centerfield.
Tyle Chatwood is on the mound for the Cubs as he looks to parlay an improved season out of the bullpen into a bigger role. It's never been a question of stuff with the hard-throwing righty, only whether and how he's able to control it. Never known for limiting walks, Chatwood's walked more batters than he struck out in 2018 and lost his starting job as a result.
His velocity ticked up last season and his performance likewise improved, hence the move back to the rotation, but he's still not a very efficient pitcher and probably can't be expected to breeze through a long start. That means leaning heavily on the bullpen once more, so have fun thinking about that. If there's a bright side, it's that CB Bucknor isn't behind the plate in this one.
The Brewers counter with 24-year-old Freddy Peralta, a fastball/curveball pitcher who worked mainly in relief last season. Even at just 5-foot-11 and 175 pounds, he's able to run the heater up there around 95 to set up the breaking ball. The velo numbers were likely impacted by his role last year, since he was only throwing around 91 when he worked primarily as a starter in 2018.
A lot of that could also be a matter of maturation and development, so it's hard to say definitively how Peralta will come out attacking the Cubs. Interestingly enough, his splits flipped dramatically from 2018 to last year as he went from dominating right-handed batters to shutting lefties down. Let's just cross our fingers and hope he doesn't figure things out like he did last year against the Cubs.
After giving up four earned runs on four hits and four walks over 2.2 innings in two appearances, Peralta struck out five of the seven Cubs he faced over two innings the third time out against them.
First pitch is set for 1:20pm CT on Marquee Sports Network and 670 The Score. It's also the Free Game of the Day on MLB.tv.