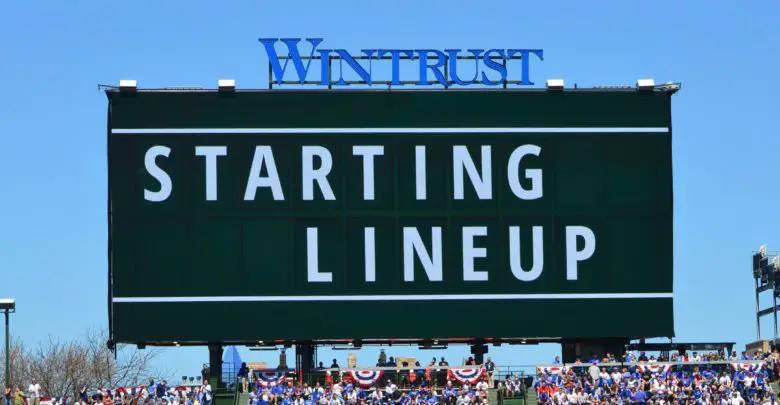 Chicago Cubs Lineup (7/27/20) – Jon Lester Makes Season Debut, Along with David Bote and Steven Souza, Jr.
The scored more than three runs Sunday, the first time they've done so on the young season, and even scored at least three in two separate innings. They may need more of that offense when they open their series in Cincinnati with the Reds, who are perfectly capable of hanging some crooked numbers of their own.
Jon Lester makes his season debut tonight! pic.twitter.com/0Xl3OhArHq

— Chicago Cubs (@Cubs) July 27, 2020
Not much has changed at the top of the lineup for tonight's matchup against the Reds. Kris Bryant leads off but he'll be playing left field instead of third. He's followed up by Anthony Rizzo and Javier Báez. Kyle Schwarber stays in the cleanup spot but he's in tonight's lineup as the DH.
Willson Contreras is catching and batting fifth followed by Stephen Souza, Jr., making his first appearance of the season for the Cubs. David Bote slots in at third base batting seventh, with Nico Hoerner and Albert Almora, Jr., rounding things out.
Jon Lester takes the mound for the first time this season as the somewhat surprising choice to pitch fourth in the rotation. The lefty got a little bit of a late start in summer camp, but looked excellent in his exhibition start against the Twins. He was dotting his pitches with that familiar painterly style, striking out four and giving up just one hit over 4.1 innings.
Even if he's on his game in this one, it's highly unlikely Lester pitches deep into the game. That means the Cubs are going to need an effort from the bullpen like they got Sunday rather than the previous game. The relief corps walked three and registered no strikeouts, but they also allowed no hits or runs over three innings to back Tyler Chatwood.
Despite what appears in the early going to be a much calmer hand on the rudder of the bullpen, David Ross is managing a largely untested group, and the learning curve may yet be steep. Having a couple of guys step up would really make the skipper's job easier. Speaking of which, we should get our first Craig Kimbrel sighting of the regular season here soon. Those who missed the exhibition games may not recognize him.
Ed. note: I was going to add "until he gives up a homer" to the previous line, but that kind of snark would be just a little too mean.
The Reds will send well-traveled lefty Wade Miley to the hill in this one in a matchup that hasn't fared well for the Cubs in the past. Most of that experience came during his time with the Diamondbacks at the beginning of his career, but he made two solid starts against the Cubs in September of 2018 when he was with the Brewers. Miley's 3.16 K/BB mark against the Cubs is his fifth-highest against any opponent and the .214 average he's allowed is his fifth-lowest.
The 33-year-old made significant changes to his repertoire during that 2018 season, drastically reducing his four- and two-seam usage in favor of a cutter that he throws for nearly half of his pitches. He also eliminated the slider almost completely — which may simply be a matter of classification, since cutters and sliders can be interchanged — and started throwing more changeups.
Miley's results weren't overwhelming by any stretch, but he's a perfectly decent starter who's going to induce a lot of grounders while avoiding a ton of hard contact. Like Lester, his game is more about trying to establish early strikes and then hanging out around the margins. Miley relies on pitcher's strikes for the most part, so the Cubs need to avoid doing him any favors and making him work for his outs.
First pitch from Great American Ball Park is set for 5:40pm CT on Marquee and 670 The Score.