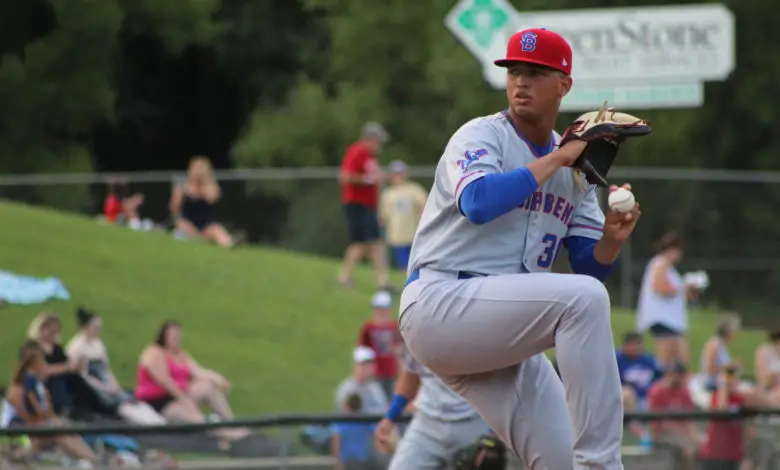 Baseball America's Latest Cubs Prospect List Features Several Recent Draft Picks, International Players
With no minor league season, you probably weren't anticipating a new prospect list from Baseball America ($) this summer. Not much has taken place since their last list in December, but the draft and free agency have shifted some positions on their top 30 Cubs prospects.
BA tabbed Brailyn Marquez as their top Cubs prospect last winter and he remains there on the strength of his triple digit fastball and nasty slider. Shortstop Nico Hoerner is still at number two, but his time as a prospect ends once he reaches 130 MLB at-bats. As of this post, he has 89 career ABs.
Top draft pick Ed Howard IV appears at No. 6, with BA praising his "polished" nature and his potential to be an above average hitter as he continues to grow. In addition to Howard, three other draft picks made the list. Reliever Burl Carraway came in at 12, pitcher Koen Moreno came in at 18, and the recently signed Jordan Nwogu came in at 19.
Right-handed starter Riley Thompson snuck in at the back end of the top 10. If you haven't listened to the most recent Growing Cubs podcast, it's worth your while to listen as Thompson details how he developed his changeup.
There were also several 2019 draft picks in the list, including Ryan Jensen, Ethan Hearn, Chris Clarke, and Michael McAvene. This is impressive considering that all four saw limited action last summer and virtually none this year. In fact, over 25 of the 30 players on this list have been acquired in the last three years.
The back end of the top 30 list is filled with mostly young international players, including both Chris and Rafael Morel — yes, they're brothers — along with Richard Gallardo and Ronnier Quintero. Also named were Yohendrick Pinango and catcher Brayan Altuve. Pinango tore up the DSL last summer with a 145 wRC+ and Altuve was the 30th ranked international free agent last summer.
All but five of the prospects on this list are 22 years old or younger, proving that the Cubs really are serious about rebuilding the farm system. While there's still talent among those who've been in the system longer, Thompson, Cory Abbott, Tyson Miller, Adbert Alzolay, and Justin Steele have quickly become the old men of the system. Now it's just a matter of following through on development and getting some of these guys to Chicago.