Tuesday Trends: Superb Starting Pitching, Powerful Offense Define Opening Portion of Cubs' Season
Can you believe the Cubs are one-sixth of the way through this season already? The first 10 games are hardly a blip on the radar in a timeline without a global pandemic, but they're a huge chunk of the short season. Luckily for the Cubs, they've avoided a repeat of last year's slow start en route to one of baseball's best records.
In this new weekly column, we'll be digging into some of the trend lines that are either emerging or continuing. Please strap it on with me as we check out some early Cubs storylines.
Trending up
Starting pitchers' success
Kyle Hendricks' complete-game shutout may have seemed like a singular superb effort, but it actually served as a meaningful tone-setter for this group. Every pitcher in the rotation including Hendricks, Yu Darvish, Tyler Chatwood, Jon Lester, and Alec Mills has had at least one outstanding performance.
Chatwood has stood out from the group, producing a 0.71 ERA in 12 innings on the strength of whiff and strikeout rates that are both around the 90th percentile of all pitchers. The veteran's trademark curveball, improved command, and increased cutter usage have combined are behind this early success. The highlight reel from his 11 strikeout win against Pittsburgh on Sunday is worth watching.
Ian Happ's playing time
Happ is a prototypical example of a guy who will do what is asked of him: Platooning, playing multiple positions, even a demotion to the minors. He's done all of these without complaining no matter how much some of it may bother him personally.
His hard work and flexibility have paid dividends to the tune of a 183 wRC+ so far. In the past calendar year, dating roughly back to his return to the big leagues, Happ is slashing .281/.335/.627 while playing solid defense. That's made it easy for David Ross to stick with Happ as the primary starter in center. We'll touch on the struggles of his competition for that spot later.
Happ becoming a guy would bode well for the team's continued hopes at success.
Cubs v i b e s
Is Manager David creating a fun atmosphere in his first year at the helm? I mean…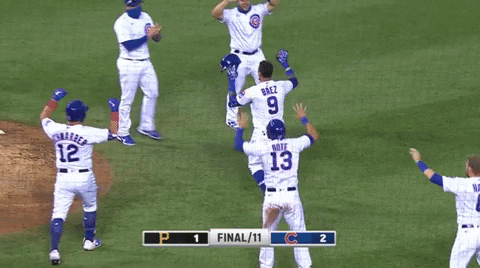 Holding steady
Anthony Rizzo's consistency
Annual back injury be damned, there's nothing that can slow down the Cubs' unofficial captain. Tony is doing Tony things, leading Cubs' hitters in fWAR, BB%, and, of course, HBP. Rizzo has provided the same level of consistency that we've come to expect from him since he first donned a Cubs uniform in 2012 and has been a key to the offense's success so far.
Trending down
The odds of playing a full 60-game season
Outbreaks of COVID-19 through both the Marlins and Cardinals organizations have wreaked havoc on the early part of the 2020 season for both those teams and their opponents. This could soon include the Cubs, who are scheduled to play in St. Louis this weekend.
The entire Twitter thread from The Athletic's Sahadev Sharma is worth reading, but the money quote from Jon Lester comes at the end. It's becoming harder to imagine the logistics of this season going forward if we continue to experience team-wide outbreaks as significant as those in Miami and St. Louis.
Lester contd: It sucks we're dealing w this, but it's the nature of the beast right now. If we're in STL on Friday, then we're in STL on Friday, we'll figure it out. We'll try to beat the Cardinals and move on to the next day. Right now, as of today, I don't see that happening.

— Sahadev Sharma (@sahadevsharma) August 3, 2020
Justification for Albert Almora Jr. taking more meaningful at-bats
It's not fun to keep talking about this, especially in regard to someone who is by all accounts a fantastic person, but it's getting more difficult to understand why Almora should ever be taking consequential at-bats. His 10th-inning strikeout with the winning run on third and less than two outs represented yet another failure in what should be his specialty: making contact against left-handed pitching.
If you can't count on him to succeed in those spots, the only ones where he's really counted on at this point, it's hard to spin him as anything more than a defensive replacement.
Craig Kimbrel's knuckle-curve
That Kimbrel has been a mess this season isn't news to anyone who's watched either of his two relief appearances. There's a ton to dissect with Kimbrel, but the most obvious struggle has been the future Hall of Famer's inability to command his once vaunted knuckle curveball. The image below is a map of the pitch's location so far this season.


The visuals make it obvious that he's not locating the pitch at all and the result is that not one has generated a swing and miss. Hitter are not even entertaining the idea of swinging at Kimbrel's breaking ball, choosing instead to simply sit fastball and either draw walks or hammer them. We saw the results of the latter approach in his Saturday appearance against Pittsburgh.
Ross has already declined a commitment to sticking with the veteran as his closer after Saturday's struggles, opting for Jeremy Jeffress and Rowan Wick late in games.
David Ross says he's "in the middle of conversations" with Craig Kimbrel and did not say if he would go back to him in the ninth in a save situation. #Cubs

— Russell Dorsey (@Russ_Dorsey1) August 1, 2020
That's all folks. With a 8-2 record following Monday evening's 2-0 win over Kansas City, the Cubs are looking ever better in a season that becomes more and more legitimate with every win.