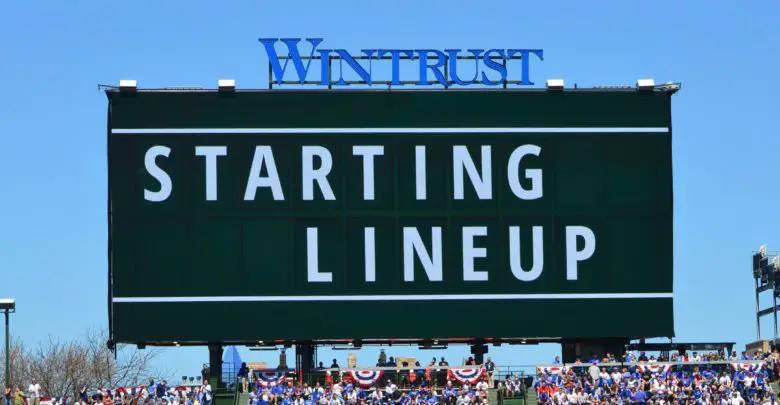 Chicago Cubs Lineup (9/8/20): Mills Hoping For Bounce-back Game Against Reds, Maybin Starts in Right, Bote at Second
The Cubs have been up and down over the last few weeks, alternating nauseating losses with easy wins as they stave off the erosion of their early division lead. They missed out on a chance to effectively bury the Cardinals this past weekend, but now they can try to do more of the same with three games against a Reds team that sits 5.5 games back.
It's a pretty familiar lineup being marched out tonight by Cubs' Manager, David Ross. Ian Happ leads off, Kris Bryant bats second, followed by Anthony Rizzo, Javier Baez, and Kyle Schwarber. Willson Contreras bats sixth, Jason Kipnis is next as DH, with David Bote and Cameron Maybin bringing up the back end of the lineup.
Every pitcher is going to make a few mistakes in a game, it's just a matter of limiting them or getting lucky and having opponents fail to exploit them. Alec Mills hasn't limited them or gotten lucky lately, as he's allowed seven homers in his last five starts and many of them have been big. His fastball location has been a trouble spot lately as he's caught a little too much of the plate at times.
He gave up three dingers in Cincy two starts ago, two of which led off innings. He's got to be sharper tonight, period.
Tyler Mahle looked like he was going to be in for a very short night when he last faced the Cubs as both Rizzo and Schwarber took him deep in the 1st inning for an early lead. But Mahle would allow no more hits in the game and struck 11 as his offense jumped on Kyle Hendricks for the eventual win. It goes without saying that the Cubs can't just let this guy dominate them again.
In order to avoid the same fate, they'll have to be ready for a heavy dosage of sliders. In that last outing, Mahle threw more sliders (44) at a higher percentage (41.5) than in any other appearance in his career. He also threw more to righties (25) and lefties (19) respectively than in any previous game. That tells me he had a very specific gameplan coming in and that the Cubs had zero clue about how to counter it.
Rizzo's dinger came on a first-pitch fastball and Schwarber hit hard stuff in a 2-2 count, but Mahle buckled down after that. He attacked aggressively with 76.6% first-pitch strikes, well above his usual mark, and got Cubs hitters in swing mode to generated 17% swinging strikes, several points above his career average. Hard contact doesn't hurt when hitters aren't making it in the first place.
Though there's no reason for Mahle to change his strategy in this one, you have to figure the Cubs are wise to it if some moron with a blog noticed it. That could mean going with a few more splitters or switching back to a more fastball-heavy approach. Or he could do the same things as the last time since the Cubs have shown time and again that they're willing to chase.
Mahle has walked at least two in each of his last five starts and has given up at least one homer in each of his last four, but he's limiting batters to a .183 average on a paltry .206 BABIP. Again, getting hit hard doesn't matter when you rarely get hit. Maybe the Cubs can mess up the run he's having by actually stringing some hits together and making him work.
First pitch is at 7:15pm CT on Marquee Sports Network and 670 The Score.
Here is tonight's #Cubs starting lineup against the Reds. pic.twitter.com/clX65pKG88

— Chicago Cubs (@Cubs) September 8, 2020