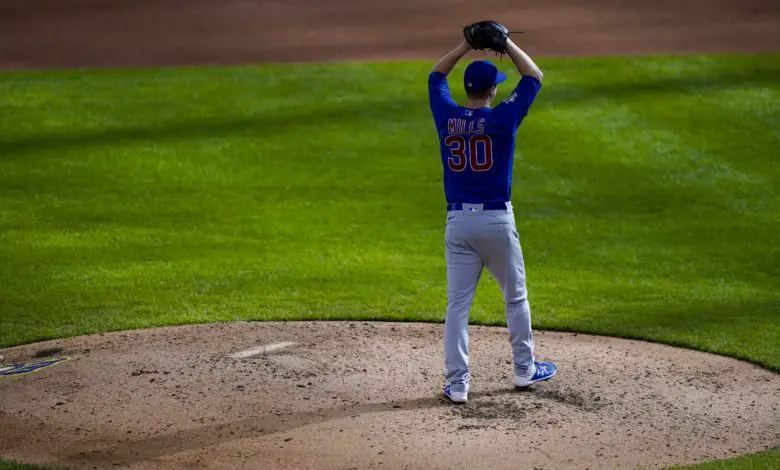 Even with Only 5 Whiffs, Alec Mills' Improbable No-Hitter Smelled Sweet to Everyone
Even as technology and hyper-specialization remove some of its mystery, baseball remains the most beautiful and magical sport because you can truly never predict what's going to happen. Like how a team losing 2-0 heading into the 9th inning and facing a pitcher who'd only given up two hits, neither to a left-handed batter and neither a homer, over 12.2 innings made good on just a 3.8% win probability. Then that team turned around and took part in one of the most improbable no-hitters in history.
The Cubs collected four consecutive hits against the usually dominant Josh Hader, two by left-handed batters and two that went over the wall, for a huge comeback win that instantly changed the doom-and-gloom narrative they'd authored to that point in the weekend. Then came the hitless effort from righty starter Alec Mills, a former walk-on on UT-Martin and probably the last pitcher on the roster anyone would have predicted to pick up the 16th no-no in Cubs franchise history.
After all, we're talking about a guy who rarely cracks 90 mph on the radar gun and had never recorded so much as a shutout in his professional career. He doesn't miss a lot of bats, either, so the probability of a ball sneaking through safely is higher than it would be for most pitchers.
Sure enough, Mills generated only five whiffs out of 114 pitches Sunday afternoon, tied with Dallas Braden's perfect game in 2010 for the fewest in a no-hitter since Stats, LLC started tracking such data in 1988. That comes to a 4.4% swinging-strike rate, his lowest of the season and any game of his career in which he'd pitched more than two innings.
So how was he able to keep the Brewers from at least lucking into a base knock without needing more than one or two great plays from his defense? Simple, he got ahead of his opponents early and hit his spots to earn 26 called strikes. That put Milwaukee batters in position to protect the plate, resulting in 21 foul balls and 21 more put in play for relatively routine outs.
Adding to the highly unlikely nature of the feat is that Mills wasn't really feeling his fastball out of the gate. He had to resort to using his curve, typically more of an auxiliary pitch that gives hitters a different look and keeps them honest, as a legit weapon. He threw the curve 23 times, the highest total of his career, with 13 of those coming in the first four innings.
"I think curveball was my pitch today to get ahead, early especially," Mills told Marquee's Taylor McGregor after the game. "This may sound weird, but it was kind of a struggle early to find my mechanics. Fastball command wasn't really there, and then I kind of figured something out and clicked in like the 4th inning and then I feel like I had fastball the rest of the night."
It's fitting that the final at-bat of the game against Jace Peterson saw Mills go four-seam, curve, change, four-seam, sinker to get a grounder after confounding the Brewers all afternoon with his pitch sequencing. The play was made by Javy Báez, who was obviously well aware of the moment and unleashed a yell as he cut loose the throw to Rizzo for the final out of the game.
"I just wanted the ball hit to me," Báez told reporters. "It's unbelievable. This is something that we're going to be part of for life. This is something like a championship kind of thing. No one can take it away from you. So I'm really, really happy that I was part of it."
Javy wasn't the only one who was stoked to be there for the historic outing, and it's not just because of the gravity of the situation. That plays a big role, yes, but Mills is easily one of the most beloved players in the league by current and former teammates, broadcasters, and staff. With the Cubs leading 9-0 in the 6th inning, David Ross was looking to pull some of his regulars for a little additional rest. Jason Heyward declined, knowing that his defense could play a role in helping his teammate achieve a dream.
"That means a lot," an emotional Mills said when told about his teammate's refusal to sit. "Jason has been big. He was the guy when I came over was the first guy to come up and introduce himself. That means a lot. That kind of hit me. That means a lot."
The requisite congratulations poured in via all the standard social media platforms, but there seemed to be something more…I don't know, genuine about the sentiments expressed. While that could just be recency bias or me wanting to produce a story that's really not there, it doesn't feel that way. Mills is one of those guys everyone roots for, whether it's the knowledge of his journey or just because he's truly a good dude.
Last thing on @ATMills37. Spent most of 2018 and 2019 with the @IowaCubs. Volunteered to be team representative for all community appearances we had. Every single one. You root for a guy like that to have success. He just threw a no-hitter. Good things to happen to good people.

— Alex Cohen (@voiceofcohen) September 13, 2020
Maybe it's also because people realize subconsciously that they might never see something like this again. Mills was selected in the 22nd round of the 2012 draft as the 673rd overall pick, but he might not have been chosen at all had he been born just a few years later. The changes to Minor League Baseball being forced by MLB and accelerated by the pandemic's financial crunch have already shortened the draft temporarily and threaten to do so on a more permanent basis.
A pitcher like Mills who doesn't throw hard or miss bats, has funky mechanics highlighted by an awkward-looking closed landing, and who underwent elbow reconstruction early in his career might not be seen as a worthwhile investment in baseball's current environment. Good thing he's too busy proving himself as a staple in the Cubs rotation to worry about all the things he wasn't suppose to be able to accomplish.
"I'm just proud to be that person that can tell you to never give up," Mills said. "Never stop playing. Never let people tell you what you can and can't do and just keep persevering."