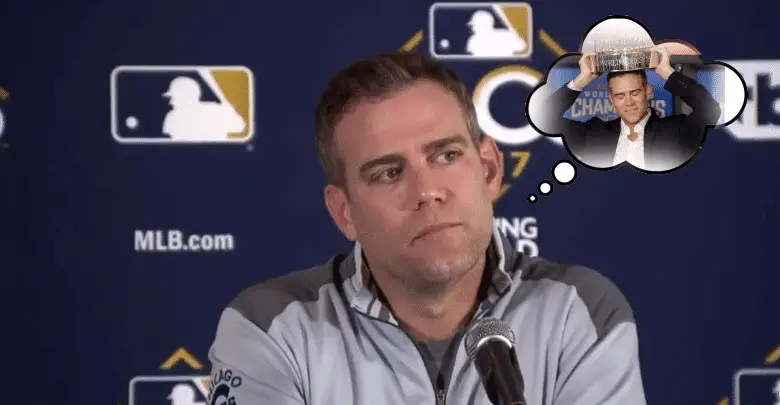 Cubs Could Benefit from General Lack of Spending by Other Teams This Winter
We're a week from the end of the World Series, so #FreeAgencySZN has arrived for Major League Baseball. This used to be an exciting time of year for Cubs fans, but after wanting the likes of Bryce Harper and Gerrit Cole only to come away with Daniel Descalso and Steven Souza Jr., pessimism is warranted.
Yes, a ton of money is coming off the books for the Cubs as several sizeable pitchers fall off the books. But they still haven't locked up a single core position player long-term (sorry, David Bote), and that whole pandemic thing threw a wrench in revenue estimates. There's also a ton of uncertainty about ticket sales for 2021, which further complicates matters.
If there's one positive, it's that most other teams are also going to be perusing the Dollar General aisles rather than shopping at Whole Foods. That could actually benefit the Cubs, as some players might end up being in their price range when they wouldn't have under normal circumstances.
I think we'll see a lot of decent names signing one or two-year deals this off-season because of the money crunch around the league. Teams like the Dodgers and Mets may continue to spend for the top talent, but that won't be the case around baseball and could actually drive down the asking price for several very capable players just below that top level.
Would the Cubs be interested in Adam Eaton, who seems to fit their needs and could possibly be had for cheap after having his option declined by the Nationals? Old friend Tommy La Stella is reportedly on the Cubs' radar and might not command as much as initially thought. There are over 60 relievers hitting free agency, including a lot of big names, so supply will be very high in an area Theo Epstein loves to sift through. A good number of those pitchers will be settling for one-year, either to rebuild value or to wait out what figures to be a frigid offseason.
You may believe the Cubs should blow this thing up, and you may be right in that thinking, but the division will be winnable again and that's tough for a competitive front office to pass up. The Cardinals have already announced they won't be spending much, the Brewers rarely spend, even under normal circumstance, and the Reds may use what money they have to try and bring Trevor Bauer back.
While the Cubs clearly have a long way to go to keep up with the Dodgers and Braves, a few tweaks keep them in contention for a division title and another run at the postseason. Provided they figure out how to score runs in those games, all they need is a chance.
Something else to keep in mind about the lack of room in the budget for acquisitions is that the Cubs could still opt to trade a key player like Kris Bryant or Kyle Schwarber. Though the return clearly won't be as significant as what it could've been a year or two ago, they'd be looking at a solid prospect or two at least. Such a deal would also free up some much-needed payroll to fill some other holes. As disappointing a concept as that might be for some, it's not at all unrealistic.
The chances are good that we're in store for yet another boring and frustrating winter in Wrigleyville, the third in a row if you're scoring at home. But if the entire league is being frugal and free agents are worried about a cratered market, maybe the Cubs can get lucky and find a few treasures.