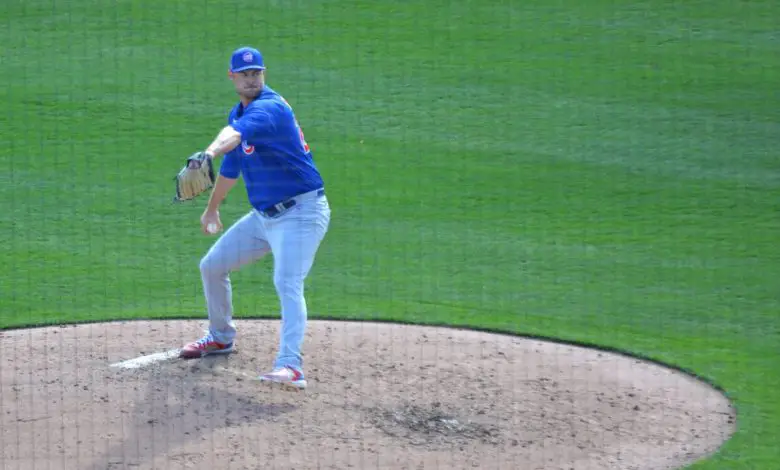 Quick Clarification on Cubs Not Adding Michael Rucker, Trevor Megill to 40-Man Roster
There was a collective murmur from Cubs prospect hounds last weekend when neither Trevor Megill nor Michael Rucker was added to the 40-man roster to protect them from the Rule 5 Draft in December. Both had been projected as potential bullpen options for 2021, so it seemed odd when the deadline to add them came and went with no news.
But as it turns out, a little contractual wrinkle meant that they're actually subject to the same November 20 deadline as most other prospects. Arizona Phil of The Cub Reporter pointed this out on Tuesday, but kind of a lot was going on when I first saw it and I'm only now circling back to it.
The deadline for adding Rule 5 Draft-eligible outrighted players back the MLB 40-man roster has been pushed back to 11/20, so the Cubs can still add Trevor Megill and/or Michael Rucker to the 40 if they so choose to do so.

The main reason why you especially would not want to lose Megill and/or Rucker in the 2020 Rule 5 Draft is that if they were to be re-claimed, they can elect free-agency.

That's because the re-claim process involves an automatic outright assignment back to the minor league club from which the player was drafted, and so because both Megill and Rucker have been outrighted previously in their respective careers, they have Article XX-D status, which gives both of them the right to elect free-agency if outrighted again (or the player can choose to accept the Outright Assignment and defer free-agency until after the conclusion of the MLB regular season, as long as the player was not added back to the 40 in the meantime).
So just like the election, it's still possible to add these guys after the date we'd initially thought was the deadline. That really clears the earlier confusion, especially since, as AZ Phil points out, losing either player in the Rule 5 could put the Cubs in an even more precarious situation than before given their status.
If you recall, the Cubs got Megill as a Rule 5 pick from the Padres last season and then worked out a deal to straight-up acquire him in order to be able to outright him from the 40-man and retain his rights. Rucker was selected away by the Orioles, then was returned somewhat inexplicably after a solid spring with Baltimore. There's reason to believe both are in competition for spots in Chicago next season as the Cubs look to build a cheap bullpen.
The 6-foot-8 Megill reworked his curveball with help from Tommy Hottovy and the pitching lab during his brief time in Mesa and could turn it into a real weapon if he maintains his excellent control. His fastball touches upper-90's and comes down at the hitter with all kinds of tilt due to his big frame, so Megill fits the profile of the hard-throwing, bat-missing reliever the Cubs could have used this past season.
Much of the same is true for Rucker, who was just converted to a full-time relief role last season after working primarily as a starter in 2017 and '18. His velo saw a natural bump as a result and reports out of the Cubs' alternate site in South Bend had his fastball at 95-96 mph. A precision pitcher who's always had low walk numbers, the 26-year-old is a strike-thrower of the magnitude the Cubs have openly been seeking for years now.
It's no lock for both to be added since the 40-man roster now stands at 34 and wouldn't have much room left for additional acquisitions, but they sure do look like excellent options. Guess we'll find out more in two weeks.