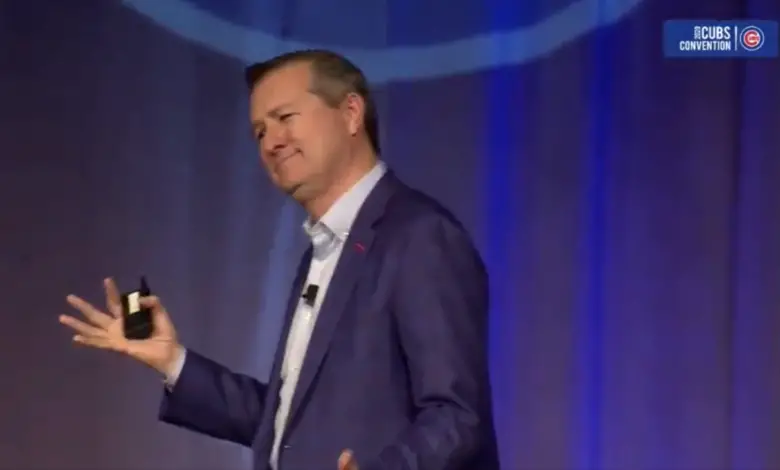 Cubs Reportedly Signaling 'Willingness to Move Almost Any Veteran'
It's been obvious to anyone who's paying any sort of attention that the Cubs are looking to cut costs heading into 2021. Tom Ricketts talked about the "dead-weight loss" of the competitive balance tax last October and downplayed the value of free agency in January, well before he lamented his industry's biblical losses due to the pandemic. Theo Epstein has reiterated that the front office will be dealing with limited financial means this winter, but many believed they might still have enough to get the band back together.
As ESPN's Buster Olney reported Sunday ($), however, the situation may be such that Epstein and Jed Hoyer — who will seemingly take control of baseball operations after next season — will be forced to hold a garage sale.
"In conversations with other teams, the Cubs are signaling there will be significant turnover on the roster, with a willingness to move almost any veteran — as well as just about anyone from the core group of position players who won the 2016 World Series, including shortstop Javier Baez," Olney wrote.
Kris Bryant was mentioned as well, though the leaguewide desire to limit costs is at odds with a projected $20 million salary for a player who hasn't been fully healthy in three seasons. Make no mistake, Bryant is well worth that expense if he's able to avoid the injury bug that keeps biting him. But with just one year of control and an uncertain outlook, it's hard to imagine the Cubs getting much in return.
While the possibility that major core players are moved this winter can't be considered shocking based on what we've heard for more than a year, it's a damning indictment of ownership. How the Ricketts family has managed to lose almost all of the goodwill — yes, there are still a good number of people who will stan the owners — generated by presiding over a world f&#*ing championship is something that should be written about in business success manuals as what to never do.
Even acknowledging the COVID-19 curveball that put anything Clayton Kershaw has ever thrown to shame, a franchise valued at over $3 billion suddenly crying poor is a massive failure. Whether the root cause is more financial or moral is up for debate, but let's go ahead and say there's a healthy balance of both. If the Cubs do indeed have to sell off like the Marlins of old, it'll forever tarnish what should have been a sterling legacy.
I mean, imagine how wild it would have been to have had someone tell you while watching the World Series parade on November 4, 2016 that in four years you'd be pissed off at what the Cubs had become. And that's before you even consider the possibility Olney put forth in his article.
The wheelbarrows of money from what was supposed to be an incredibly lucrative TV network have yet to materialize as Marquee Sports Network faced roadblocks separate from Sinclair Broadcast Group's egregious failures in the overall RSN market. A farm system that was once the envy of baseball went flatter than an Old Style left out in the sun and once formidable big league hitters have regressed under the tutelage of a collage of hitting coaches.
There are bright spots, sure, but I'm rage-writing right now and don't need to be distracted by the likes of Brennen Davis or impressive pitching prospect depth. The fact of the matter is that after Cubs ownership managed to make good on the promise of delivering a world title, they appear to have fallen asleep at the wheel. The renovations to Wrigley Field ran hundreds of millions of dollars over budget, then you add in the cost to purchase and develop all the rooftops, restaurants, a boutique hotel, and a new office building.
Oh, and the cost to start Marquee, which the Cubs co-own and don't simply sell their rights to.
The organization has already laid off more than 100 employees, many of whom worked in baseball operations and would otherwise have had a hand in making the on-field product better, in an effort to shave expenses. In what might be the most transparent sign of where things are headed, Carl Rice, the man who oversaw the entire renovation project, was one of those put out on his ass. Nothing is sacred when the green of the almighty dollar is more important than that of the ivy or the scoreboard.
I shouldn't be surprised by anything by now, neither should you. That said, I really want to hope Olney is going with the same sort of sensationalism that led him to write that the Cubs might try to trade Bryant prior to the 2019 season. As much as I dislike the idea of running it back with only clearance-aisle additions to the roster this winter, that's a helluva lot easier to swallow than essentially conducting another rebuild less than a decade after Epstein and Co. remade the organization the first time.
Pandemic be damned, the Chicago By God Cubs are not a team that should have to crumble under the weight of financial issues. Ah, but mismanagement is a mother. At this point, the best thing might be to find another hedge fund monster like Steve Cohen to come in and buy the team, thereby absolving the Ricketts of their debts and running things like what appears to be happening in Queens.
https://t.co/vUVuMqmx0L pic.twitter.com/z5YSDCRe6Q

— Noah Syndergaard (@Noahsyndergaard) November 11, 2020
It's a sad damn day when I'm sitting here feeling envious of Mets fans. I can't believe I just typed that out, but it's true. Now if you'll excuse me, I'm going to go vomit.