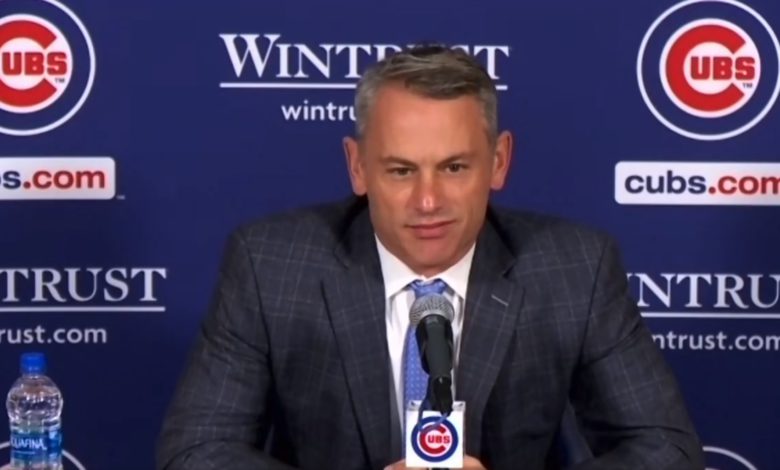 Jed Hoyer Confirms Next GM Will Likely Come From Outside Organization
Fresh off the news of his five-year extension, Jed Hoyer sat down for his first press conference as the newly-minted president of baseball operations for the Cubs. The content wasn't particularly illuminating in any way, though Hoyer did shine a little light on some of his plans for baseball ops personnel moves.
Chief among those is hiring a new GM, someone Hoyer confirmed was likely to come from outside the organization. That has been the supposition for a while, with current Diamondbacks AGM Jared Porter receiving strong mention as a possibility based on his existing relationship with Hoyer and his expertise in pro scouting. Other candidates will undoubtedly get looks, but Porter stands out for those obvious reasons.
Hoyer also said there would be internal promotions as part of the transition in the front office, which could mean new titles and responsibilities for VP of scouting Dan Kantrovitz and pitching director Craig Breslow. Kantrovitz turned down an offer to interview for the Angels' GM opening and Breslow has quickly established himself as a rising star.
Once things get settled from a leadership standpoint, the Cubs can move forward with an offseason unlike any we've seen in recent years. Though he didn't come out and say anything specific about the budget, Hoyer gave no indication to dispute the idea that finances will be the driving force of their decisions. He did acknowledge "service time realities" and admitted that the focus might have to be more on the future.
Even with that being the case, the Cubs still believe they'll be able to contend in 2021 as their NL Central opponents are likewise limiting spending. It'll be all about trying to find value and perhaps finally addressing some of the flaws that have been so evident in the offense for the past three years or so.
A new hitting coach isn't the answer, at least not the only one, but Hoyer did officially announce that Chris Valaika has been named as Anthony Iapoce's assistant for next season. A former player and most recently a minor league hitting coordinator with the Cubs, Valaika is well-respected throughout the organization and was instrumental in helping Ian Happ through his notable struggles in 2019.
While it might end up making no difference at all, having someone who can get some of these core offensive players to really listen to some hard truths and then make necessary changes could have quite an impact. Hey, you have to be positive about something when so much else seems blah.
Expect to see those announcements about the front office soon, after which the search for a new GM will begin in earnest. Then comes the real fun.
---
You can watch the full presser in the tweet below, which includes Hoyer mercilessly dogging Theo Epstein for the first couple minutes.
Jed Hoyer is introduced as the Chicago Cubs next President of Baseball Operations. https://t.co/yLcWkv8HfC

— Chicago Cubs (@Cubs) November 23, 2020