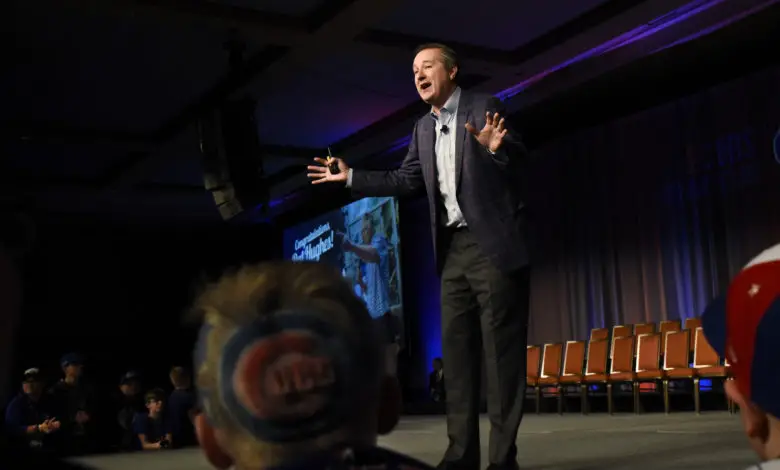 Tom Ricketts Says Wrigley Field Tax Credits Won't Help Baseball Budget
Wrigley Field was added to the National Register of Historic Places last week, a long-awaited move that made the Ricketts family eligible for massive tax credits. According to the National Park Service website, a 20% income tax credit is available for the rehabilitation of historic, income-producing buildings as long as that work complies with certain standards. That the Cubs were able to meet those criteria despite sweeping changes to the ballpark is a testament to the meticulous work put in by former VP of Restoration and Expansion Carl Rice and his crew.
The exact value of those credits obviously isn't public knowledge, but team spokesman Julian Green said last year that they were expected to fall between $100-125 million. That would be in keeping with the original renovation estimate of $500 million, though Tom Ricketts admitted last December that the actual cost ended up being "around 100%" over budget.
But if you were hoping that any of this would free up a little room for Jed Hoyer to operate this winter, the Cubs chairman burst your bubble Monday.
"Unfortunately, no, the historic tax credits will not have an impact in any way on our baseball budget," Ricketts explained. "It was all part of the stadium redesign financing plan that has played out for the last seven years and it doesn't have any current impact for us. So I wish I could get tax credits and give them to baseball players, but I can't."
While I doubt very much that Ricketts would in fact be happy to hand over any sudden windfall to players, it's not as though we're talking about the federal government showing up to Wrigley with wheelbarrows full of money. This stuff is all tied up in tax forms and balance sheets, with numbers being pushed around to the benefit of a few people who employ highly-paid accountants.
---
---
In the end, though, it's another example for a lot of fans of how ownership is using the venerable ballpark as a centerpiece around which to construct a real estate empire. That was the purpose of Hickory Street Capital, a Ricketts-owned company that has since rebranded as Marquee Development and that was initially described as being wholly separate from the Cubs organization.
But as Crane Kenney, the team's president of business operations, explained during a panel at Cubs Convention in 2019, the relationship between the entities may be more than symbiotic. So if the revenue generated by ancillary Ricketts-owned business has the potential to increase the baseball budget, doesn't it follow that losses by those same businesses would have a negative impact on the budget? I might just be swimming way out of my depth here, but that all seems to make sense.
Not that any of it matters since the budget is what it is and no amount of hand-wringing or pearl-clutching from me or anyone else will change that.