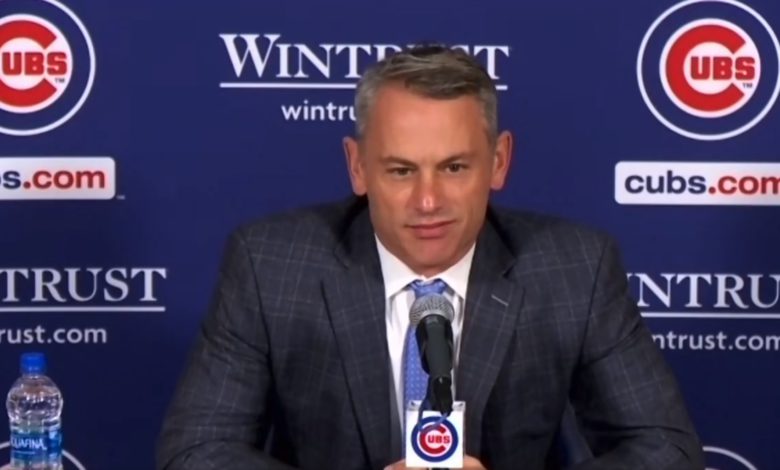 Cubs Announce Front Office Promotions, Including Craig Breslow to AGM Role
The Cubs have yet to fill their vacant general manager role, but Jed Hoyer said during his press conference last week that some internal promotions would be taking place in the front office. Those moves were announced Monday, headlined by former director of pitching Craig Breslow receiving the title of assistant GM title and VP of Pitching.
Once called "the smartest man in baseball," Breslow is well respected throughout the sport after making the transition from the mound to the front office. He is the mastermind behind the Cubs' revamped pitching infrastructure and now gains additional responsibility as one of Hoyer's lieutenants.
I'm not really sure whether or how this impacts the GM search, though I'd say I'm still leaning toward Diamondbacks AGM Jared Porter. Even though Cubs AGM Jeff Greenberg's expertise lies in pro scouting just like Porter's, several of the other promotions listed below involve more of the amateur and international scouting and development side.
Then there's scouting VP Dan Kantrovitz, who I'm a little surprised wasn't among those to receive a new or additional title. Not that he won't still have more and different responsibilities moving forward. Heck, he could even be in the hunt for the GM role, though Hoyer said that position was most likely to be filled from outside the organization. Either way, the search will probably be a quick one now that the offseason is starting to heat up.
You can read more about that and more in the information from the Cubs' press release.
Jeff Greenberg will begin his first full season as Assistant General Manager after he was elevated to the role earlier this year. He joined the Cubs' Baseball Operations department in 2012 and was named Assistant to the General Manager prior to 2015. In January of 2018, he was promoted to Director of Baseball Operations before adding Director of Pro Scouting to his title in 2019. Prior to joining the Cubs, he interned at the Labor Relations Department at Major League Baseball, as well as the Pittsburgh Pirates and Arizona Diamondbacks. Greenberg graduated from the University of Pennsylvania in 2008 and Columbia Law School in 2011.
Craig Breslow has been promoted to Assistant General Manager/Vice President, Pitching and enters his third season with the organization. He joined the Cubs in 2019 as Director of Strategic Initiatives before being named Director, Pitching/Special Assistant to the President and GM prior to the 2020 campaign. Breslow pitched 12 major league seasons (2005-06, 2008-17) and made 576 outings, all but two in relief, with seven clubs, including the 2013 World Championship with Boston. He is a 2002 graduate of Yale University with a degree in molecular biophysics and biochemistry.
Chris Moore enters his first full season as Vice President, Research & Development after joining the Cubs in October of 2013 as Director of Research and Development. Responsible for developing and overseeing the research and analytics function within Baseball Operations, he earned a BA in psychology and philosophy from the University of California – Davis, and a PhD in psychology and neuroscience from Princeton University.
Matt Dorey has been promoted to Vice President, Player Development and begins his 10th season with the organization. He joined the Cubs as a national crosschecker in 2012 then was elevated to Director of Amateur Scouting in 2014 before being named Senior Director of Player Development prior to last season. Dorey has 17 years of experience as a coach, scout and baseball executive, and he broke into professional baseball with Boston as an area scout in 2008.
Louie Eljaua has been promoted to Vice President, International Scouting and enters his 13th season with the Cubs. He was most recently Director of International Operations/Special Assistant to the President and GM after joining the organization in December of 2008. Prior to Chicago, Eljaua began his career with the Marlins in 1992, and in 1999 signed Miguel Cabrera to the organization. Following Florida, he was the Director of International Scouting for Boston from 2002-03 and served as Special Assistant to the GM for Pittsburgh from 2004-08.
Alex Suarez has been promoted to Senior Director, International Player Development and Operations. He enters his 14th season with the Cubs, having worked in various roles across all Baseball Operations departments. Prior to this new role, Suarez was the Director of International Pro Scouting since February of 2017. Suarez, who graduated with a degree in political science in 2005 from the University of Tennessee, was an All-SEC performer for the Vols who helped the 2005 club to the College World Series as a first baseman and outfielder.
Andrew Bassett enters his second season as Director, Pro Scouting after he was elevated to the role last offseason. He joined the organization in 2011 and has held various positions in the Cubs' Baseball Operations and Scouting departments, most recently as Assistant Director, Pro Scouting. Prior to joining the Cubs, he worked for SFX Baseball Agency while completing his JD at Loyola University Chicago School of Law. He graduated from Boston College in 2007 with a BA in English.
Greg Davey has been named Director, Baseball Operations after he was promoted to Assistant Director, Baseball Operations in 2019. He begins his eighth season in the Cubs' Baseball Operations department after joining the organization in 2013. He graduated from Harvard University with a BA in economics.
Jeremy Greenhouse has been promoted to Director, Strategic Modeling in the Cubs' Baseball Operations Research and Development group. He had been Assistant Director, Research and Development since 2015 after he joined the organization in 2012. Greenhouse graduated from Tufts University with a BA in English.
Gian Guzman has been elevated to Director, Dominican Republic Scouting Operations/International Crosschecker after two seasons as an international crosschecker. A former infielder and pitcher in the Cubs' system from 2007-09, he has focused on international scouting with the Cubs since 2012.
Meghan Jones has been promoted to Assistant Director, Baseball Operations Administration and Strategic Initiatives after two seasons as Manager, Baseball Operations Administration. She joined the Cubs in 2016 as Executive Assistant to the President and EVP/GM of Baseball Operations. Jones earned her BS in psychology and marketing from Loyola University Chicago in 2013 and is currently obtaining her MBA from Northwestern University – Kellogg School of Management.
Garrett Chiado has been named Senior Player Evaluation Analyst, Research and Development and enters his sixth season with the Cubs after joining the Research and Development group in 2016. He earned a BS in kinesiology and exercise science from Penn State University in 2010 and his Master of Science in sports management from Florida State University in 2014.
Nate Halm has been promoted to Pro Personnel Specialist and enters his 10th season in Cubs' Baseball Operations after starting as a video assistant in 2012. He most recently was Assistant Director, Advance Scouting – Run Production and handled the team's in-game video replay reviews. Halm played baseball at both Seton Hall and Miami University, earning a BA in psychology in 2008.
Adam Unes has been named Coordinator, Minor League Operations following three years in the Cubs' Amateur Scouting department as an assistant. He earned his BS in management information systems in 2014 and his MBA in business administration and management in 2016, both from the University of Illinois Springfield.
Alex Smith has been elevated to Coordinator, Major League Data and Development after serving as Coordinator, Baseball Operations. He joined the Cubs in 2015 after graduating from Cornell University with a BASc in Industrial and Labor Relations.
Jackson New-Smith has been promoted to Assistant, Baseball Operations after joining the organization last year as a baseball operations trainee. Jackson earned his BA from Santa Clara University and attended the Tuck School of Business Bridge Program at Dartmouth in 2019. He previously held roles with the Tampa Bay Rays, The Office of the Commissioner of Baseball and the San Francisco Giants.