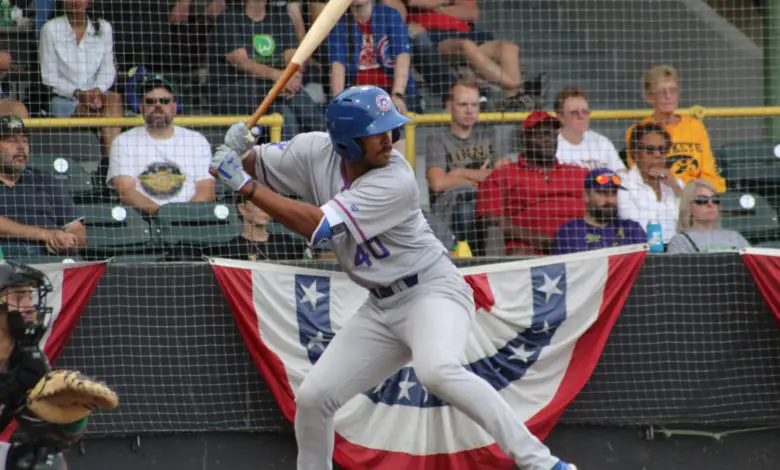 Cubs Player Development VP Matt Dorey Discusses Top Prospects, Plans for 2021
When the Cubs were fielding awful teams from 2012-14, keeping track of prospects became the best way for fans to take their minds off the product in Chicago. Then some of those prospects made their way up or were traded away and the focus flipped, at least for a lot of people. Now, with new leadership and the potential for significant roster turnover, it's starting to turn things back to that old cycle of prospect watching.
A good place to start for those who need to catch up — other than here at CI, of course — is NBC Sports Chicago's latest Cubs Talk podcast. Hosts David Kaplan, Gordon Wittenmyer, and Maddie Lee were joined by Matt Dorey, the Cubs' Vice President of Player Development to discuss the present and future of the system. They covered what went on this summer in South Bend, how a missed season might affect development in the minors, and which Cub prospects could help in the near future in Chicago. Dorey even disclosed where a few of the Cubs' top prospects might begin the 2021 season .
He seemed hesitant to discuss the topic of affiliate relationships, but did admit the Cubs don't anticipate much, if any, change. He added that the process should be over fairly soon. One of those affiliates will almost certainly be the South Bend Cubs, who played host to the organization's alternate site in 2020. With the minor league season suspended, that was about the only structured development the Cubs had for prospects until fall instructs.
"From a developmental lens, I thought it was huge for some of those young guys. Not just what they saw on the field but to be around a group of veteran upper minor league players — a lot of them had major league service time — to see how they went about their business day-to-day [and] how they prepared.
"They wouldn't have been able to get that in a normal minor-league season in high-A or Double-A and they were able to do that for two and a half months and really learn from those older veteran guys. I think that's gonna be huge for them moving forward in their development."
Dorey specifically mentioned top prospects Brennen Davis and Chris Morel, both of whom were at the alternate, to start 2021 at the Double-A level. That's very exciting because it keeps the Cubs' two best non-catching prospects on track despite missing out on a 2020 system. They were able to accomplish that by accelerating the process, giving those young hitters up to eight at-bats each day in game-like situations against pitchers slated to be at Triple-A along with some who had big league experience.
Davis in particular stood out for the way he struggled and then adapted to succeed. The Cubs have long talked about that as something they look for in young players and it's even something they scout when possible.
"His last three weeks there was as electric as any position player we had there in camp," Dorey said.
Miguel Amaya, who some believe to be the Cubs' best overall prospect, is currently playing winter ball in Puerto Rico. Dorey believes Amaya is close to being ready and said where he starts next season will be determined in spring training. The catcher has been a level-a-year player so far and missed out on Double-A in 2020, but Dorey said an assignment to Triple-A Iowa is not out of the question.
Dorey admitted that the system has "been in a bit of a reboot," but added that it is "healthier than it's been" and that the depth of pitching at the upper levels is very good. However, he did acknowledge the lack of position players at Double- and Triple-A due in large part to the overwhelming number of pitchers taken in the 2016, '17, and '19 drafts.
When the conversation turned to who could help the Cubs in 2021, Dorey dove into talking about Adbert Alzolay and Brailyn Marquez. Alzolay still needs to "refine his repertoire and command," but his slider is developing into a legit swing-and-miss pitch in part due to his work in South Bend. The young righty "felt comfortable for the first time" and his success allowed him to feel that he truly belonged.
Marquez did not have access to much in the way of facilities or tech while spending the shutdown period in the Dominican, so he was a little behind when he arrived at South Bend. He focused a lot on nutrition and weight training once he got stateside and really took off once he caught up. Cubs fans got just a brief glimpse of Marquez when he was called up for the last game of the season and might see more of him this season if things go well.
"He's a guy that I can see impacting the major league roster in '21 if he stays on this track that he's been on the last couple of years." Dorey said.
As for some of the players outside of that very top tier, Dorey named Kohl Franklin as a huge upside guy and he spoke for a minute about Justin Steele's potential to earn a bullpen spot this spring. The farm boss spoke very highly of Ed Howard, spending more time discussing his character and makeup than his playing ability.
Dorey was also quite effusive in his praise of Jordan Nwogu, the Cubs' third round pick out of Michigan. The outfielder displays tremendous athleticism and a solid plate approach and is currently working with Justin Stone, the Cubs Director of Hitting, in Chicago this winter.
The biggest surprise of the entire conversation came when Dorey name-dropped reliever Ben Leeper, an undrafted free agent closer out of Oklahoma State. He missed two seasons in college due to Tommy John surgery, but was throwing in the upper 90's with a hard slider in instructs this fall and could be at either high-A or Double-A to start 2021. That was a bit of an eye-opener and may say something about the more aggressive philosophy the Cubs have taken.
Overall, it was good to hear confirmation from Dorey regarding what we have been saying about the future of most of these prospects over the past two summers. While we didn't hear anything about Andy Weber, Hunter Bigge, Chase Strumpf, Cory Abbott, and other Cubs Insider favorites, there will be plenty of time for them later.
It's a little hard to believe, but spring training is just two months away. Between personnel decisions and a desire to get a little cheaper, several of these prospects could play vital roles for the MLB squad in 2021.
---