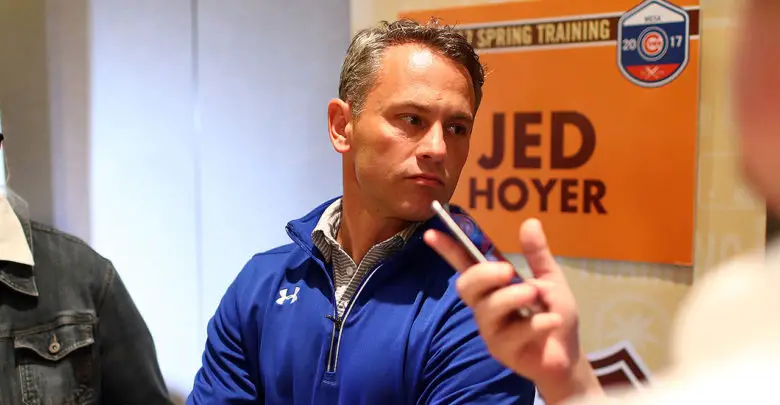 The Rundown: Acquiring Prospects Often Risky Proposition, Cubs Development Team Excited About Young Pitching, White Sox Make Big Splash
One of the more interesting notions in the game of baseball, at least to me, is the term "prospect capital." Minor league players give bloggers and fans an opportunity to dream on tomorrow, hoping that one day their favorite organization will uncover the next Mike Trout or Mookie Betts, rather than the next Brett Jackson or Tyler Colvin*. Armchair scouting has grown over the last decade or so thanks to an increased knowledge of baseball analytics by the general public and the supposed general collective baseball knowledge of our favorite writers and niche websites.
I tend to think a little more negatively about prospects and, historically speaking, statistics warrant my concerns. The biggest recent example I can cite is Cubs second baseman Nico Hoerner**, who was a 65 wRC+ player in 2020 and projects to about a 95 wRC+ for 2021. Hoerner was the 24th overall pick by the Cubs in 2018 and, just to provide an example of the inconsistencies in selecting and projecting minor league players, Trout was selected 25th overall by the Angels in 2009. Betts was selected in 5th round by the Red Sox in 2011.
Admittedly, those are tough comparisons and so many variables are unaccounted for that it's akin to comparing apples to elephants, but, it's at least a telling indicator of the nature of the amateur draft. Hoerner had a brutal campaign this year and is trending downward in frightful manner. Trout, meanwhile, has already punched his ticket to the Hall of Fame.
As Jed Hoyer embarks on his first season as Chicago's "big cheese," he faces a plethora of enormous decisions that will change the face of the roster this year and for years to come. There is little guarantee in trading established major league players for minor league prospects except the savings it generates to your baseball operations budget. He's already dismissed Kyle Schwarber as part of a budget reckoning, getting nothing in return, and by numerous accounts he has decisions to make regarding Kris Bryant and Javier Báez. Some insiders are saying that Willson Contreras, Ian Happ, Anthony Rizzo, Yu Darvish, and Kyle Hendricks may also be available.
When I peruse the comments sections of some of our posts at Cubs Insider, I am as amazed as I am dumbfounded at how our audiences value both major and minor league players. A lot of factors go into personal projections, but the bottom line is that the argument should be based solely on financial savings, because the fact of the matter is that most prospects don't pan out. And though I realize scouting departments are always improving and that scouts continually have more data at their disposal, the fact remains that the chances a prospect becomes nothing more than a serviceable major leaguer like Hank Conger (#25 overall, 2006), or a total disaster like Mickey Moniak (#1, 2016), is incredibly high.
The high attrition rate of the game's top prospects could be one of the reasons MLB has decided to create its own developmental league. Teams are also facing uncharted waters when it comes to internal development after a year where the minor leagues had no season, though Cubs Assistant GM and VP of Pitching Craig Breslow sees some advantages to remote development for many of his pitching prospects.
#MLB has announced a series of leagues and initiatives that will provide a path for Draft prospects. Here's how it will all work: https://t.co/tY0Rv3unQQ pic.twitter.com/w1NKvTYAzl

— MLB Draft (@MLBDraft) December 4, 2020
When the notion of trading Bryant is mentioned, including the expected return for a player coming off of a career-worst season in his final year of team control on what could be a $19-20 million contract, I tend to think there is no point in moving him for the equivalent of a couple 6th-to-8th round draft choices. Prospects of that caliber tend to have a bust rates near 100%.
We often delude ourselves that any moves Hoyer may make with his big-ticket players offers a chance for a better tomorrow. Facts being facts, however, the new president of baseball operations is being forced to shop in the discount aisles of the dollar store hoping to find a lottery ticket or two. He will likely be acquiring prospects that other organizations have already determined have a very low percentage of succeeding.
*Colvin was so bad that Epstein had to "throw in" DJ Lemahieu just to acquire Ian Stewart and Casey Weathers from the the Rockies in 2011.
**I apologize for picking on Hoerner yet again. I know it upsets a large portion of our readers and some of my peers here at CI.
---
---
Cubs News & Notes
Odds & Sods
Baseball's annual State of the Union is nothing more than an exercise in loss leveraging whenever a CBA is nearing its expiry.
NL Central
Reds: Cutting payroll.
Cubs: Cutting payroll.
Cardinals: Managing payroll.
Brewers: Managing payroll.
Pirates: Rebuilding.

— Buster Olney (@Buster_ESPN) December 7, 2020
Tuesday Stove
The White Sox made a huge move last night, acquiring starter Lance Lynn from the Rangers for prospects Dane Dunning (MLB Pipeline No. 5) and Avery Weems.
As much as White Sox fans are frothing at the mouth for George Springer to round out the team's dynamic lineup, the free agent outfielder is "extraordinarily unlikely" to sign with Chicago ($) for a number of reasons, sources told Jeff Passan of ESPN.
The Reds appear to be slashing payroll after being last year's Winter League winners. Cincinnati traded closer Raisel Iglesias to the Angels yesterday for reliever Noé Ramirez and a player to be named later or cash.
National League teams have been told to prepare for 2021 under the assumption that there will be no designated hitter.
The DH drama is a sign of things to come as the league and the players' union negotiate the next CBA.
Brewers catching prospect Payton Henry could be a hot commodity in this week's Rule 5 Draft. I am reminded of the classic line from the movie Moneyball when I look at his minor league progress: "If he's such a good hitter, why can't he hit?"
Scott Boras misses the in-person nature of this year's Winter Meetings much more than others.
Cardinals free agent starter Adam Wainwright has been chosen as this year's recipient of the Roberto Clemente Award.
Seven-time All-Star Dick Allen, one of the most feared hitters in the game and shamefully absent from baseball's Hall of Fame, passed away yesterday at the age of 78.
Extra Innings
This is as depressing as I intended, but I asked a friend to build me a graphic to use whenever Hoyer dismisses one of his core players. Going forward, each player that is traded will be shaded. Credit to Twitter user @infieldflygrl
I've contracted @infieldflygrl to build me a graphic for my Rundown column at @realcubsinsider, and though I gave her a high level description of what I wanted, she nailed it. It's like she read my mind. Thumbs way up despite the melancholy message, yes? pic.twitter.com/JdBFUGqEwv

— Michael Canter 🌻💫💀 (@MEdwardCanter) December 7, 2020
They Said It
"Every offseason is different. What's different now is that you know that [the team's core] is coming up on the end of our natural control of them, so we [knew] we'd have to make decisions." – Jed Hoyer
"As far as [prospect development] sustainability, and frankly, as far as efficiency, I think we have to do a much better job." – Hoyer
"The system's actually healthier than it's been… especially at the upper levels from our pitching." – Matt Dorey
Tuesday Walk Up Song
If I Had a Boat by Lyle Lovett – I don't know about you, but I'm finding it difficult to be optimistic about the Cubs chances in 2021, though I'll continue to dream.