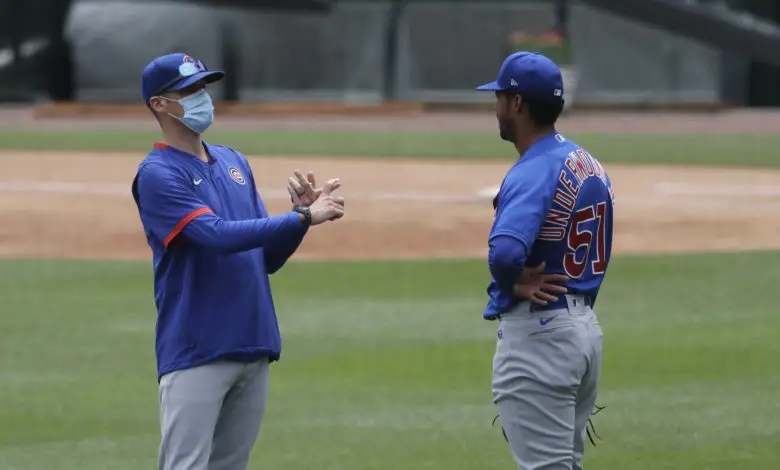 Pitching Coach Tommy Hottovy Confirms Cubs Going Quantity Over Quality for 2021 Rotation
Before he stepped away as president of baseball operations, Theo Epstein said the Cubs were planning to pursue rotation depth from outside the organization as part of their offseason strategy. Now Epstein is gone and so are two of the pitchers who'd been expected to play key roles in that rotation. Yu Darvish was the biggest of those, traded with the oft-ignored Victor Caratini in a quantity-over-quality trade that saved the Cubs money and created a wash in terms of rotation personnel.
Then Tuesday brought word that righty Colin Rea, lightly penciled in as the fifth(ish) starter, had been granted his release in order to pursue an opportunity in Japan. You can hope all you want for a scenario that sees the Cubs turn some of the $11 million or so surplus from those deals into legit starting pitchers, but nothing about what they've said and done to this point indicates that is an option.
The 2021 season will present enough issues in and of itself as the Cubs and other teams deal with the reality of pushing pitchers back to a bigger workload after a halting and abbreviated campaign. Then you add in an unwillingness to spend and it's clear Jed Hoyer's plan involves conscripting as many inexpensive arms as possible to wage a war of attrition. And I don't mean WAR because you can bet your sweet bippy the Cubs aren't willing to spend anywhere close to $8 million per.
https://twitter.com/MLBastian/status/1346569820754604032?s=20
"We can't be naive to think that we're going to get through the season only using seven or eight starters," pitching coach Tommy Hottovy told MLB.com's Jordan Bastian.
"We're going to have a lot of opportunity for young guys to step up and show that they can handle the major league level and they're ready."
It truly is going to be a carousel of castoffs and castaways, Adbert Alzolays and Burl Carraways as the Cubs cobble together a pitching staff from spare parts and a prospect pool they've previously been unwilling to dip into. Tom Ricketts will tell you the financial picture is red, which means Hottovy will have to stretch Rule 5 pick Gray Fenter out in the hopes that he can stick on the roster.
Bastian noted that Duane Underwood Jr., who was a starter in the minors before being converted to the 'pen full-time, could also be stretched out. Part of the impetus for his move was an inability to stay healthy, but he might be a solid option in a limited role.
The Cubs will also call upon a group that includes Justin Steele, Tyson Miller, Cory Abbott, Brailyn Márquez, maybe even Jack Patterson, Kohl Franklin, and more. The biggest opportunity for prospects who've been working out as starters might be the need for relievers capable of providing at least two innings at a time on a regular basis. Better install an extra gas tank on the ol' Iowa Shuttle.
"I think we can absolutely contend," Hottovy said. "I definitely think we need more arms. But, we're talking about volume of arms."
That sounds like commoditization, which is exactly what happens when your organizational choices are being guided more by money than competitiveness. It's like picking an 8-team parlay of 'dogs because you've only got a dollar left and you can't make a worthwhile bet otherwise. Probably the best Hoyer can hope for at this point is that he hits on a couple of cheap one-year deals on players who bounce back enough to be flipped at the deadline.
Wait, he already said they weren't following the blueprint from 2011 and '12. Maybe that just means they'll finish in the middle of the pack instead of nosediving to 100-loss territory, a possibility that lends credence to the "small reset" concept. That would see the Cubs spending in 2022, a prospect that seems unlikely but could be possible based on the biblical amount of money falling off the books.
As disheartening as it is to envision the Cubs operating their pitching staff like a fantasy baseball team without an innings cap, I must admit that I like the idea of giving prospects a chance to prove themselves. Fans have been waiting far too long for homegrown pitchers and maybe some of these young guys will really shove. Now if only that wasn't a product of necessity.
---