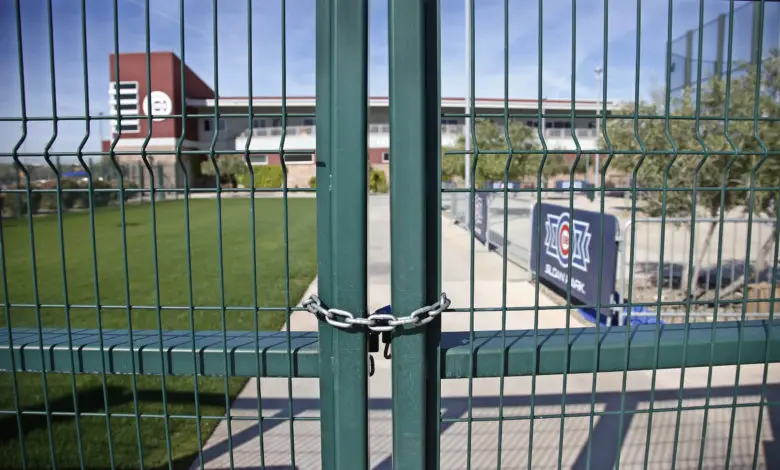 The Rundown: Hot Stove Historically Slow, MLB Expects Full Spring Training and Regular Season, Cubs Replace Len Kasper With Exciting Hire
"I have to absorb the new season like sunlight, letting it turn my winter skin pink and then brown. I must stuff myself with lore and statistics until my fingers ooze balm." – W.P. Kinsella
It's hard to believe given the stagnation of this winter's hot stove, but spring training starts in about 6-7 weeks and games will start about a week later if things go as scheduled. We expected things to be slow and so far only the Padres have really crashed that slumber party. The top free agents remain unsigned and some of the better players oft-mentioned in trade rumors — Francisco Lindor, Kris Bryant, Nolan Arenado, and Josh Hader — have yet to be moved. We've heard nary a Whit Merrifield rumor and even speculative trades are tough to find.
With COVID-19 still raging and vaccine distribution taking place more slowly than anticipated, it's starting to seem more likely that we will witness baseball only through televisions and radios again, at least at the start. We can probably assume that there will be no fans allowed at the spring games in Arizona. Games played in Florida, where restrictions are slightly more relaxed, will probably be limited to 25% capacity. Because of that gate uncertainty, teams are reluctant to spend money or make impactful trades.
Only 🌴⚾️44 DAYS⚾️🌵!

Voluntary Spring Training reporting for pitchers and catchers is in exactly a month and a half!

2021 season, we see you👏 pic.twitter.com/Ymq1WP0cQO

— MLBPA (@MLB_PLAYERS) January 4, 2021
Still, the league expects a normal spring training and 162-game schedule, at least so far:
"We have announced the dates for the start of Spring Training and the Championship Season. As we get closer we will, in consultation with public health authorities, our medical experts, and the Players Association, determine whether any modifications should be considered in light of the current surge in COVID-19 cases and the challenges we faced in 2020 completing a 60-game season in a sport that plays every day." – Statement from MLB
The MLBPA countered:
"As we've made clear to the league on multiple occasions, we expect Spring Training and the Regular Season to start on time and as scheduled, consistent with our CBA. The league does not have the authority or legal basis to unilaterally delay or shorten the schedule without Players' consent. While there will continue to be challenges, our Players have proven they can safely play a season under difficult circumstances, as have the other sports. The Commissioner's Office has assured us that they have instructed the Clubs to prepare for an on time start."
Since Jed Hoyer has already non-tendered Kyle Schwarber and traded Yu Darvish, it's not a lock that another one of their core players gets moved. That should make proponents of keeping Bryant, Javier Báez, Anthony Rizzo, and Willson Contreras happy. The Cubs have slashed a substantial amount of payroll already, don't appear to be spending any of the savings, and any of their potential free agents are more likely to be moved at the July 31 trade deadline if they are not extended. If Hoyer is willing to eat half of the $16 million still owed Craig Kimbrel, he could be moved this winter or sometime this summer.
The thing is, though the Cubs have made some substantial moves already and expect to compete in 2021, the team still seems directionless. They have more holes to fill now than they did in October and it appears that Hoyer, like almost every other front office executive, is waiting for the free agent market to drop a tier or two.
Chicago won't be players for George Springer, Trevor Bauer, DJ LeMahieu, or J.T. Realmuto, but Tommy La Stella, Kolten Wong, Alex Colomé, César Hernández, Jon Lester, Taijuan Walker, James Paxton, Jackie Bradley Jr., Jurickson Profar, and Blake Treinen might be available for less than $10 million per season on one- or two-year deals. Some combination of that group could fill Chicago's holes in the outfield, infield, starting rotation, and bullpen.
In the meantime, hot stove season remains in a holding pattern and free agents that are getting antsy may start accepting offers relatively soon for substantially less than they had hoped. There are a lot of options left and Hoyer, who has been cold steel on ice so far this winter, may be able to build a competitive roster on the cheap.
---
---
Cubs News & Notes
Odds & Sods
You'll need a subscription to Baseball America read the entire article, but the gist of it is that teams that wait until the offseason to trade an ace tend to fare better with a prospect haul than teams that wait until the July 31 deadline. Time will tell.
Trading Blake Snell and Yu Darvish will set the Rays and Cubs back in 2021.

But past history suggests both teams could ultimately emerge on the correct side of the deal.

We examined offseason trades of aces over the last 25 years ⬇️https://t.co/hO8wQxvg0N

— Baseball America (@BaseballAmerica) January 5, 2021
Tuesday Stove
Per Jeff Passan of ESPN (subscription required), free agency in 2020-21 is unfolding like nothing in modern baseball. Since Nov. 1, the first day of free agency, 30 players have signed guaranteed deals totaling $208,825,000 (not counting Marcus Stroman and Kevin Gausman accepting qualifying offers of $18.9 million each). How meager is that? By Jan. 1, 2020, teams had committed almost $1.95 billion — more than nine times as much spending as this season.
The Blue Jays' contract offer to Springer was worth far less than his reported asking price of $150 million.
The Red Sox and Yankees are among the teams with varying interest in free agent outfielder Yasiel Puig.
Corey Kluber will throw a bullpen session for interested teams sometime next week, according to his agent.
The Mets are reportedly interested in reliever Brad Hand.
Dodgers free agent infielder Justin Turner is reportedly seeking a four-year deal. Seems unlikely.
On a sad note, Sandra Scully, the wife of legendary broadcaster Vin, has passed away at the age of 76.
Extra Innings
Bryant and Rizzo had some fun with Sciambi last spring.
Kris Bryant & Anthony Rizzo were mic'd up during spring training with @BoogSciambi!

SOUND ON 😆 pic.twitter.com/ICoULJiWsk

— Marquee Sports Network (@WatchMarquee) January 4, 2021
They Said It
"When you're talking about the Cubs, the city of Chicago loves its baseball. I want to be where baseball matters, and baseball matters on the North Side of Chicago. I think this job is special, that's what it really comes down to." – John "Boog" Sciambi
"I really liked Owen Caissie. That Larry Walker comparison kind of comes because they're both Canadian, but you can see it. He's big, he's physical, he runs really well for his size. He's got big, left-handed power potential. He's got the classic right-field arm. I'm not ready to put him in the Hall of Fame yet, but I could see with the tools and the Canadian background, you could draw that [Walker] parallel." – Jim Callis
Tuesday Walk Up Song
Snow (Hey Oh) by The Red Hot Chili Peppers – Coldest hot stove ever, am I right?