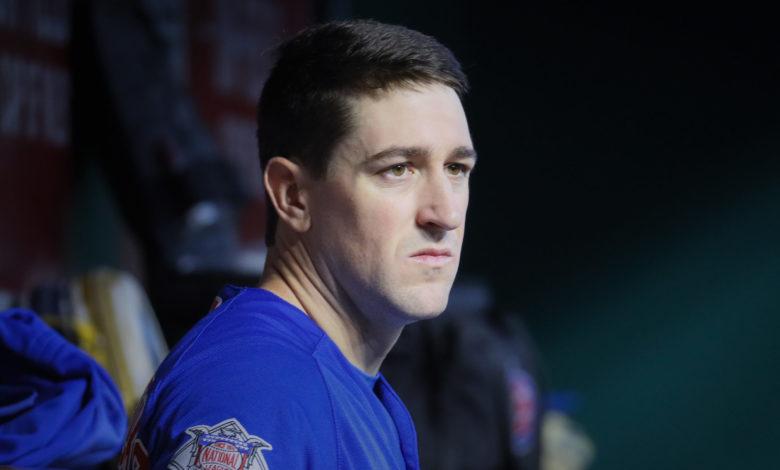 Cubs Have Reportedly Discussed Blockbuster Kris Bryant, Kyle Hendricks Deal with Blue Jays
I'm only going to spend as much time on this as I have to because really thinking about it to any significant extent might break what little is left of my brain. The Blue Jays need a third baseman and are buying while the Cubs "need" to slash payroll and have a third baseman earning $19.5 million, so there has naturally been speculation about the teams potentially matching up on a deal for Kris Bryant.
But the Jays are also in need of two impact starting pitchers and could look to add another Cub after already signing Tyler Chatwood. Enter Scott Mitchell, an MLB and Blue Jays analyst for TSN, who offered a brief but definitive response to a question about whether the Jays and Cubs had talked about a deal for Bryant AND Kyle Hendricks.
Yes

— Scott Mitchell (@ScottyMitchTSN) January 22, 2021
All the Bryant talk over the last two years or so has pushed his eventual departure to the land of fait accompli, but trading Hendricks…man. If moving Yu Darvish and failing to so much as engage Jon Lester when he came to them with a lower offer than what he got from the Nationals were clear signs that the Cubs are punting on 2021, dealing Hendricks would tell us they're just kicking the ball away on first down.
More than that, it'd be a sign that the future Jed Hoyer is looking toward is much more distant than just next year. Hendricks is on a very team-friendly extension signed just prior to the 2019 season that paid him $12 million last year (prorated) and guarantees $14 million in each of the next three seasons. The Cubs then have a $16 million option for '24 that comes with a $1.5 million buyout.
So that's at least three years of contractual control at a very reasonable price for a top-line starter who just turned 31 and whose game isn't predicated on velocity or more traditional "stuff." Trading Hendricks would further decimate what little is left of a rotation that is already too thin to compete in a season the Cubs have openly acknowledged will require as many as eight starters.
---
---
Beyond that, it would remove a linchpin from the rotation in future seasons and forces a team that has yet to produce a homegrown pitcher to completely reverse its developmental trends overnight. The only possible rationale for this move would be to package Hendricks with Bryant in order to offset some of the latter's cost and uncertainty in order to get top prospects in return.
Even then we're still talking about a move motivated primarily by a desire to trim salary since it'd get the Cubs down to around $112 million in actual payroll and $121 million toward the CBT this year. What's more, it would lower them to just $26 million in actual obligations and about $45 million in CBT commitments for 2022. That is an indefensibly low mark for a major-market team and defending it as some kind of smart business move would be the height of foolishness.
Of course, we don't really know how much truth there is to any of this and the "discussions" could have been nothing more than the Jays asking about Hendricks' availability. I'm not going to speculate on the potential return other than to say it'd have to include some of Toronto's top pitching prospects. That probably isn't something the Jays would want to do since they're likewise in need of starting depth and would like to have those pitchers around in the future as well.
As much as I'd love to dismiss this report out of hand and as implausible as it is in general, everything we've seen and heard from or about the Cubs to this point makes it plausible. What a time to be alive.
---
Update: The tweet he's replying to has been deleted, but Miller clarified things just in case anyone blew his word out of proportion. While confirming again that a deal has been discussed, he added: "Not saying it's ongoing or even realistic."
People, people, people… Never said this.
Question posed to me was any truth to the rumour they've discussed deal. "Yes."
Not saying it's ongoing or even realistic. https://t.co/f3fzWJsbhc

— Scott Mitchell (@ScottyMitchTSN) January 24, 2021