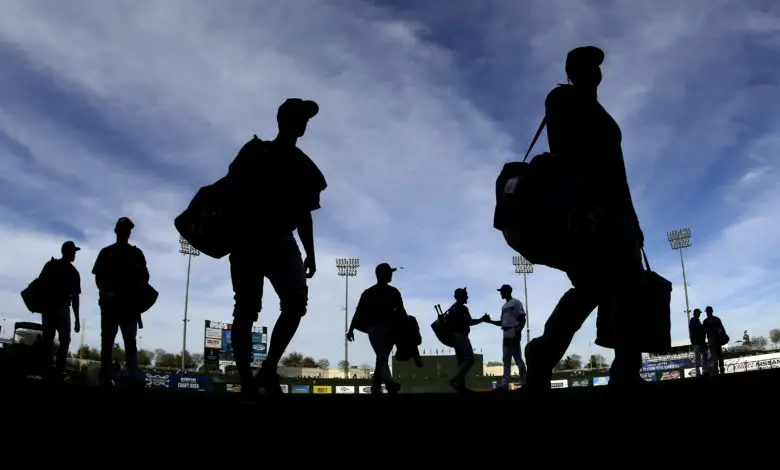 The Rundown: Cubs Roster Remains Working Project, Pederson Predicted Chicago Signing, Báez Trade Speculation Makes Little Sense
In case you haven't noticed, just six players remain from the Cubs 2016 championship roster: Kyle Hendricks, Jason Heyward, Kris Bryant, Javier Báez, Willson Contreras, and Anthony Rizzo. Outfielder Albert Almora Jr. is the latest to break ranks after signing a deal to become the Mets' starting centerfielder (or to back up Brandon Nimmo, depending on which published depth chart is your go-to resource).
https://t.co/nfOxs9VCiB With Almora, the #Mets have settled CF — for now. If there is an 11th-hour settlement and the DH comes to the NL, they can always pivot back to Bradley Jr, who their officials spoke to extensively about a week ago.

— Joel Sherman (@Joelsherman1) February 7, 2021
Almora won't be missed by most Cubs fans, but it is interesting to see that the Mets have enough faith in the former first round pick give him a guaranteed deal. From a high level, it's nice to see Almora given the opportunity for a fresh start with an organization that seems to genuinely believe in his abilities. As for the Cubs, he represents yet another failure to further develop their players at the major league level.
While Jed Hoyer has been busy mastering the slow reveal in a manner that would make the producers of Disney's WandaVision (spoilers) envious, other teams are quickly filling their remaining holes as baseball gets ready to kick off spring camps. With a little over a week left before official workouts begin, the president of baseball operations still needs another veteran starter, a second baseman, a backup outfielder, and possibly some bullpen help.
The pickings are getting plenty slim around here, apologies to the Paul Le Mat and Mackenzie Phillips characters in American Graffiti. That said, the Cubs are still apparently enamored with the idea of reuniting with Jake Arrieta. Despite the nostalgia attached to such a potential move, Arrieta would be a steadying force and innings eater at the back end of a rotation that could feature rookie Brailyn Márquez by the end of the season. If anything, Arrieta's work ethic could be a positive influence on the younger Cubs.
He also throws a lot of sinkers and he throws them well, something of a common denominator among the team's pitching acquisitions this winter. If Hoyer has revealed anything about his intentions to this point, it's that he plans on reducing the number of baseballs hit by the opposition that reach the ballhawks out on Waveland Avenue. Heck, we may see the front office scheduling less frequent cuts of the infield grass, just like old man Wrigley did back in the 1960s and '70s. That type of landscaping helped the mid-80's Cubs teams under Jim Frey and Don Zimmer, too.
The Mets, Twins, and Angels are said to be interested in Arietta, and each of those teams may be willing to outspend Hoyer to sign the veteran right-hander. Then again, Jake Odorizzi, James Paxton, and Taijuan Walker are also still available and each might make more sense for teams hoping to contend in 2021. Though Hoyer has said he intends to battle for a division title, most of the moves he's made this winter suggest otherwise.
Jason Kipnis, Brock Holt, Eric Sogard, and Logan Forsythe are probably the only realistic infield options left given the team's budget. If Hoyer wants to sign a backup outfielder, Josh Reddick and Brett Gardner are still available, as is Jake Marisnick. Holt can play outfield, too. The relief market still seems pretty robust and options include Trevor Rosenthal, Ken Giles, Jake McGee, Junior Guerra, Ryan Tepera, and Jeremy Jeffress.
Other than depth options willing to sign minor league deals, it's also quite possible Hoyer may be done adding to his roster. Things aren't hopeless, as the Cubs are still considered by some to be at least co-favorites to win a very weak NL Central, especially if the team's core returns to vintage levels of play. With the bulk of the roster on essentially one-year deals, phase two of the rebuild is likely on hold until July, depending on how well Chicago plays this season.
---
---
Cubs News & Notes
Odds & Sods
We thought they were a dynasty in the making, didn't we?
https://twitter.com/joonlee/status/795130599799406592
Monday Stove
ESPN announced late Sunday that longtime baseball reporter Pedro Gomez has died at the age of 58, saying he passed away unexpectedly that afternoon at his home in Phoenix.
The A's and Rangers completed a rare intra-divisional trade over the weekend when Texas sent shortstop Elvis Andrus, catcher Aramís García, and $13.5 million to Oakland for slugger Khris Davis, catcher Jonah Heim, and right-hander Dane Acker.
Though the Mets signed Almora, they still have some degree of interest in free agent center fielder Jackie Bradley Jr.
New York fell short in the race to sign Trevor Bauer, but Mets team officials reportedly thought they had reached a deal with the free-agent pitcher before he signed with the Dodgers.
Bauer apologized to Mets fans for leading them on.
Brewers season ticket renewals for this season have been "extraordinarily high" despite the uncertainty of when and how many fans will be able to attend Milwaukee's home games.
The Yankees are reportedly not interested in signing outfielder Yasiel Puig and the Indians indicated they have no intention of trading third baseman José Ramírez in baseball's most recent hot stove rumors.
Sliding Into Home
I'll be off tomorrow and Wednesday for my latest medical procedures, but hope to feel well enough to resume writing on Thursday. I've stocked up on chocolate chip and oatmeal-raisin cookies, my preferred comfort snacks.
Extra Innings
I believe Mike Trout is pretty good at baseball, too.
Mike Trout launched this golf ball into outer space pic.twitter.com/s1ra2qOKeK

— Baseball (@mlbelites_) February 6, 2021
They Said It
"And then I swear to God this happened: It's about 11:30 at night, and I'm in bed on my phone. I'm shuffling between various roster pages, thinking through different possibilities, trying to figure it all out. When all of a sudden it hits me — man, I'm telling you, like a bolt of lightning. I turn to [my wife Kelsey] and I say, 'Shoot — I figured it out. I'm gonna play for the Cubs.'" – Joc Pederson
"We have a really good core coming through the system right now. And I know fans aren't really happy to see their guys that brought them a World Series go, but I think we have the talent and the guys that want it bad enough to bring another championship to Chicago as soon as we bridge that gap." – Brennen Davis
Monday Walk Up Song
Road to Nowhere by Talking Heads – Most of the intrigue surrounding this season involves the uncertain future of Chicago's North Side baseball club.