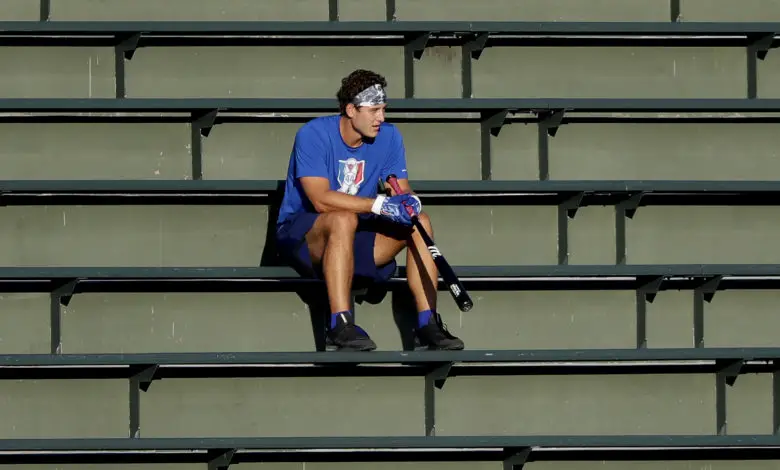 The Rundown Lite: Continued Optimism for Cubs Core to Recover, More Bullish Farm Outlook, Big Benintendi Trade
For what might be the first time in this site's history, I'm going to follow through on a plan to keep a column brief. That's mostly thanks to the Cubs, who've done so little this week that I'm yet again pumping the well of Jed Hoyer's Monday press conference.
We've all been hearing and hoping for the last few years that something would click for the offense, resulting in a juggernaut that could hang crooked numbers every game. Instead, the Cubs have ended up eating infrequent omelets after laying goose eggs, then repeating the process over and over.
Some of that can be attributed to ill-timed injuries, some to the lack of development at the highest level, and yet more to a lack of dimension in the lineup. There's hope that with a full season, the return of in-game video, and a little luck — or maybe a lot — we'll see the kind of rebound that's been predicted since 2018.
"Listen, we just straight-out underperformed last year," Hoyer admitted. "There's no way around it. Do I believe that that group is going to struggle in the same way? I don't. And maybe that's stubbornness, or maybe it's looking at the back of their baseball cards.
"But, I have a hard time believing this group of players, with a lot of guys in walk years, is going to struggle that way."
I tend to agree with Hoyer here if only because it's like calling heads three times and flipping tails each time. You've got to be right eventually. Joc Pederson provides a new wrinkle to the offense, small though it may be in the big scheme, and it's also possible that playing in contract years could provide additional intrinsic motivation for three key hitters.
Of course, the Cubs have more than enough money to extend all three and could provide that additional peace of mind this spring if they so choose.
---
---
Cubs news and notes
Did anything happen yesterday?
Seriously, did the Cubs do anything?
Oh, here's a note: Keith Law ranked the Cubs' system 26th overall, but Baseball America has them at No. 17 ($) in their latest breakdown. The Rays top both lists, which should come as no surprise.
Javy Báez has a growing chain of restaurants in his native Puerto Rico that pass out hundreds of free meals to local kids rather than trying to just make as much money as possible.
There should be some news coming soon as the Cubs look to add at least one more pitcher to the mix. Some of the last remaining big names are being connected to other teams, so it could just be a matter of Hoyer waiting to see how the market comes down just ahead of camp.
MLB notes
Tell me if you saw this coming: The Red Sox dumped salary by trading Andrew Benintendi to…the Royals? The Mets were involved as well because I think it's mandated that they are at least mentioned in connection to every deal made this winter. Outfielder Franchy Cordero goes to Boston from KC, righty Josh Winckowski joins the Red Sox from the Mets, and Boston also receives three players to be named later (two from Kansas City and one from New York). The Mets get Royals outfield prospect Khalil Lee.
Speaking of the Mets, as we have to, Jake Arrieta is reportedly drawing interest from them on a deal for 2021. Nothing is considered close and the Mets also have interest in lefty James Paxton, who I would like to see the Cubs pursue.
Former Cub Brandon Kintzler agreed to a minor league deal with the Phillies, who play in the NL East with the Mets, that will pay him $3 million with incentives if he makes the roster. He reportedly turned down a $2 million guarantee with Miami, but Philly's got a week bullpen and Kintzler has a very good chance to earn a spot.
That's similar to what we saw with Steve Cishek, who opted for a non-guaranteed deal with Houston that will pay him $2.25 million plus incentives if he breaks camp with the Astros. While they aren't the same as the deferred deals I've been harping about all winter, these are examples of teams hedging their bets and hoping to have a full season with fans in some capacity. More than just their pitching performance, I'm willing to bet the progress of vaccinations and resultant revenue projections will dictate whether roster spots open up.
Shortly after being designated for assignment to facilitate the additions of Pederson, Andrew Chafin, and Trevor Williams, infielder Max Schrock has been claimed by the Reds. The Cubs picked him up off waivers from the Cardinals early in the offseason, so now he just needs the Brewers and Pirates for an NL Central BINGO.
Since they went unmentioned in two consecutive bullets, I'll just say that my dermatologist is a big Mets fan. Speaking of which, the irregularly shaped mole he removed from the bottom of my foot came back clear of any other abnormalities. That hasn't always been the case, so I'm happy for it, but the divot he removed is taking a while to heal fully and it still hurts to walk.
Thursday Walk Up Song
Venom by Eminem – Sorry to push Em on you two days in a row, but this one is a little different. Written for the movie of the same title, my son loves this song because it gets him pumped up. I mention that because he's got a fundraiser going to help Lost Boyz Inc. with a proposed trip to the Negro Leagues Baseball Museum this summer.
His plan is to take either flat donations or pledges for each swing and pitch he makes over 50 mph (50 pitches, 50 lefty swings, 50 righty swings). We'll do the official measurements in early March and collect the donations through the middle of the month in order to have them in plenty of time for planning. Cubs Insider is matching donations up to $500 with a minimum $200 donation, and my goal is to get that $1,000. 
If you'd like to make a pledge, please do so in the comments or my reaching out to me on social media. If you'd prefer a flat donation, you can do so via PayPal (dealtman at gmail dot com) or Venmo (EvanAltman36). Thank you.
Oh, and if you're wondering about the potential pledge amount, I would expect about 40 total swings/pitches to go over 50 mph. Some of that is fatigue and some could also be user error, but we took some quick measurements with his new bat last night and he averaged 51 mph from the left side. The fastball is coming around, maybe 48-52 at this point.