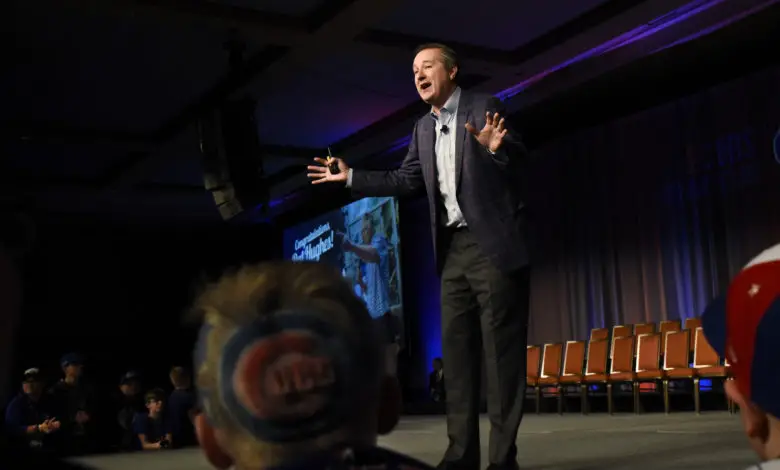 How Much Did Tom Ricketts Increase Cubs' Baseball Budget for '21?
Let's Do Some Cocktail-Napkin Math
Jed Hoyer has been pretty busy since the end of January, when it was first reported that Tom Ricketts had approved an increase in baseball payroll. David Kaplan tweeted about the budget bump on January 29, the same day it was announced that the Cubs had agreed to a deal with Joc Pederson. Jake Arrieta actually had a deal in place just a few days later, though official news didn't come out for about a week and a half, or two days after Danny Rockett got a little tipsy and broke it on his podcast.
The Cubs have also agreed to guaranteed deals with relievers Andrew Chafin and Brandon Workman, starter Trevor Williams, and outfielder Jake Marisnick. The new contracts come out to $20.75 in total, but $5.5 million of that is deferred to next season via signing bonuses and thus is exempt from this year's budget. On the other hand, the deals include $4.5 million worth of performance bonuses that could be reached this season.
We don't know exactly where the budget was originally set and what it was raised to, but Hoyer offered a clue during Tuesday's press conference when he discussed the club's failure to re-sign Jon Lester. The Cubs wanted to bring the lefty back and were unable to in spite of the mutual desire for a reunion, so it was not the intentionally savvy business move some have tried to make it out to be.
"At that point in time in the offseason, we didn't have the financial flexibility," Hoyer admitted.
Between Lester's move to Washington and the budget increase, the Cubs managed to sign backup catcher Austin Romine for $1.5 million and swingman Kohl Stewart for $700,000. Based on the numbers at Roster Resource and a little cocktail-napkin math, it looks like the Cubs were just a wee bit under $142 million at that point. Assuming Hoyer left some leeway for midseason acquisitions as is always the case, I think we can safely assume a max of as little as $145 million.
Leaving only $3 million sure doesn't seem like it'd do much good, but Hoyer may still have been operating under the notion that he was going to have to cut or that he might be selling at the deadline. As we now know, the calculus has since changed.
---
---
Arrieta's deal was made official Tuesday and includes a $4 million base with a $2 million buyout on a $10 million mutual option in 2022, so the updated Roster Resource numbers show the Cubs at roughly $157 million. Keep in mind that we're going with actual payroll here since the competitive balance tax number doesn't reflect what Ricketts has to cut checks for.
Add in the potential incentives for new and existing players and the possibility that Pedro Strop and/or others with minor league deals make the roster and you could have as much as $10-12 million more. Mind you, some of those escalators are pretty lofty and almost certainly won't be reached. And in the unlikely event that every player makes good on maxing out his respective deal, the Cubs will probably be in the hunt and Ricketts will be making more money.
Is it fair, then, to guess that Hoyer was initially given a budget of $145-150 million and then got a bump of $20-25 million? Based on everything we know and can infer, I think it's more than fair. Being around $170-ish million would still put them almost $30 million under last year's tally and around $52 million below 2019's payroll, but it's a helluva lot better than what it looked like a month ago.
That's not meant as praise or justification, mind you, because the Cubs couldn't spend on better fits — Kolten Wong comes to mind — and appear to be reliant upon a lot of little things going right for them if they're going to have success. On the other hand, they've currently got under $60 million committed to next season's payroll and have more than enough room to extend several core players while still having room left to fill gaps in free agency. Some of their young players should be ready by then as well, which will defray some costs.
As unrealistic as it is, the Cubs could give $30 million in average annual value to four of their top position players and they'd still be under $180 million overall next season. That's if there is a next season, anyway.
Hoyer said recently that he plans to sit down with several players to talk extensions, so there's a real sense that something could actually get done this time around. Javy Báez was very close to a new deal last year right when the season got shut down and he could be more eager to hammer something out after a rough 2020 campaign. Anthony Rizzo seemed a little peeved when talks went nowhere in the winter prior to last season, but the two sides may find more common ground this spring.
Kris Bryant is likewise amenable to a long-term deal and always been in the case in spite of what a lot of people mistakenly interpret. The big key for him and part of the reason previous talks have stopped before they started is the assurance of security in the form of a no-trade clause. The Cubs have been notoriously fickle in that regard, but I believe Bryant would sacrifice some overall financial value in order to have an additional level of certainty built into his deal.
Whatever the actual numbers are for this season, we know for certain that the Cubs have a massive amount of room for next year if they choose to use it.