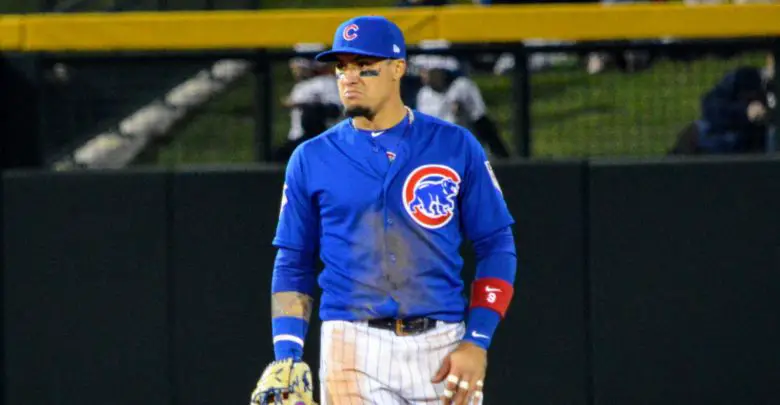 The Rundown: Basing Potential Báez Extension on Tatis Jr. Deal, Arrieta Excited to Be Back, Maybin Returns, Sunday Baseball Notes
For some reason, Paul Sullivan of the Chicago Tribune decided to use the record contract Fernando Tatís Jr. signed with the Padres as the barometer for what it may cost to extend Javier Báez. The Cubs shortstop, who will earn $11.6 million this season, probably won't jump to $24 million in AAV via extension or free agency. Interestingly, San Diego is paying out a total of $784 million in guaranteed dollars to Tatis, Manny Machado, and Eric Hosmer. The Friars are an elite second baseman shy of becoming baseball's first billion-dollar infield.
Chicago Cubs President of Baseball Operations Jed Hoyer said today that he plans to talk to Javier Báez, Anthony Rizzo, and Kris Bryant at spring training about their future with the team.

(Via @JamesNeveau) https://t.co/P4iwepAqxc

— Daniel Greenberg (@ChiSportUpdates) February 16, 2021
Unfortunately, it's not as simple as saying Tatís set the market with the 14-year, $340 million extension he signed last week. Likewise, it would be completely unfair to judge Báez on his brutal 2020 campaign. Let's not forget that the man was the MVP runner-up in 2018 and was a 3.4 WAR player in 2019.
Barring extensions and including Báez, there will be five all-star shortstops entering free agency after this season. The others — Francisco Lindor, Corey Seager, Carlos Correa, and Trevor Story — should provide better contractual comparisons. El Mago is the least productive of the bunch based on OPS+ and though he lists all kinds of intangibles on his resume, those don't necessarily translate to more dollars. Earning the first Gold Glove of his career should help, though. Then again, the Cubs are incredibly talented at shortstop throughout their system.
That Jed Hoyer hopes to extend his core group is probably more of a timing issue than anything else. In addition to Báez, Kris Bryant and Anthony Rizzo are coming off their worst seasons as professionals, then there's the uncertainty of the next collective bargaining agreement. One would think Rizzo will be the easiest to extend, and Báez has indicated previously he is willing to work out some type of deal to stay in Chicago.
Looking at things from a very high level, it's hard to justify the Cubs' unwillingness to spend like the Padres considering their respective market sizes. Perhaps it's just a matter of confidence in talent. Would you rather have an infield of Machado, Tatís, and Hosmer, or Bryant, Báez, and Rizzo? If Hoyer could lock up all three for less than $550 million, and that's not a real stretch in the current baseball economy, it should be considered a coup of sorts.
Cubs News & Notes
Odds & Sods
Inquiring minds demand answers.
How is it possible that Mr. Met and Mr. Redlegs are basically the same thing but Mr. Met looks like a cheery mascot whereas Mr. Redlegs looks like a nightmare from the depths of hell pic.twitter.com/E5tVvser7f

— Emma Baccellieri (@emmabaccellieri) February 21, 2021
Updates on Nine
Sliding Into Home
The results from Friday's procedure came back pretty quickly and the "concerning blemish" on my upper chest is now a little more worrisome. I'll be back in surgery on March 12 to have surrounding tissue removed. I do not know how much they intend to take just yet. Keep pushing, right? That's what Kevin Cronin would say, anyway.
Springsteen is Baseball
The new album by Bruce Springsteen and the E-Street Band, Letter to You, is the band's best in a couple decades. Nice to see the Boss and his friends getting back to their big-sounding, anthemic roots. Hopefully a tour will be in the works once we've beaten the pandemic. The lead single and title cut is fantastic.
Extra Innings
Career WAR, OPS+, and DRS (Defensive Runs Saved) of this year's pending free agent shortstops. DRS is a theoretical value, so I don't personally like that metric, but it at least gives us a comparison point.
Lindor: 28.7, 117, 46
Correa: 26.3, 126, 42
Story 21.0, 114, 45
Seager: 17.8, 129, -5
Báez: 17.7, 102, 46 (10 as a second baseman)
Predicting next winter's top 10 MLB free agents: Four shortstops lead list; Noah Syndergaard is best starterhttps://t.co/hWEeHZcmv1

— CBS Sports MLB (@CBSSportsMLB) February 16, 2021
They Said It
"From everything I've seen, there's no reason that we can't succeed at the highest level again. Regardless of getting rid of a couple guys, or not re-signing a guy, the talent's still here. The mindset has to be just that." – Jake Arrieta
"I don't think there's an unwillingness to work or change. These guys are really, really good at coming to work every day and trying to be the best version of themselves. It's about getting the right approach and the right mentality as well as training a little bit tougher." – David Ross
Sunday Walk Up Song
Let's Get It Started by Black Eyed Peas – Cactus League game start this week and temperatures in the Midwest could hit the 45-50 degree range on Tuesday and Wednesday. With COVID-19 numbers rapidly tumbling, perhaps there is a light at the end of what has been an incredibly dark tunnel.