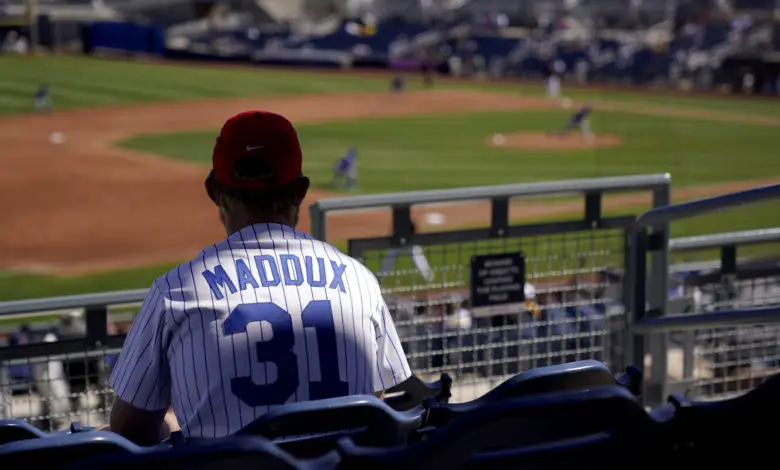 The Rundown Lite: Hendricks Excited About Hearing Fans Again, Cubs' Budget Could Jump Again, How Prospects Stay Ready Before MiLB Camps Open
Our intrepid Rundown writer apparently got some thoughts from all the unpaid internship discourse taking place on Twitter and has decided to stage a mini strike. Either that or his real job is somehow more important to him than this one. Seriously, though, people should be paid for their work and I'll be happy when Michael is able to get things settled enough to return.
The Cubs returned to action Monday with a lackluster 1-0 win over the Padres in seven innings that only those in attendance were able to watch. The Padres' radio team was on the call, but they called the opposing starter Jason Hendricks, so maybe they're still rounding into form as well. Kyle Hendricks, however, was just happy to be out there on the mound with fans in the stands.
A smile mid pitch from The Professor? 😁 (granted this was a warm-up pitch but still!) #Cubs #SpringTraining pic.twitter.com/EgeWoXNPPh

— Scott Changnon (@ScottyChags) March 2, 2021
"You hear everything," the starter said while bearing the same smile that had been plastered to his face the whole time he was pitching. "It was just back to somewhat of normal. It was super exciting. Walking out there and seeing fans in the stands, having people cheer, we obviously really, really missed that. You saw it from all the guys."
There weren't a lot of highlights from the game and the lone run was scored on an RBI groundout from P.J. Higgins, but maybe we'll see more action this afternoon. Hell, just being able to see the action at all will be a big change, as Marquee Sports Network will be carrying the game.
Kyle Hendricks rolls a 3-6-1 double play in the first inning. Already seeing PFP results. #Cubs pic.twitter.com/EPGL3phSlC

— Russell Dorsey (@Russ_Dorsey1) March 1, 2021
Baseball starting back up every spring is always exciting, but it's even more so now given everything we've collectively pushed through in the last year. Adding to the excitement is the distinct possibility that fans will be in attendance at Wrigley starting with Opening Day, then likely ramping up in numbers as the season goes along.
That's almost a certainty in light of even more good news on the vaccine front, as Merck has reached a deal with Johnson & Johnson to produce the latter's single-dose vaccine. Experts believe this new pact could double production, which is incredible when considering the recent release of 3.9 million J&J doses was expected to increase vaccinations by 25% or more in states.
---
---
Cubs could see another budget bump
Jed Hoyer got a little more money to work with back in January, right around the time the first reports came out about the safety and effectiveness of J&J's vaccine. While we obviously don't know where the budget started and what it was increased to, my cocktail napkin math had Tom Ricketts giving baseball operations up to $25 million or so with a cap of around $170 million.
That's significantly better than where it seemed things were going to be stuck early on and it's fair to assume the prospect of having fans in the ballpark at some point impacted the decision. It's also fair, then, to assume that getting fans at Wrigley earlier and in greater numbers than first projected could lead to additional increases.
''If we play well and there's clear things we need to do to add to the team, I'm confident we'll be able to do that,'' Hoyer told reporters. ''I'm confident we will be able to do that if the team plays that well. But . . . I think we'll also learn more about the budget in the next few months, as far as fans in the stands. That makes a huge difference toward your finances.''
This is a bridge we'll have to wait to cross, but I really do believe it's more than Hoyer blowing smoke. In addition to an increasingly brighter outlook when it comes to ending the pandemic, there's the even more practical matter of Ricketts wanting to make more money by having a better team to put in front of the fans. Gee, it's almost enough to make you feel good about the Cubs.
I'll admit that I was not in that mode heading into this season, particularly after the Darvish trade that seemed to signal a complete teardown. But whether it was the righteous indignation of so many fans or just the nature of shifting projections and a few shrewd moves, and perhaps just a softening of harsh opinions over time, things don't appear nearly as bleak.
That's not true for everyone, of course, as some fans truly want to live in misery. I don't know why anyone would want to go out of their way to badmouth each and every positive assessment of an individual player or the team as a whole, but there's a strain of fandom that sees people wanting to be upset about their favorite team rather than happy about it. Oh well.
Cubs news and notes
Anthony Rizzo hit leadoff because David Ross wanted to ensure him early plate appearances, but Ian Happ is the Cubs' full-time leadoff hitter.
Between three Millers deployed in Monday's opener, it was nice to see Ian Miller getting a start in center and then playing an integral role in the lone run. He laid down a sac bunt to move runners to second and third with one out, leading to the RBI groundout from Higgins. Miller ran like a demon and almost beat the throw, which is exactly what you should expect from him. It's also why I think he's a great option for this team.
Cubs play some small ball to get on the board in the 5th inning:

-Bote leadoff BB
-Vargas 1B
-I. Miller sac bunt
-Higgins RBI groundout pic.twitter.com/4sU9Uwky71

— Tony Andracki (@TonyAndracki23) March 1, 2021
Brennen Davis made a loud out yesterday and it'll be fun to see how he performs. While he and a few other exciting young position players may make noise, they're only in camp to get more reps before they head to Triple-A or before lower minor league camp opens on April 1.
Cubs pitching prospect Max Bain produced a great video for his YouTube channel that lays out a day or two in the life of a minor league pitcher who is not yet in camp. He goes through a workout routine, live ABs, and more at X2 Athletics in Scottsdale. Recent Cubs draft pick Jordan Nwogu makes a cameo, as does X2 owner Luke Hagerty, who has an incredible comeback story that involves being a Cubs minor league pitcher twice.
Kris Bryant was closest to the pin in a pre-workout golf competition Monday.
#cubs Kris Bryant was closest to the hole during this pre workout golf challenge. #SpringTraining #KB17 pic.twitter.com/bPTADgbWVi

— John Antonoff (@baseballinfocus) March 2, 2021
They Said It
I think the potential is always there. We're gonna learn a lot about finances over the course of the next few months, like what percentage of fans [will be allowed] when things open up. I think those are all real questions that we're still figuring out. But we want to be on that side of the equation, for sure. That's where you would like to be. – Jed Hoyer
They don't call me on those things. I've been on a couple of calls that are encouraging, to say the least. But, again, that's way, way above my head. I think everybody is trying to get back to a sense of normalcy, but as well understanding that we've got to keep people safe. – David Ross
Sorry, gotta cut it off here and get back to my own gig. Take care, everyone.