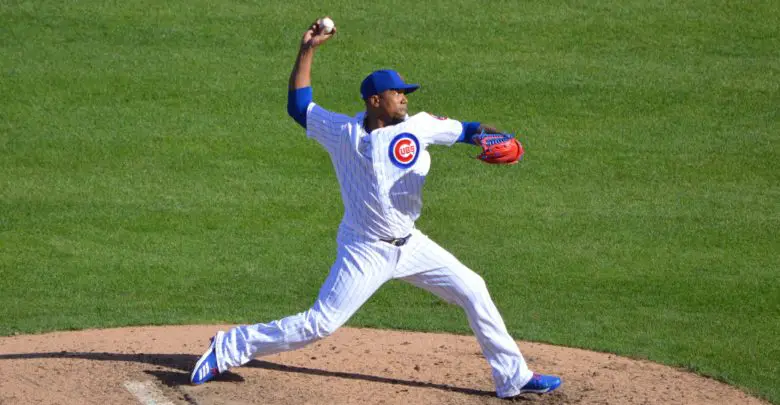 The Rundown: Strop Violates COVID-19 Rules, Arrieta Debuts, Bryant Has Peace of Mind, Mets Hope to Extend Lindor This Week
If you are unaware of the heightened stress regarding COVID-19 as the country slowly starts to reopen, you need look no further than Cubs camp at Sloan Park. I suppose you could also check at this Bed, Bath & Beyond. Reliever Pedro Stop has found himself on the wrong side of social media finger-pointing because he erred in protecting himself, his team, and the league from a potential outbreak.
Cubs reliever Pedro Strop violates MLB's COVID-19 ruleshttps://t.co/KdMuTWyMvf

— WGN TV News (@WGNNews) March 7, 2021
Now, I'm not going to pretend he's the game's sole violator, and I'm certainly not looking for a morality or ethics argument because frankly I've had enough of that, but I do venture out into the world occasionally and see incredible inconsistency among my fellow humans. Though baseball likes to think it's in some sort of semi-protective bubble, the responsibility ultimately falls on all club personnel, including players, to safeguard themselves. The problem with running an honor system is that, well, not everybody is honorable. The entire country is all the proof you need.
There are some people who intend to wear masks for the rest of their lives, or at least through flu season, and data suggests that like a zero-COVID society is practically impossible. At some point when it is deemed safe by the powers-whoever-they-be, we will all have to rely on a little bit of faith in our immune systems and those of others.
Yes, the infection is horrible. I went through it in November and, though I felt like I was going to die, I recovered. My doctor told me last week that COVID will rear its ugly head on a regular basis — she called them "communicable active periods" — just as the flu does, and its likely we'll all need booster shots in the years ahead. That seems logical to me and it would be difficult to argue that opinion.
Strop dined indoors without wearing a protective facial covering, which I presume means he was sans mask while he was away from his table and not in the act of ingesting a meal. In some areas of the country, that is not allowed; in other parts of the United States, that's considered political overreach. In some places, how health suggestions are followed may differ between two public entities on the same street. It's happening in baseball, where city governments and public health officials are deciding how, when, and if fans can attend baseball games and at what percentage of stadium capacity. Protocols for each stadium differ and it seems to me capacity is a poor control barometer anyway, but that's a discussion for another time.
I'm not saying the game should show leniency on the veteran reliever, but I don't think fans should be too quick to judge, either. There is no single cluster of people in this country that follows the same rules or believes the same things when it comes to the contagious infection. Still, we've been under numerous restrictions and self-isolation for a full year this week (March 9, 2020 for me), and nobody should be coasting to the finish line like they've got a five-lap lead with one to go. A few more months of diligence isn't much to ask, and hopefully that's all it will take.
We hate the rules, but we know they must be obeyed. That goes for everyone, even the bubble players, no matter how cool you think it is that said player wears his hat slightly askew to one side. For a guy who was mentioned just last week as a great addition to camp based on morale and work ethic alone, Strop let a few people down. It would be nice if we simply acknowledged he made a mistake and just moved on with our lives. Your opinion may differ, and you're entitled to that, but that's how I see it.
Cubs News & Notes
Odds & Sods
Is it just me, or does the kid on the far right look like he has some devious plan to reenact this scene from "The Warriors" once Bobby Murcer gets closer?
"Old Days"Bobby Murcer braves the swinging bats of the
"Bat Day" crowd to sign autographs before a 1971 game at Yankee Stadium.#Yankees #NYC #MLB #1970s pic.twitter.com/5rFcDNIAjg

— Tom's Old Days (@sigg20) March 8, 2021
Spring Training News & Notes
Coronavirus fatigue might make it tougher for the league to fight the pandemic this year.
The Nationals have released former Cubs closer Jeremy Jeffress.
New White Sox closer Liam Hendriks adds a big personality to Chicago's clubhouse.
The Mets and shortstop Francisco Lindor are expected to engage in contract extension talks sometime this week. If the two sides agree to an extension it should provide at least a decent glimpse at what other veteran shortstops may be looking at in financial terms as it relates to their own potential extensions.
The Padres are one of baseball's most loaded teams this year, but it is the addition of Yu Darvish that makes San Diego fans believe they have a legitimate shot at winning the World Series.
The Astros pitching staff has been decimated by injures, so Houston agreed to a two-year deal with starter Jake Odorizzi over the weekend.
Take Me Out to the Ball Game
The Diamondbacks have been approved to allow fans in attendance at Chase Field starting with Opening Day. The club will be allowed to seat fans at 25% of capacity.
Teams that play in California are inching closer to an agreement to allow fans back to their respective MLB stadiums. Governor Gavin Newsom is on the verge of an historic recall, so he may be pushing just a little harder for an agreement.
The Dodgers and Angels could be limited to just 100 fans on Opening Day, however.
Extra Innings
I just talked about Sal Frelick last week. Nah…Gordon Wittenmyer doesn't read me, it's merely a coincidence.
Frelick and Gold Put on a Show, BC Comes Back From Eight-Run Deficit To Beat Auburn https://t.co/CgMCIRVSfX

— Gordon Wittenmyer (@GDubMLB) March 8, 2021
They Said It
"None of us are going to be mad at Pedro [Strop]. It's just a little slipup. Again, it's a moment for us to realize that we need to take the protocols seriously and keep everybody as safe as possible so we can play all 162 this year." – Jake Arrieta
"It's a good reminder that we got to continue to follow protocols. It's easy to get in this environment and relax. We did such a good job last year." – David Ross
Monday Walk Up Song
Hard Livin' by Railroad Earth. I know we are all excited that the world seems to be turning the corner on the pandemic, but Strop knows the rules.
By the way, that awesome repetitive banjo riff you here throughout this song is courtesy of finger pickin' legend Rev. Gary Davis, and this song is a tribute to the legendary guitarist who claims a higher power wrote all of his songs. There's a great documentary on Amazon Prime called "Harlem Street Singer" about the world's most famous blind street musician, if you have an hour or so to kill.