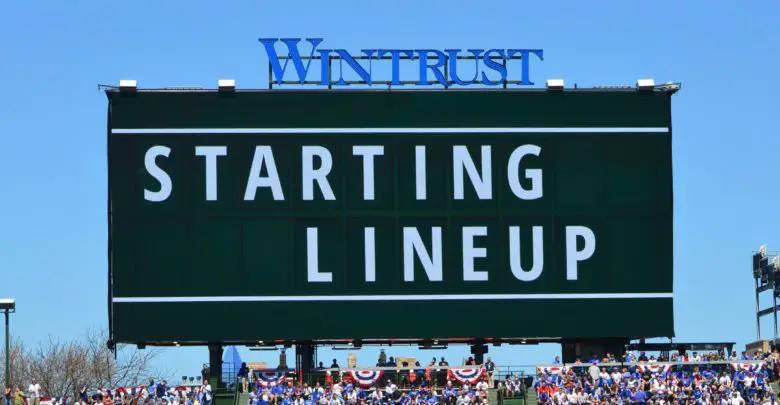 Chicago Cubs Lineup (4/7/21) – Happ Leads Off, Sogard at 2B, Hendricks Making Second Start
Ian Happ leads off in center as the Cubs try to close out their second series win to open the season. Eric Sogard bats and plays second while birthday boy David Bote gets the day off, Anthony Rizzo is at one corner, and Kris Bryant is at the other. Joc Pederson is in left, Javy Báez plays short, Jason Heyward is in right, and Tony Wolters is the catcher.
Kyle Hendricks was uncharacteristically wild in his first outing, walking the leadoff batter in the first two innings and allowing a single to lead off the 3rd before he walked the second hitter. It took him 63 pitches to get through just three innings, 40 fewer than he needed to shut the Brewers out on Opening Day last year. There really wasn't anything worthwhile to point out about that initial effort, so I won't.
Hendricks surely won't blame last week's frigid conditions for his performance, though it's hard to believe he was able to manipulate his pitches as well as he'd have liked. Warmer weather and the law of averages are in his favor as he faces a Milwaukee lineup he's limited to an aggregate .598 OPS over the years.
Travis Shaw is the only Brewer who has put up big numbers against Hendricks over more than a handful of matchups, clubbing three homers and posting a .967 OPS in 29 plate appearances. Shaw popped a dinger last night too, so he's probably feeling pretty confident about this one. If The Professor can avoid further damage from his nemesis, the rest of the order sets up pretty well for him.
Going for Milwaukee is 28-year-old righty Brandon Woodruff, one of roughly 17 starting pitchers on the team who looks like a dude you'd find pounding Schlitz tallboys at a Beloit supper club on any given weekend. Seriously, all of the Brewers' projected starters other than Freddy Peralta are either 6'3″ or 6'4″ and between 222 and 243 pounds. Woodruff is at the high end on both counts.
As his stature indicates, he's a hard thrower who can approach triple digits and sat 97-98 in his season debut. Woodruff throws his sinker just as hard as his four-seam and he's increased the usage of the former over the last few years to the point that it may now be his favorite pitch. His slider is a real weapon and he'll use it to get whiffs by offsetting the hard stuff.
Just as you'd expect, right-handed batters have a much more difficult time against Woodruff, putting up a .594 OPS and .260 wOBA. Lefty batters are at .705 and .305, so the Cubs could really benefit from Pederson finding his stroke in this one. Part of the reason they liked him is that he's handled velocity well over the years and this is definitely a case in which that will come into play, as he's homered twice in three career at-bats against Woodruff.
As much as you hate to see them doing their opponents any favors and not making the starter work, Woodruff is the kind of strike-thrower against whom an aggressive approach could work well. He loves to get ahead with first-pitch strikes and he'll do so with a fastball about two-thirds of the time, though righties will need to be wary of that early slider he likes to slip in with high frequency.
This is a tough matchup for the Cubs and it's going to be very important that they come out of the gate swinging. Making contact would be good as well, of course. The bottom line is they just can't allow Woodruff to get ahead and dictate the pace.
First pitch from Wrigley is at 1:20pm CT on Marquee Sports Network and 670 The Score.
Kyle Hendricks takes the mound for the homestand finale!#CubTogether pic.twitter.com/sFstxiiMhQ

— Chicago Cubs (@Cubs) April 7, 2021