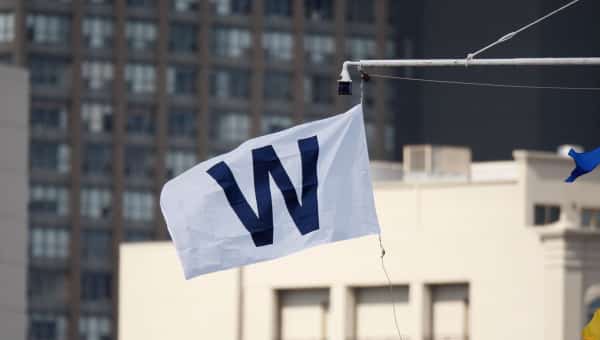 Chicago Cubs Score and Recap (4/8/21): Cubs 4, Pirates 2 – Homers Build Lead, Kimbrel Saves Day
Jake Arrieta's first start for the Cubs in four years ended with a 5-1 win against the Pirates on Saturday as he went six innings, giving up only one run on six hits with five strikeouts and one walk. He attempted to duplicate that success Thursday against Pittsburgh and starter Tyler Anderson for the second time. After the victory, Arrieta is 70-31 with a 2.73 ERA during his two stints with the Cubs and 14-6 with a 2.87 ERA in 24 career starts versus the Pirates.
He was nowhere near as sharp as he was in his last outing as a lack of command haunted him for most of the game, highlighted by a mere 11 first-pitch strikes. He would last six innings, issuing three walks with four strikeouts while allowing a hit in every frame but one. He flirted with trouble in both the 2nd and 3rd before succumbing to the Pirate offense in the 4th inning when he gave up two runs. Arrieta finished with 81 pitches, 53 of which were strikes.
The Cubs have struggled offensively in the early going but they were hoping a trip to PNC Park would be the remedy. Entering today, Anthony Rizzo, Kris Bryant, and Willson Contreras had a combined career OPS of .960 with 21 home runs in Pittsburgh. Sometimes, a change of scenery is exactly what a team needs to break out of a slump.
It was apparent the Cubs wanted to be ultra-aggressive at the plate and it paid off early. In the top of the 1st inning, Bryant continued his success against the Pirates with this second home run of the year to straightaway center field. Later in the game, he would add a double down the left field line, finishing the day 2-for-4 with an RBI. After two innings, the team had already recorded four hits to equal their total for the two games prior.
KB tees off in Pittsburgh! #KBoom#CubTogether pic.twitter.com/0Tc09Jeqpk

— Chicago Cubs (@Cubs) April 8, 2021
Down 2-1, the Cubs regained the lead when Rizzo led off the 6th inning with a single to center and was then brought home by a Javier Báez moonshot, which he golfed only inches off the dirt. Rizzo added a solo shot in the 8th to give the Cubs a 4-2 lead. It was his 60th first-pitch homer, most in the major leagues going back to 2011. When it was all said and done, the visitors had 11 hits on the day, five more than their previous high of six. While it wasn't the offensive explosion Cubs fans were hoping for, it was a definitely a positive step in the right direction.
Rex Brothers pitched a dominant 1.1 innings, holding the Pirates scoreless and hitless while striking out three and walking none. Dan Winkler, however, was downright horrendous and did everything in his power to give the game back to Pittsburgh. His outing started with nine straight balls, eventually resulting in three walks to load the bases with one out. Of the 15 pitches he threw, only three were strikes.
Luckily for the Cubs, they currently employ Craig Kimbrel, one of the best closers in the last 20 years. Kimbrel came in to clean up Winkler's mess, striking out Dustin Fowler and Wilmer Difo to end the inning unscathed. He would also finish the 9th, recording a five-out save in the regular season for the first time in his career, and the Cubs went on to win the game by the final of 4-2. (Box score)
.@javy23baez keeps it fair!#CubTogether pic.twitter.com/h8poSHfwMt

— Chicago Cubs (@Cubs) April 8, 2021
Why the Cubs Won/Lost
Three home runs gave Arrieta just enough leeway and an unreal performance from Kimbrel resulted in today's victory.
Key Moment(s)
In the 2nd inning, with two outs and nobody on, Gregory Polanco sent a 3-2 pitch just over the outstretched glove of Joc Pederson for a double off the left field wall. Arrieta then lost command, walking the next two batters on eight pitches to load the bases. Luckily, the pitcher's spot was next and Arrieta was able to escape the jam by striking out Anderson.
With one out and runners on first and third, Arrieta fell behind 3-0 to Pittsburgh's best hitter, Colin Moran. After a generous call which should have been ball four, he regrouped to strike out Moran and then induced a lazy fly ball off the bat of Phillip Evans to get out of trouble once again.
The Pirates would later break through, scoring multiple runs in the 4th, but Arrieta was able to minimize the damage enough for the Cubs to retake the lead on Baez's home run. If Arrieta had given up those early runs, Kimbrel probably never gets the chance to work his late-game magic.
Bro you know that's why people call you dirty, right?#CubTogether pic.twitter.com/nS0RYXws68

— Chicago Cubs (@Cubs) April 8, 2021
Stats That Matter
Going back to August 29, 2017, Arrieta's last three starts as a Cub have all been against the Pirates.
The trio of Arrieta, Trevor Williams, and Zach Davies have combined to go 4-0 with a 2.40 ERA in their starts and account for all the Cubs' victories this season.
Despite the win, the Cubs have scored only 5 runs on 15 hits in their last three games while leaving 22 runners on base and striking out 29 times with 10 walks. As a team, they're 16 of 90 at the plate, which comes out to a .178 batting average.
Javier Baez had gone 109 plate appearances without a walk before drawing a base on balls in the 8th.
Bottom Line
It was encouraging to see Arrieta earn the win through sheer grit, something you need over the course of a long season. The Cubs have a solid foundation in the bullpen of Kimbrel, Andrew Chafin, Brothers, and Ryan Tepera, but David Ross is going to have to find one more guy he can rely on. The offense came into today with a clear game plan and executed on it for the most part.
On Deck
The Cubs have an off day Friday and they're back to work on Saturday for game two of the series. In a repeat matchup from April 4, Davies will take the mound against Mitch Keller. First pitch is scheduled for 5:35pm CT on Marquee and 670 The Score.