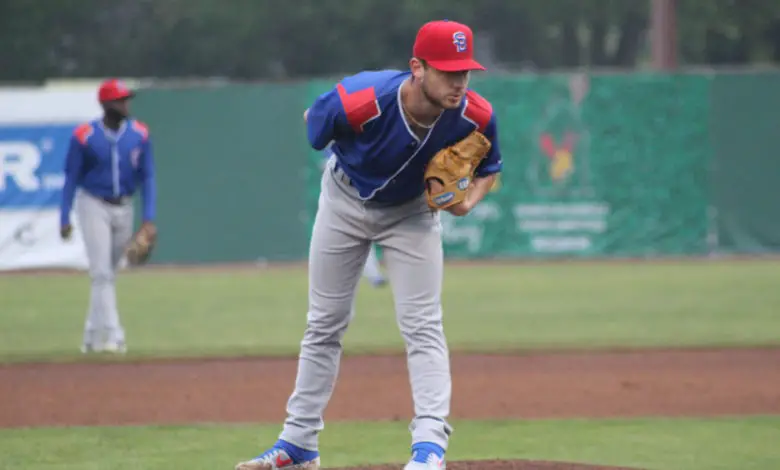 Prospect Update: Righty Ryan Jensen Makes Much Improved Second Start for South Bend
May 15 was just one weird day all the way around. It rained most of the morning in Northern Illinois as the temperature sat in the mid-50s. At several points, I wondered how this was going to affect the performance of pitcher Ryan Jensen, the Cubs' 2019 first-round pick, who was slated to pitch for high-A South Bend against the Beloit Snappers.
Jensen's start on Saturday night was his second of the 2021 season, the first of which was a little laborious. He gave up four runs in three innings, including a couple of home runs that had no trouble clearing the fence. He looked wild at times, but his second inning was a masterpiece as he struck out two and got out using less than 10 pitches. That one inning showed a lot of promise for what he can do when he locates his fastball.
Heading into the game, I had a few things that I wanted to examine. 
Would Jensen be able to get through a quick 1st inning and throw strikes?
This was Jensen's best attribute of the evening. He made it through the 1st on 16 pitches and never labored any other inning on the night. The conditions made it difficult for him to get a feel for his curve, so he had to rely on his fastball for the first couple of innings. He didn't get hit very hard and it sounded like he broke a few bats as he gave up only a bloop single.
Would he be throwing anything other than the fastball, particularly the slider he's been working on?
It was a really damp night as there just seemed to be a mist hanging around the ballpark until about the fourth inning. The temperature combined with the mist made it really hard to grip the baseball and a lot of his first few breaking balls traveled close to 55 feet. By the 3rd inning, he was starting to get a breaking ball across and hitters could no longer sit on the fastball. You can see the shape somewhat in this video as it had tight, late loop to it.
Jensen vs Misner pic.twitter.com/IhLbKaAudi

— Todd ⚾️🐻 (@CubsCentral08) May 16, 2021
How deep would Jensen be able to pitch deep into the game?
The Cubs have been keeping their MiLB pitchers somewhere between 60-70 pitches the first couple starts this season. Jensen threw 64 pitches in four innings, which is actually fairly efficient. In fact, he finished the 4th with two strikeouts and I thought that was his best inning of the night.
His fastball looked very crisp and he was putting it exactly where catcher Bryce Wyndham wanted it as he struck out four total on the night. Jensen only gave up one run in the 3rd despite a couple of errors by the defense. Next time out, he should be introduced to the 5th inning.
Jensen paints the corner pic.twitter.com/olT4giFsVx

— Todd ⚾️🐻 (@CubsCentral08) May 16, 2021
Would the wet and cold conditions rattle him?
The weather didn't faze him in the 1st inning as he came out with short sleeves and just let it rip. I wasn't really sure what to expect from Jensen after seeing his first start last week. As mentioned above, his breaking stuff was sharp once he established a feel for it.
As for Jensen's ongoing development over the rest of the summer, mastering his offspeed stuff is going to be the key. His fastball is going to play at any level as long as he locates, which he did all night. I'm just hoping he can find some consistency as far as shape with either a curve or a slider. Maybe he adds a changeup, which would just be filthy with what he already throws.
The next time I catch Jensen live, I hope to see that he improves his arsenal. For one cold and wet night in Wisconsin, I was impressed with what he could do with a baseball.