Quantifying Hope: Cubs Jump to Nearly 25% Playoff Odds After Strong Week
A week ago, the Cubs were sitting in fourth place and boasted playoff odds of roughly 14%, not exactly reason for celebration. Now, however, they've leaped past the Reds and Brewers to take over second place and have a chance to catch the Cardinals with a sweep in St. Louis. All things considered, it's at least mildly shocking to see that they're still so far behind the Brewers when it comes to postseason odds.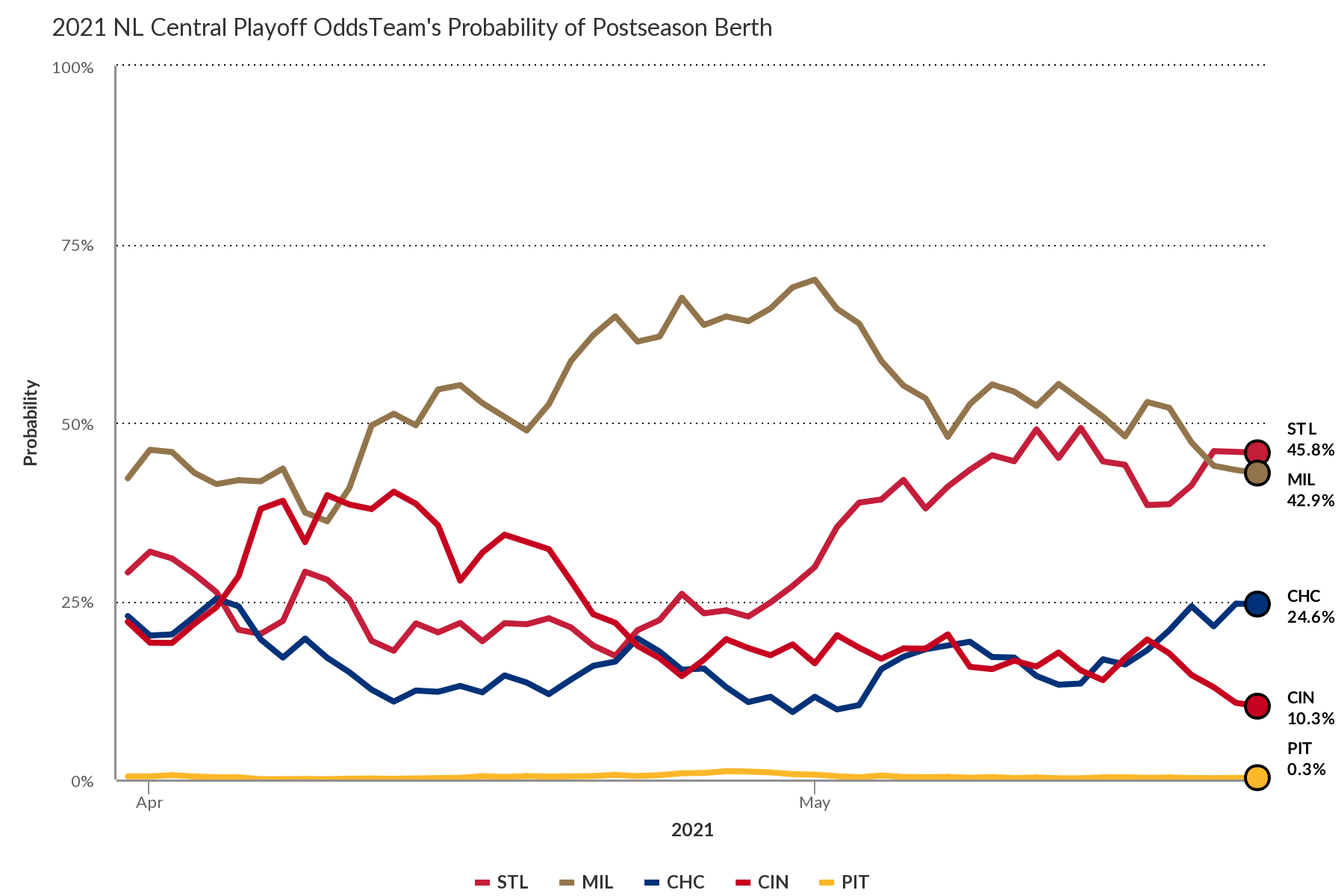 We'll forgive the folks at FanGraphs for the time being since we know these things can take some time to shake all the way out. Even at 24.6%, the Cubs are looking better than they have since early April as they begin to play a more consistent brand of baseball. Funny what happens when your starters pitch well and your outfield starts hitting.
Joc Pederson is batting .400 with a .916 OPS and 155 wRC+ since coming back from the IL and he has six hits against lefties in that time. They're all singles, which is par for the course since he's only hit one homer on the season, but things are looking up overall. Ian Happ has likewise surged since being removed from the shelf, flexing tremendous power with four homers and two doubles in the last six games.
The bullpen has been lights out in May, posting a 2.12 ERA that is second in MLB to just the Padres (1.87) while racking up a league-best 11.91 K/9 in that time. The performances of rookies Tommy Nance, Justin Steele, and Keegan Thompson have led the way and given Cubs fans a reason to believe in both the present and the future of the relief corps.
If the Cubs keep playing like this, the fire sale everyone had been planning may not find a match. And while things could certainly turn south in a hurry, this team is still very capable of running a hot stretch through the summer and making a little noise in the Central. This weekend should have a lot to say about that, so we'll see where things stand on Monday.