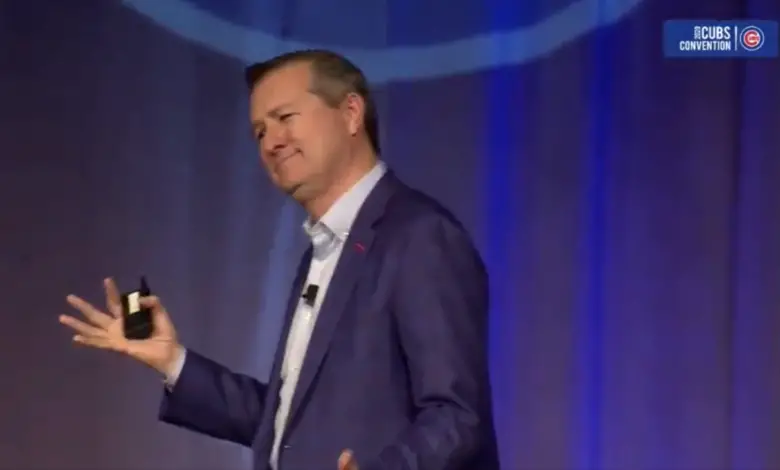 Ricketts Says Player Personnel Decisions 100% Hoyer's Call, Budget Another Matter Entirely
There's this thing I do as a parent where I'll ask my kids to choose between two things and then I'll end up dictating the other option anyway. Before you go thinking I'm a tremendous jerk — which actually isn't too far from the truth — the choices in question are generally disparate and one of them isn't very constructive. In any case, that's sort of how I felt when hearing Tom Ricketts speak about the direction of his ballclub.
This isn't going to be another diatribe about the veracity of ownership's claims as to the team's profitability or general ability to spend, but there is an aspect of heavily veiled truth to the chairman's recent claims. Speaking to the media on Opening Day 2.0, Ricketts stuck with his oft-repeated mantra that he's got no hand in player personnel choices.
"I leave those decisions 100% up to Jed," Ricketts said when asked about extensions for core players. "I feel I have such great relationships with those guys. They have meant so much to the organization, but you really have to leave it up to Jed. It's really his decision on how he is going to build this team going forward. You know I never have interjected myself in those conversations.
"It's all in Jed's court as to what he wants to do. Right now, we are about winning baseball games and will worry about the other stuff at the end of the season."
The first thing that sticks out here is that, to a man, all three of the Cubs' All-Stars whose contracts are set to expire have remained steadfast in their desire to remain with the team. Likewise, team leadership has touted strong personal bonds and a willingness to talk turkey. Or at least tofurkey.
But if that's really the case, if it was really as simple as Jed Hoyer wanting to get something done, why are we still talking about this in June of 2021?
The answer is that it's not really that simple. While I absolutely believe that Ricketts is not dictating individual moves in terms of who to trade or sign, he most certainly has a role in the budget being given to Hoyer. You don't have to go home, but you can't stay here. I'm not telling you what to choose, but I'm going to narrow your choices substantially.
Hoyer said in May that the financial projections for the season were ahead of schedule, to the extent that there is "definitely flexibility to make moves in-season" if presented with the right situation. And he should be able to say that since we've been told such things are 100% in his court. Unless, that is, he's playing on a smaller court.
In addition to financial ramifications from the pandemic, owners and front office execs are navigating the potential complications of a looming labor battle with the expiration of the collective bargaining agreement. Cubs president of business operations Crane Kenney recently told 670 The Score that the club will operate at a loss this season despite Wrigley Field now being at full capacity for over half the season and Ricketts warned of the potential for future losses.
"Any team going into next year is going to be careful on expenses just because we may end up with a situation where your revenues are delayed," Ricketts told members of the media on Friday. "But for now we're just assuming that it'll work itself out and we'll be back in the game next year."
Ricketts expressed the same optimism for an agreement ahead of a stoppage as union rep Ian Happ, but it was all couched heavily with the reality that it's not as simple as both sides wanted to avoid a strike or lockout. Just as it's not as simple as Hoyer wanting to offer extensions.
"Listen, they're three iconic Chicago players, and obviously there's going to be a lot of competition for their services in the market," Hoyer told Gordon Wittenmyer and others. "Of course, in theory, you'd love to have those players back. Sometimes those are hard decisions that a team has to make.
"I'm not going to shut the door on anything, but do I think there has to be some awareness of what that would take financially and what that would mean over the next five years and what that would mean to the rest of the team? Of course."
You can draw your own conclusions about whether and how honest Ricketts is being about Hoyer's autonomy, but I actually believe him if we take his words at face value. The kicker is that the owner's statement should have a bracketed addendum that says something like "It's all in Jed's court as to what he wants to do [within the bounds of the budget I approve]."
For instance, Jon Lester is in a Nationals jersey because the Cubs didn't have room in the budget at the time to make him an offer. Same for Kyle Schwarber, though the situations aren't identical. Yu Darvish is in a Padres jersey because payroll needed to be trimmed. On the other hand, Jake Arrieta and Joc Pederson are on the team because the budget was increased in light of rosier projections.
Those were all Jed Hoyer's decisions at the end of the day, but it's not as though he had set the parameters under which the decisions were made. While the same will be true for the remainder of the 2021 season and into '22, the mitigating factors may be even more amorphous than they were a few months ago.
It's no different for the players. Just because they all want to come back doesn't mean they'll actually all be back, which is something I've found a lot of people struggle to grasp. Anthony Rizzo ending up in Miami next year wouldn't mean he lied about wanting to be a Cub for life. Kris Bryant getting a big free agent deal from another team says nothing about his desire to remain in Chicago. Same for Javier Báez if he doesn't return.
As much as we'd all like this to be black and white with Ricketts as a convenient villain — okay, not all of you view him that way — the whole situation has too many facets. That said, the Cubs absolutely could make something work if the organization decided from the top that it was willing to spend through current and future uncertainty.
"I don't know their financial situation," Bryant said. "But the Chicago Cubs are doing well. So theoretically, yes, you could sign whoever you want. It's just a matter of if they want to continue with us or if they want to go a different way. They got some money."