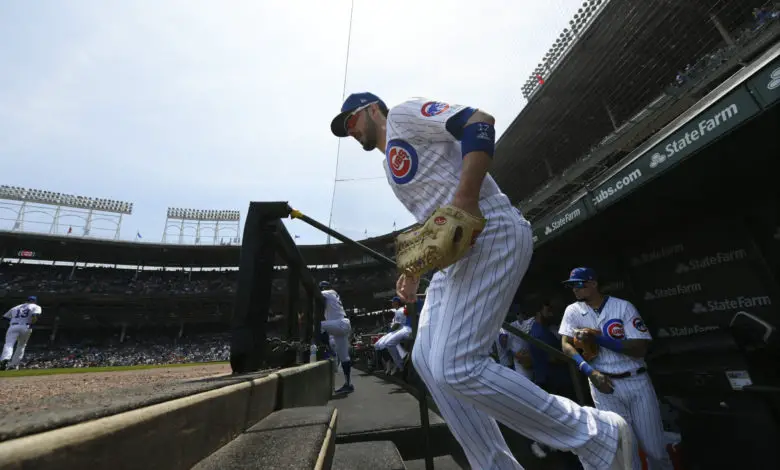 Giants' No. 2 Overall Prospect Joey Bart Reportedly Not Being Discussed in Kris Bryant Trade Talks
Kris Bryant may take Bay Area Rapid Transit if he's traded to the Giants, but Jed Hoyer will not be taking Bart from the Giants. That's 24-year-old catcher Joey Bart, the No. 2 overall pick in 2018 and the No. 2 ranked prospect in San Francisco's system, who looks like the heir apparent to Buster Posey. It should be noted, however, that Susan Slusser of the San Francisco Chronicle said Bart is the "most likely player to be available" from among the team's top prospects.
MLB Network's Jon Morosi tweeted Tuesday night that the Cubs were "evaluating Bart as one candidate to be requested" in conversations centered around Kris Bryant, though that seems like a stretch. Morosi didn't say the Cubs actually asked about Bart, plus he added that the catcher "likely would be available only in a deal that involves players in addition to Bryant." So mostly speculative.
Bart, the former No. 2 overall pick, likely would be available only in a deal that involves players in addition to Bryant, a free agent after this year. Bryant would have great value to the Giants, with whom he could play 1B, 3B, and LF. @MLBNetwork @MLB

— Jon Morosi (@jonmorosi) July 28, 2021
Alex Pavlovic of NBC Sports Bay Area subsequently reported that the Giants "are not open to discussing Bart in talks" with the Cubs, so it indeed sounds as though the Cubs were simply aiming high. I mean, why not? Might as well go big out of the gate and see what the reception is.
It does make you wonder though, what would have happened had the Cubs been able to land a young catcher with a very solid offensive profile who ranks No. 17 overall on MLB.com's top prospect list. Bart is down at 65 on FanGraphs' list, but he's still a Triple-A backstop who could come in and play at the MLB level next season, if not immediately. You probably don't target a guy like that to have him play a backup role for another year.
Again, the Cubs were never likely to get Bart from the Giants so it's probably not worth chasing other rabbit trails. It is, however, worthwhile to consider that Hoyer may be looking to string deals together or to make moves that complement one another in a way. We'll know more within the next two days, then we'll get an even better picture over the winter.
Is it possible that could even mean a reunion with Bryant or others who are traded away at the deadline?
"I've had some of the best memories here and the best times of my life," Bryant told reporters on Tuesday when asked about re-signing with the Cubs even if he's traded. "So, it'd be really stupid of me not to say, hey, if they want me here, of course, I'm always going to listen."
One thing we can say with certainty is that the dark cloud hanging over several individual players and the team as a whole should blow over by Friday. Not that the team will magically start playing well again or that there'll be competitive sunshine next season, but at least the speculation specter will be gone. As much as they've played the idea off, David Ross recently admitted that trade rumors have affected the team's play.
Bryant addressed that Tuesday when asked about mental health in light of Simone Biles' decision to pull out of Olympics competitions.
"I'm constantly working on the mental health aspect of this game," Bryant explained. "And I've never even come close to mastering it or perfecting it, but it's always a challenge and there's always something new, whether it's a trade talk or you're sucking at playing baseball, or it's something off the field or just a bunch of worries, or the future or the past."
Whatever happens, I sincerely hope Bryant absolutely rakes from July 30 and beyond no matter what uniform he's wearing. And while I'm sure this sentiment will piss off plenty of my fellow Cubs fans, I won't even mind if he destroys the Cubs when he faces them as part of another team. Same for the other core players who may end up elsewhere by the end of the month.
So Hoyer had better make damn sure he makes out like a bandit in any upcoming deals, because it'll be more than painful to see former Cubs succeeding as the team works itself back into the mix in the Central.