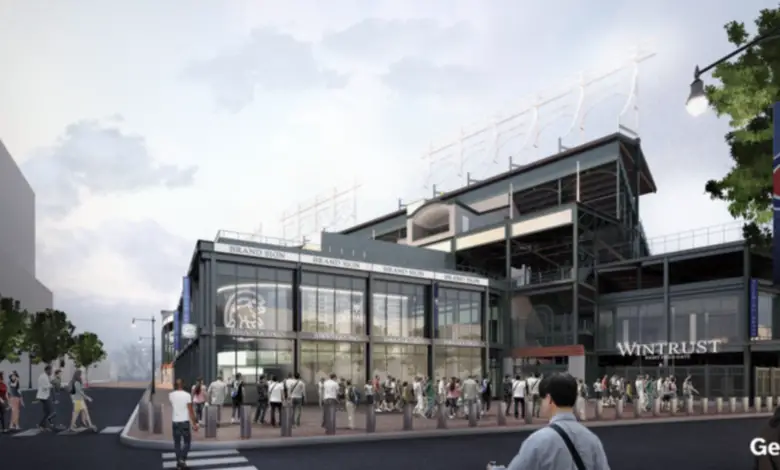 Cubs Seeking to Attract Fans Through Gambling Looks Like Red Flag for Competitiveness
The Cubs had lost four straight and were just 2-7 since the trade deadline, but Monday brought an end to that skid as the new-look roster appears to be finding its C-legs. Wait, what's that? The only reason they didn't lose was that the game was postponed? No matter, it's exactly that kind of agnostic approach to the team's record that the Cubs may be banking on as they enter a new era.
And I mean that very literally, as they have received unanimous approval from the Commission on Chicago Landmarks to erect a massive sportsbook at the corner of Addison and Sheffield. The new addition to Wrigley Field should be ready by late 2022 and will be open before, during, and after games to bettors holding tickets and those who just want to hang out.
This is the next and most obvious step in a series of moves by the team to embrace sports betting, and it raises some red flags depending on how you view it. The Cubs had already entered into a 10-year, $100 million deal with DraftKings and ownership has made significant investments in tech startups with interests in online gambling, so the notion of investing every surplus dollar into payroll already seems pretty dubious.
Many people have pointed out that it costs a lot of money to build a 22,350 square foot addition to Wrigley, money ownership opted not to spend on the baseball budget. I won't argue that, but I'm willing to bet — get it? — that the team would say the construction is being financed with help from that aforementioned sponsorship and other non-baseball sources. You know, because what the Ricketts family needs is a heavier debt load than they're already carrying from all those other Wrigleyville projects.
In any case, it's not the construction of the sportsbook itself that has me concerned about how the team is viewing the future of both Wrigley Field and those who visit her 81 times a year. Attendance figures won't be finalized for quite some time yet, but both the eye test and the Binny's Beverage Depot Attendance Game will tell you the ballpark isn't operating at max capacity. Not that it needs to be in order for the Cubs to turn a profit.
Then you have the television ratings, which are more important than ever now that the Cubs own the exclusive broadcast partner for their games. According to a Forbes report, Marquee Sports Network viewership is down 28% from the shortened 2020 season and down 37% from 2019. And in case you were wondering whether that's just a product of the pandemic or Chicago's regulations, the White Sox are up 18% over last year and 123% over two years ago.
The Cubs' recent struggles to attract fans either in person or on TV are clearly a result of the lack of competitiveness and the sudden loss of recognizable players. While one of those has been an issue for a while now, the other is going to hamper them for at least the next two months and perhaps much longer as Jed Hoyer embarks on another rebuild. He and Tom Ricketts have both said publicly that this one won't take very long, but the club's statement about the sportsbook casts doubt on ownership's commitment to fielding a winner in short order.
"While the game of baseball has largely been the same for the last 150 years, the fans have changed," read a statement from the team following approval for the addition. "The way they consume baseball is different through emerging technology and content platforms. Sports wagering is becoming a big part of that change and this sportsbook will allow us to connect fans to the game in new ways [emphasis mine]."
It's entirely possible that my noted bias toward ownership's machinations is coloring my interpretation, but it sure feels like they're saying they want to attract fans with something other than a winning product. As in, they've realized that people won't actually keep showing up even if the team sucks, so they're building an adult amusement park rather than investing more heavily in the product on the field.
If we look at that from a purely objective standpoint, it's a simple and understandable business decision. Ricketts has lamented multiple times in the past that money doesn't necessarily buy winning teams because there are no magic free agents and paying the competitive balance tax is merely a dead-weight loss. It would appear as though the Cubs view investing in a sportsbook as far more secure and lucrative than pumping a great deal of money into the roster.
"The good news in there is that over the past 10 years, we've done a lot to build up the business side," Ricketts told 670 The Score's Mully & Haugh back in late 2019. "Our guys have done a great job of getting all the resources we can for the club to put to work. But you know it's not about how much you spend, it's how much you win. And the correlation between spending and winning is not nearly as strong as we'd like it to be."
So they may be betting the money line on a heavy favorite rather than trying to parlay a few riskier picks, which makes sense from a pragmatic point of view. However, the big problem there is that fans lack pragmatism by their very nature. Gambling has always been a huge part of sports and it isn't going away, even if we do eventually see a bit of a correction to an industry that has exploded in the wake of widespread legalization. That said, banking on bettors ahead of fans would be a grievous error.
My sincere hope is that the Cubs are actually serious about fielding a winner that will draw "regular" fans to the ballpark while also collecting dues from those who are there merely to satisfy a vice. After all, how many people already believe Wrigley is nothing more than Chicago's largest beer garden? It'll work so long as ownership's priorities don't skew so far out of whack that they completely lose what little touch they ever really had with Joe Everyman.
Who knows, maybe when the Ricketts family eventually sells for an astronomical profit, the new owner can regale fans with the story of the time he met his wife at the fabled Wrigley Field betting windows.