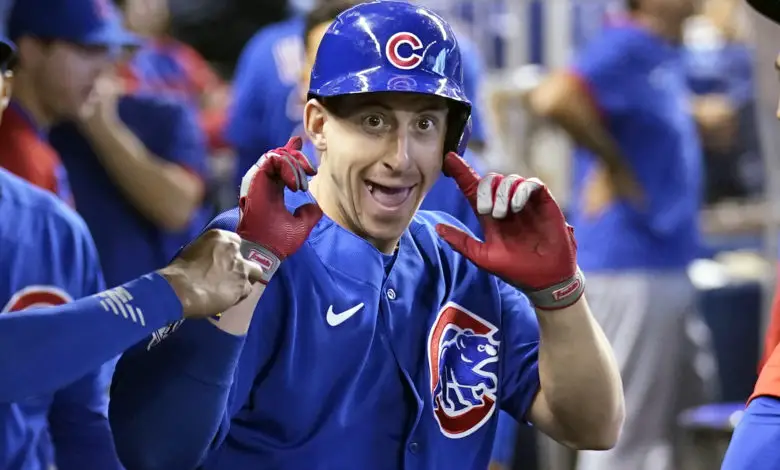 The Rundown: Cubs' Losing Streak Reaches 11 Games, Schwindel Homers in Loss, Brewers Fans Counting Magic Numbers
"Streets are uneven when you're down." – The Doors, People Are Strange
Instant Replay
The Cubs lost 4-1 yesterday to run their losing streak to 11 games, matching their low-water mark of the season. The current streak feels much worse than the first because it's now difficult to ascertain when the team may win a game again. Let's face it, Chicago is sporting a lineup that would have trouble beating a good minor league team.
Alec Mills, who started yesterday's game and pitched 5.2 innings of two-run ball, thinks brighter days lie ahead.
"Obviously this is a bad stretch for us, but we just have to keep a positive approach," Mills said. "I think things will start rolling and clicking."
"Playing first base for the Chicago Cubs, can't beat it."https://t.co/x85KvhfD36

— Andy Martínez (@amartinez_11) August 15, 2021
It's a lot to ask of Cubs fans to share the veteran's enthusiasm. Though some of his teammates have had decent individual performances since Jed Hoyer kicked off the Great Reset, the replacement Cubs lack cohesiveness and chemistry. Further, the North Siders have yet to play a game since the trade deadline where they've had more than one or two standout performances. Mills was decent yesterday and certainly gave his team a chance to win, and Frank Schwindel hit a home run, but that was about it.
The Cubs have lost 17 of their last 19 games and if the season were to end today they'd have the eighth pick in next year's draft. Sadly, we've reached the point where victories could be detrimental to the team's long-term plans. It's tough to hope that the Cubs continue to flail, but are we really going to feel good any time they win?
Still, we've said we are willing to embrace the suck this year if there is a path to a better future. Hoyer did his part by trading or cutting more than one-third of the team's opening day roster. If you're like me, you're instead counting down the days until the season ends on October 3.
Cubs News & Notes
Odds & Sods
Admit it, we all miss those 1960s and '70s baseball card poses. Ernie Banks was a natural!
Ernie Banks poses stretching for a ball during spring training, 1967 pic.twitter.com/iAtjmc0CQ4

— Baseball In Pics (@baseballinpix) August 16, 2021
Climbing the Ladder
"Same as it ever was, same as it ever was, same as it ever was." – Talking Heads, Once in a Lifetime.
Games Played: 120
Total Plate Appearances: 4,405
Total Strikeouts: 1,174
Strikeout Rate: 26.6%
Team Batting Average: .229
Believe it or not, the Cubs raised their team batting average by two points over the weekend, though they're still striking out far too often.
How About That!
Rockies starting pitchers are considerably better at home than on the road this season.
White Sox closer Liam Hendriks allowed three home runs in two games to Yankees hitters over the weekend, but manager Tony La Russa insists that his team has no closer controversy despite acquiring Craig Kimbrel from the Cubs at the end of July.
The Angels have designated outfielder Adam Eaton for assignment.
With an eight-game lead over the Reds, Brewers fans started talking about the team's magic number over the weekend. It's a little premature and sits at 36 in case you're wondering.
Milwaukee pitcher Brett Anderson threw some serious shade at Trevor Bauer yesterday.
Brandon McCarthy, who pitched in the majors from 2005-18, offered a brutally honest assessment of ESPN broadcasters Matt Vasgergian and Alex Rodriguez during last night's nationally televised game between the Mets and Dodgers.
Diamondbacks rookie Tyler Gilbert is your hero of the weekend, but his dad is a close second. How about a musical tribute?
The Savannah Bananas regularly mic up their players, and yesterday infielder Bill LeRoy called his own play. "Gonna roll it over, I'm gonna backhand it on the short hop, and Manny Machado underhand throw it to first," LeRoy said before the play. That's exactly how it played out.
Sunday's Three Stars
Triston McKenzie – Cleveland's rookie hurler was nearly perfect yesterday, retiring the first 23 batters he faced before giving up a single to Tigers infielder Harold Castro. McKenzie pitched eight innings of one-hit ball with 11 strikeouts as the Guardians hammered Detroit 11-zip.
Fernando Tatis Jr. – It's difficult to fathom that Tatis has 33 home runs despite missing 30+ games. He hit two taters yesterday on a 4-for-5 day with four RBI and should be the odds-on favorite to win league MVP honors.
Brent Suter – The Milwaukee reliever earned his 12th win of the season yesterday, which leads the Brewers and is one win behind league leaders Kyle Hendricks and Julio Urías.
Extra Innings
Through 22 games, Schwindel is hitting .303/.333/.954 with five home runs and 16 RBI. That's All-Star level raking.
Quite Frankly, this ball was smoked. pic.twitter.com/Imy9Y9mzai

— Marquee Sports Network (@WatchMarquee) August 15, 2021
Stealing Home
This paragraph is so good I had to copy it word-for-word: "An unprecedented transfer of talent from bottom dwellers to contenders has shaken up multiple playoff races, as emaciated second-division clubs have taken a pounding from their well-stocked competitors."
They Said It
"You've got to focus on the process right now. … You've got to roll with the punches in this environment right now." – Kyle Hendricks
"Obviously, we're playing short-handed, and I think that's very clear — we're not going to be playing short-handed going forward. For the next couple of months, we're going to have to play short-handed and give a lot of opportunities, and my guess is that we'll find some interesting things over the next two months. But those will be probably individual one-off things that we can use going forward, and it's exciting to be able to let these guys have opportunities to play and to prove that." – Jed Hoyer
Monday Walk-Up Song
Tumblin' Dice by the Rolling Stones – At this point, we're all sixes and sevens and nines.