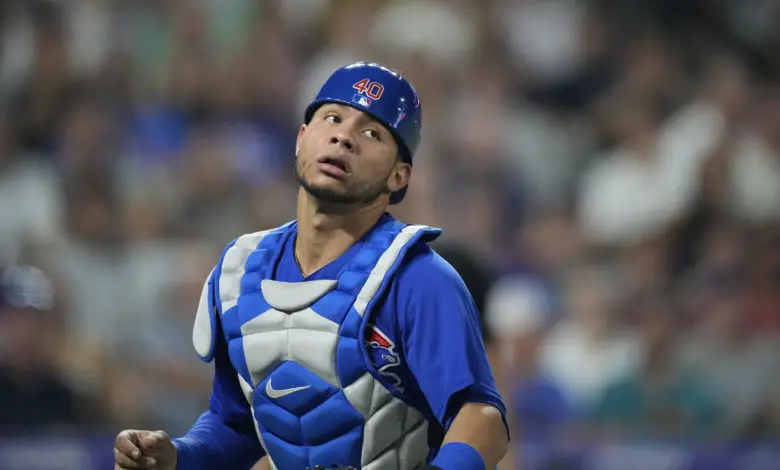 The Rundown: Contreras Could Be Key to Rebuild, Hoerner Rehabbing at Iowa, Davis Ready to Take Reigns, Giants First to Clinch Playoff Berth
"Gonna build me a daydream from a little hope. Gonna push that daydream up the mountain slope." – Sammy Davis, Jr., Gonna Build a Mountain
Instant Replay
I suppose it was inevitable the Cubs would be sellers once Willson Contreras went off on his teammates just before the All-Star break.
"I feel like everybody was off, "Contreras said after a 6-0 loss to the Cardinals on July 10. "Everybody was distracted. I don't know why. Probably because the All-Star break is pretty close. I don't think that way, but I didn't think we were on today."
"We have to win as a team," the fiery catcher continued. "But also I cannot ask everybody to play like I do or to play like Javier Báez and I play," he said. "Everyone is different. I know they might be tired, but I'm here to win. I'm here to compete, and that's what I like to [get] from everybody else."
It wasn't the first time Contreras clapped back at his teammates. A little more than a month earlier, the veteran backstop got into a heated exchange with Anthony Rizzo during a game and David Ross came between the two to neutralize an incident that might have escalated further. Rizzo referred to it as a moment of brotherly love.
Last week, the catcher took another passive-aggressive stab at his former teammates.
Willson Contreras on new-look #Cubs: "We have really good talent. I know because I see it every day. The way they are playing right now is nothing short of amazing, the way they make adjustments in the games and the energy is great."https://t.co/cWqxCHMb4C via @MLBBruceLevine pic.twitter.com/sqec8hzQFu

— 670 The Score (@670TheScore) September 7, 2021
Ironically, the last time the Cubs started an overhaul of their roster and organization, it was preceded by a similar comment from Carlos Zambrano on June 5, 2011, also after a game against St. Louis.
"We play like a Triple-A team," Zambrano fumed then. "This is embarrassing. Embarrassing for the team and the owners. Embarrassing for the fans. Embarrassed — that's the word for this team. We should know better than what we [did] on the field. … We should play better here. We [stink]. That's all I've got to say."
Five-and-a-half years later the Cubs were the envy of baseball as they celebrated their first World Series title in 108 years. Zambrano was long gone by then.
Jed Hoyer is about to effort a task that seems all too familiar to Cubs fans, and he'll start this winter. Unless he is extended, Contreras will enter his walk year in 2022 and could be key to jumpstarting the franchise back into a window of contention. That could mean either an extension or a trade of the team's most marketable remaining player to add to a trove of long-term assets. Based on how things have gone since last winter, it's more likely Contreras is traded.
That shouldn't be shocking to anybody. Though I don't believe the Cubs will be among baseball's biggest spenders in free agency this offseason, Hoyer will probably talk to the agents of almost every premium player, including those who represent Rizzo, Báez, and Kris Bryant. That said, there is no way he can complete his roster and field a potential championship team just by writing a bunch of oversized checks to 30 and older players whose careers are about to embark on the big fade.
Where would that leave the front office next July? Do we really think Hoyer would start eroding his farm system to supplement a roster that will be just one year removed from this awful season?
It seems more likely to me that Hoyer will look to find one franchise player, perhaps someone like Nick Castellanos, Trevor Story, or Carlos Correa. He might pursue a pitcher like Carlos Rodón and he might look at veteran depth options like Brett Gardner or Asdrúbal Cabrera. There could be reclamation projects  such as Michael Conforto, Dylan Bundy, or the oft-injured Danny Duffy. That would be a nice start, but it's hardly a group that will break the team's current five-year championship drought.
Trading Contreras might be a quicker and cheaper option, and it would certainly further define both Hoyer's plan and the team's timeline. No matter which path the front office takes, it seems doubtful they will be looking to deploy a quick fix that includes heavy spending while depleting a quickly accelerating farm system.
Cubs News & Notes
Odds & Sods
Putting Schwarber at first base in the middle of a heated playoff race seemed like an odd choice for the Red Sox.
From what could have been a 1-2-3 inning to a three-run home run, this is an extremely unfortunate turn of events for Kyle Schwarber and the Red Sox pic.twitter.com/QH2vGLgE1p

— Talkin' Baseball (@TalkinBaseball_) September 14, 2021
Climbing the Ladder
"Kick 'em when they're up, kick 'em when they're down. Kick 'em when they're stiff, kick 'em all around." – Don Henley, Dirty Laundry
Here are a couple of things Hoyer may want to consider when he puts his on his hard hat this winter:
Hey, Michael Jordan missed over 9,000 shots during his NBA career, too.
How About That!
The Giants pasted the Padres 8-1 last night for their eighth straight win and became the first team to clinch a postseason berth in doing so.
The Brewers should be the next team to qualify and could be the first team to clinch a division title. Milwaukee's magic number is down to 5.
The magic number for the White Sox to win the AL Central is 9 and they trail the Astros by two games for the No. 2 seed in the American League.
Since acquiring Craig Kimbrel, the South Siders have actually had a less dominant bullpen.
I used to love the blooper reel on Mel Allen's This Week in Baseball. This errant throw by Cardinals shortstop Edmundo Sosa would most certainly be featured by Allen and his production team.
How about a little Dennis Eckersley from TWIB back in 1984?
The Yankees will move Gleyber Torres from shortstop to second base, manager Aaron Boone announced to reporters yesterday. The move is designed to take some of the pressure off the young infielder. Boone made the move after Torres committed his 18th error of the season, which was also his fourth in the past week.
Cleveland is the first team in MLB history to be no-hit three times in a season, and it's actually four if you count the seven-inning gem Madison Bumgarner threw at them earlier this season. Even crazier, Indians Guardians starter Zach Plesac started all three of the official no-hitters.
Monday's Three Stars
Jose Siri – Houston's rookie outfielder, normally relegated to pinch-running duties, went 4-for-5 with two big flies and five RBI as the Astros destroyed the Rangers 15-1.
Sandy Alcantara – The Marlins hurler took a no-hitter into the 7th inning last night before Nationals first baseman Josh Bell broke it up with a line-drive single. Alcantara finished the night with seven strikeouts in eight innings, earning his ninth win of the season.
Teoscar Hernández– Though he didn't plate a runner, the Toronto right fielder enjoyed a 5-for-5 night with two runs scored, leading the Blue Jays to an 8-1 win over the Rays.
Extra Innings
This might be the best GIF of the season, if not all-time, and Lance Lynn is the perfect foil.
Lance Lynn Beer K Strut. 🍺 pic.twitter.com/cuc3BNtMMs

— Rob Friedman (@PitchingNinja) September 13, 2021
They Said It
"I think any chance you get to be on the field, whether it's here or here in the big leagues or spring training — whatever it is — there [are] things to learn." – Hoerner
"The whole prospect thing is awesome, but it doesn't hold a ton of weight in my eyes because at the end of the day I don't want to be a top prospect. I don't want to chase prospect rankings. I want to chase getting to the big leagues and being everything that the Cubs want me to be. I want to be a big-leaguer." – Davis
Tuesday Walk-Up Song
(Just Like) Starting Over by John Lennon and Yoko Ono – Are you ready for the rebuild?