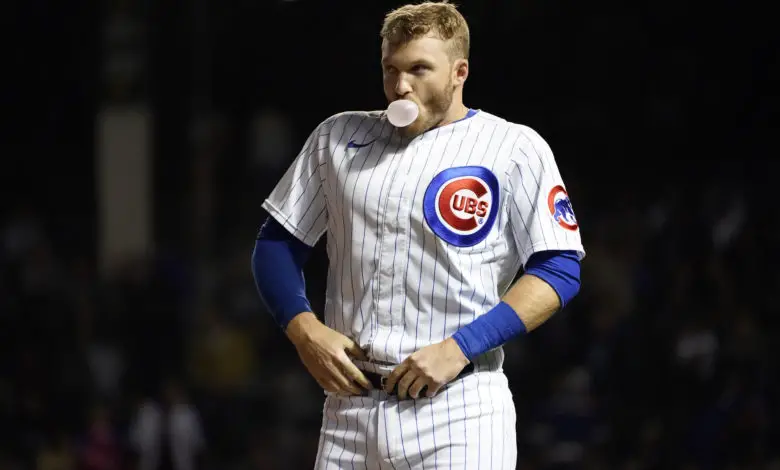 Are Cubs Prepared for What Comes Next?
Better Roster Depth Will Key Next Competitive Window
If you've been watching Marquee Sports Network lately, you may have recognized that this post was spurred by a hype video featuring the song "Puppet String" by Umphrey's McGee. This spot uses a lyric that asks, "Are you prepared for what comes next?" and is the first product of a partnership between Marquee and UM in which the band will supply original music to be used during Cubs game broadcasts, including the pre- and post-game shows.
Members of UM will perform a special acoustic set during the Cubs Live! pre-game show on September 24 and Marquee will produce an Umphrey's McGee feature scheduled to release 2022. This is a pretty cool confluence for me because I became friends with UM keyboardist and Cubs fan Joel Cummins several years back and I've had the chance to attend several shows since.
What comes next?@umphreysmcgee ‼️

MORE: https://t.co/Xp7tVl9QRd pic.twitter.com/8L8i1m5ufQ

— Marquee Sports Network (@WatchMarquee) September 16, 2021
In any case, the whole point of the video is to extend Marquee's "We Get All Of It" campaign and shift attention to the future. It's not a mistake that Brennen Davis is the last player shown, though his inclusion is pretty obvious and doesn't necessarily fit the concept I'm trying to establish here. Rather, I'm kind of looking at how the Cubs may try to adopt a more Umphrey's-like approach to sustained success as opposed to what has been more Guns N' Roses — who I just saw at Wrigley — over the last few years.
That's an imperfect analogy in any number of ways, but the general idea is that GNR got huge and eventually collapsed under the weight of their own success and inflated egos. Vodka and heroin didn't help. Umphrey's McGee, on the other hand, has been touring steadily for nearly a quarter-century after forming in the late 90's and even rocking GNR covers at times.
The point here is that the Cubs were never able to sustain the incredible success they found in 2015 and '16, largely because they weren't able to create enough depth in either the majors or in the system. The roster wasn't very dynamic, they couldn't develop pitching, and they skewed way too much toward boom-bust hitting without enough contact to balance it out.
That's why I answer in the affirmative when people ask whether I believe Frank Schwindel and Patrick Wisdom can be part of the future. It's not because I believe they'll continue to perform at the exact same level we've seen this season, it's because they can help to flesh out the roster even as Davis is promoted and Jed Hoyer is allowed to spend meaningful money in free agency once again.
We're seeing a pitching staff that features an increasing number of homegrown arms and younger acquisitions who can remain with the team for several years. Where the 'pen was once made up largely of late-stage veterans on one-year deals, we're now seeing high-upside hurlers with limited experience.
The trio of Adbert Alzolay, Justin Steele, and Keegan Thompson gives the Cubs a great deal of flexibility in the rotation next season. None of them should be guaranteed a starting spot at this point, though their potential allows the front office to be more judicious when it comes to adding pitchers. There's also the idea that another offseason will give each of them a chance to make adjustments and maximize their stuff.
Codi Heuer, who came over from the White Sox in the Craig Kimbrel deal, is a perfect example of that. He's pitched much better since the trade as a result of some little tweaks to his two-seam grip have the pitch coming out of his hand better. The Cubs will now work on adding a four-seam to his repertoire, something that could elevate his game even further.
Scott Effross is another pitcher who has looked much better since making a change to sidearm from what had been a low three-quarter delivery until mid-2019. As Cubs Insider was first to chronicle during Arizona Fall League play in October of that same year, Effross accepted the organization's suggestions and has blossomed since. In 10.1 MLB innings, he has struck out 15 with no walks and looks like a legit relief option moving forward.
I sat down with @Cubs RP @ScottEffross before yesterday's game. He had great insight into his switch to sidearm. @WatchMarquee pic.twitter.com/xHowYM4WdY

— Elise Menaker (@EliseMenaker) September 18, 2021
Sticking with the same first name, lefty Scott Kobos has risen from undrafted free agent in the summer of 2020 to Triple-A Iowa. He has allowed just one run across 30.2 innings spanning three levels so far and is still getting things figured out. The Cubs had originally planned to use him as a starter and had to pivot due to a COVID diagnosis so Kobos could yet return to the rotation next season.
Reliever Ben Leeper and starter Max Bain were likewise acquired outside of the draft and have looked good this season in their respective roles. That's not even scratching the surface of a large group of pitchers that will quickly reverse the trend that had already grown tiresome before things fell apart this season.
As I alluded to earlier, there's also the matter of balancing things out on offense. Wisdom and Ian Happ might be bigger question marks if the Cubs still featured a lineup full of big swingers, but the scales tip when you add Schwindel, Nico Hoerner, and Nick Madrigal to the mix. Recent acquisition Pete Crow-Armstrong is cut from that same contact cloth, though it'll be a while before we see him in Chicago.
The real key will be whether and how Hoyer is able to add to this depth in the offseason via free agency and trades. While the discourse tends to center around either paying for all kinds of elite players or avoiding big contracts altogether, it's really a matter of falling in the middle. The Cubs have some clear holes that will need to be filled by proven producers, but they've seen the result of relying too heavily on spending to win.
What it really comes down to is that Hoyer needs to finally figure out how to thread the damn needle — or the puppet string, as it were — he and Theo Epstein have been talking about for years. Just like the reckoning that never came and the edge that was never sharpened, the front office failed to adequately construct a roster that could produce consistent results. The budget played a role in that, of course, so ownership is complicit as well.
The long and short of it is that there simply wasn't enough depth to keep the Cubs from becoming one-dimensional in a hurry. They also lacked the dynamism, particularly in the rotation, to succeed in the postseason after 2017.
In closing, I'll ask again whether the Cubs are prepared for what comes next. Are they willing to spend and able to properly evaluate the players they'll bring into the organization this winter? Or do they prefer to kick the can down the road for another season and hope attendance stays high enough to keep the budget in the black?
Let's just hope Tom Ricketts doesn't think he's Geppetto.