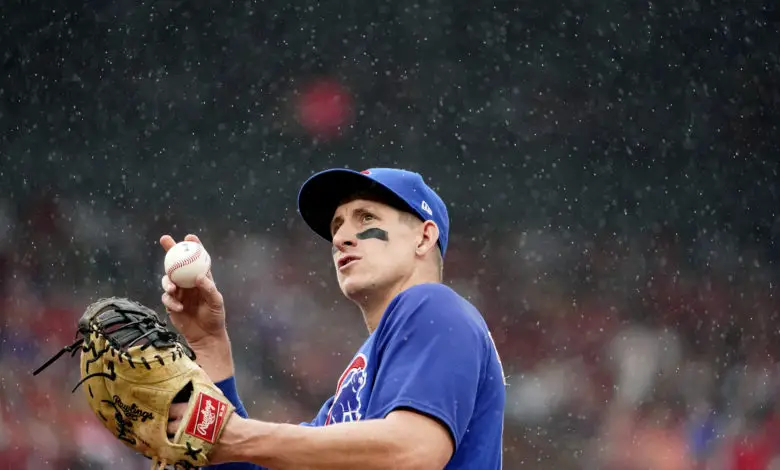 The Rundown: A Tale of Two Seasons, Cubs Set Roster Use Record, MLB Draft Positions Finalized, Postseason Matchups Set
"Well it's alright, everything will work out fine." – Traveling Wilburys, End of the Line
Instant Replay
Thank you, Cubs fans.

In 2021 we said goodbye to players we loved. Stars we won with, lost with & rode down Michigan Ave. with.
New players emerged and won over the Wrigley Field faithful.
We committed to building the next great Cubs team.

Join us for the ride.
See you in 2022. pic.twitter.com/FildD5L75V

— Chicago Cubs (@Cubs) October 3, 2021
Call me crazy, but this year's baseball season seemed to fly by compared to last year. That's a testimony to the return of fans to stadiums across the country as much as it is to the state of Chicago's North Side baseballers. The Cubs were 20-36 in post-deadline baseball, but they didn't perform as badly as we expected. In fact, there was a point where we all wondered if Chicago would win another game at Wrigley Field.
If you're looking for some 2021 highlights, there were a few:
The Cubs swept the Dodgers at the beginning of May and threw a combined no-hitter at Los Angeles on June 24. Had the Dodgers won just one of those games, they would have finished tied with the Giants for first place in the NL West with 107 wins.
The trade of Kris Bryant to the Giants during the final moments of the deadline didn't help the Dodgers' chances, either. Bryant was worth 1.3 wins after the trade.
Frank Schwindel and Patrick Wisdom came out of nowhere to lead Chicago offensively.
Thanks to all the trades, including the deal that sent Yu Darvish to the Padres, the Cubs' farm system is as healthy as it's been since 2015.
Next year will mark a new beginning and the Opening Day lineup will be completely different for the first time since 2015.
There were a number of failures, too:
Jake Arietta, no need to rehash his failed return to Chicago.
Two double-digit losing streaks, with one coming just before the deadline and one right after.
Jed Hoyer kind of threw his former stars under the bus after they were dealt, and both Bryant and Anthony Rizzo called him out on it.
The team had its first COVID-19 outbreak during the final week of the season.
Nico Hoerner had a difficult time staying healthy and has to work at avoiding the fragile label that's been whispered recently.
Zach Davies was so awful there is no chance Hoyer would consider retaining him.
Though Chicago's season is over, baseball plays on for 10 franchises, including the Brewers and Cardinals. Bryant, Rizzo, Jon Lester, Joc Pederson, Kyle Schwarber, Ryan Tepera, and Craig Kimbrel will play in this year's postseason. All except Pederson finished 2019 with the Cubs. I'm rooting for a Brewers-White Sox World Series, though that's unlikely.
The North Siders finished the season with 71 wins, their worst record since 2013, and where they go from here is all on Hoyer's shoulders. The club president promised that the team is not rebuilding and said he expects a swift return to competitive baseball. That should make for a very interesting offseason, and hey, pitchers and catchers report in about 18 weeks.
Cubs News & Notes
Odds & Sods
I love the Cubs a great deal but I really don't want the organization, the city, or the team's fans to treat them like the 1986 Bears. If they are going to go 35 years or more for their next championship, I won't be around to see it. It is nice to see Schwindel and Wisdom get some recognition for the club's marketing department.
2021 was unlike any other. @jonmorosi pic.twitter.com/LGTbyIJWRj

— Marquee Sports Network (@WatchMarquee) October 3, 2021
Climbing the Ladder
"River is deep – yeah I'm swimming. Mountain is high – I'm going to climb, climb, climb. Yeah I'm the one who's going to show when there's nobody…" – Black Keys, I'll Be Your Man
Games Played: 162
Total Plate Appearances: 5,972
Total Strikeouts: 1,596
Strikeout Rate: 26.7%
Team Batting Average: .237
It's nice to see that most have finally warmed up to Schwindel. There is no guarantee he'll be this good next year, but I've certainly stopped doubting him.
How About That!
The last of the 10 Major League Baseball postseason spots were not handed out until the end of yesterday's games.
The Dodgers and Brewers will enter the postseason with the best rotations, but it won't matter if Los Angeles doesn't get past the Cardinals in the Wild Card game.
Kyle Seager received a standing ovation from fans Mariners fans yesterday. The free-agent third baseman is unlikely to return to Seattle.
Darvish indicated that his first season with the Padres was one of many missed opportunities.
San Diego manager Jayce Tingler could be the first to be fired after a very disappointing season that saw the preseason favorites go 79-83 and miss a playoff spot by 11 games.
The Mets had a very up-and-down season, and owner Steve Cohen echoed the team's performance on social media all year.
New York will be looking to hire a president of baseball operations this winter and could part ways with manager Luis Rojas. The Mets also have a number of roster decisions to make.
Yankees infielder Gio Urshela made a remarkable catch yesterday, falling into the team's dugout. Umpire Ángel Hernández followed him.
Buster Posey had two hits yesterday and now has 1,500 career knocks.
Sunday's Three Stars (x2)
Trea Turner and Yuli Gurriel – Your 2021 NL and AL batting leaders. Turner, who played for the National and Dodgers, was 1-for-3 yesterday to finish at .328 while Gurriel, who plays for the Astros, was pulled after getting a hit in his only at-bat to end the season at .319.
Vladimir Guerro Jr. and Fernando Tatis, Jr.– The two 22-year-old stars are this year's home run champions. Guererro Jr. hit his 48th yesterday, tying him for the league title with Salvador Perez. Tatis Jr. led the senior circuit with 42 taters despite missing 32 games.
Corbin Burnes and Robbie Ray – Burnes was the leader of the Brewers vaunted rotation and led the NL with a 2.43 ERA. Ray helped keep the Blue Jays in the playoff hunt until the final game of the season and led all AL hurlers with an ERA of 2.84
Here are all the 2021 stats leaders.
Extra Innings
Brennen Davis and DJ Herz certainly offer Cubs fans something to look forward to.
A slugger who climbed from High-A to Triple-A and a pitcher who made his full-season debut are our picks for @Cubs Prospects of the Year: https://t.co/GwAbNrqJ7P pic.twitter.com/LrADrFALBJ

— MLB Pipeline (@MLBPipeline) October 3, 2021
They Said It
"I love it in Chicago, love the organization, all the people around it, the coaching staff, and I know things change every year but with the city, I couldn't be any happier. There's no better place, "The division we play in, the competition, there is a chance to win the division every year, so, yeah, there's a lot of positives. I know a lot of guys who love to play in Chicago … as visiting players. You hear it all the time, guys love coming here." – Hendricks
"Chicago's a great city. I'm open. I want to be somewhere that wants me. I want to be on a team that wants me in their rotation for good and kind of go from there." – Stroman
"The numbers as a whole are not the most impressive I've ever put up. But it certainly feels with that last two months and the kind of spot I was in at the end of July, early August, like one of the efforts in my career I'm most proud of." – Happ
Monday Walk-Up Song
Learning to Fly by Tom Petty & The Heartbreakers – Some of the replacement Cubs were pleasant surprises, and at the very least, were fun to watch.