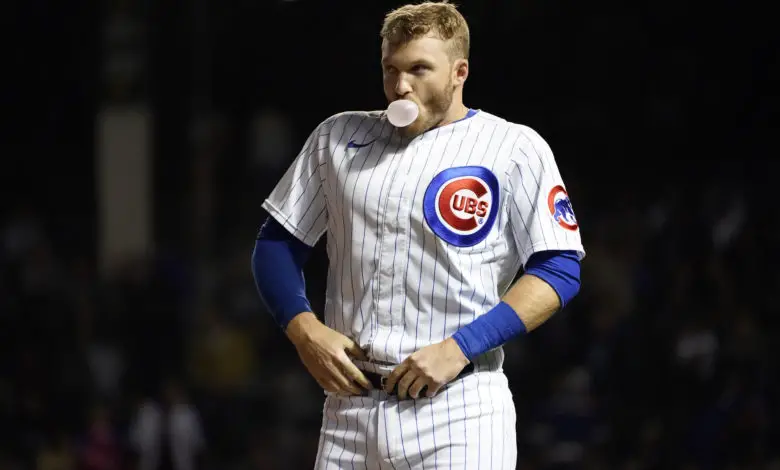 Early Projections Have Cubs Giving Modest Arb Raises, Though Eligible Group May Shrink Before Then
We're still several weeks away from the date by which teams must decide whether or not to tender contracts to arbitration-eligible players, so be advised that what follows is a bit premature. What's more, the December 1 non-tender deadline just happens to coincide with the expiration of the collective bargaining agreement, which could push any other transactional news off the page entirely.
In the meantime, we're left with little else to discuss when it comes to Cubs baseball aside from conjecture about free agency or prospects. Then there are the arb raises, which have typically been a pretty hot topic for a Cubs team that had a group of young stars and a reputation for not going to the bargaining table. There are only two occasions on which the team hasn't settled prior to arbitration, the most recent of which could make the next round of proceedings at least mildly interesting.
Justin Grimm was the first player with whom Theo Epstein's front office was not able to reach a settlement, and it's still a mystery why the former curveball specialist thought that was a good idea. Not only did the Cubs win, but the fact that salaries awarded through arbitration aren't fully guaranteed made Grimm that much more expendable. Ian Happ, on the other hand, won his case and was awarded $4.1 million for the 2021 season rather than the $3.25 million at which the Cubs had filed.
That's a little less than seven times what he earned in 2020, but it was still a great value even in what was a down year statistically. Calculations vary and the math gets a little fuzzy with the pandemic and all that, but the accepted value of each incremental player win is around $8 million. With an average of 1.7 fWAR per season over his first four seasons, only two of which were close to full, Happ had been grossly underpaid and was more than deserving of a raise.
His performance trended in the wrong direction for much of this season until he turned things around late to post a solid overall line once again. No one's going to applaud a .226 average or anything, but he still ended up with a 103 wRC+ and 1.3 fWAR after a horrendous start. Through his first 293 plate appearances, Happ was batting .175 with a 67 wRC+ and was worth -0.7 fWAR. Over the subsequent 242 PAs, however, he hit .285 with a 146 wRC+ and 2.0 fWAR.
The inconsistency is maddening and Happ actually struck out more frequently during that more recent sample, but he's proven time and again he's got the talent to succeed. Part of the turnaround this year was an adjustment to his approach and swing that saw him elevating more offspeed stuff. He may also have needed to get past lingering effects — either physical or psychological — from the foul ball to the eye that tanked his performance late last year.
That's all a long way of saying Happ is probably in line for another decent raise this winter, perhaps as much as 50% or more if Matt Swartz of MLB Trade Rumors is correct. Swartz has Happ getting $6.5 million for the 2022 season, which would be the Cubs' second-highest figure behind Willson Contreras at $8.7 million.
That would only be about a $2 million bump for the All-Star catcher, who is already being mentioned among early trade rumors as some believe Jed Hoyer will continue his wheeling and dealing. Thing is, Contreras is well past the threshold of his highest value because he's only got one year of control left as he enters his age-30 season. Barring some sort of unexpected offseason bidding war for his services, the Cubs would be better off trying to work out an extension at this point.
Among the other arb-eligible players, only lefty Adam Morgan seems like a good bet to return. His control wasn't great and he got touched up more often than you'd like to see, but a veteran southpaw at a projected $1.3 million is still a solid deal. It's surprising to see that 33-year-old Rex Brothers is still arb-eligible, though maybe not as surprising as him making it all the way through the season without being DFA'd. The Cubs have too many young relievers to keep Brothers on the roster, particularly if Morgan is brought back.
Joe Biagini came up at the end of the season and pitched three innings in relief, giving him a total of 7.1 innings over the past two seasons. At 31 years old and lacking the kind of stuff of the younger pitchers coming up through the system, it's hard to see the Cubs tendering him a deal. Then there's Jonathan Holder, who you probably forgot was on the roster. He missed almost the entire season with a shoulder strain, coming back late to log an inning apiece in rookie ball and Triple-A.
Rex Brothers – $1.5M
Adam Morgan – $1.3M
Willson Contreras – $8.7M
Jonathan Holder – $800K
Joe Biagini – $800K
Ian Happ – $6.5M
It's pretty funny that after calls to demote him or jettison him altogether, Happ is probably the safest bet to be on the Opening Day roster next season. Contreras could be traded and the others could all be cut loose even before being non-tendered, then there's the CBA stuff that may or may not turn into a big issue. Speaking of which, Happ will be involved in those negotiations as the Cubs' union rep.
Buckle up for what promises to be a very odd and possibly tedious winter after the odd and tedious season we've all suffered through.