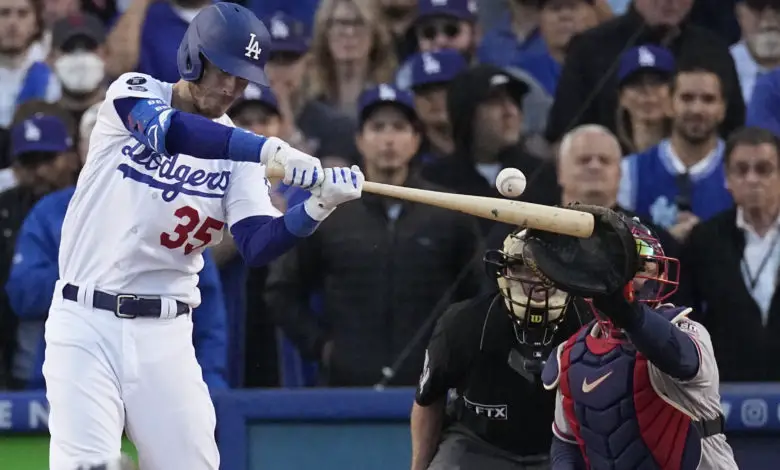 The Rundown: Trying to Decipher Cubs' Offseason Plan, Front Office Kicking Tires on Elite Shortstops, Bush Slides into Advisory Rule, Postseason Umpiring Brutal So Far
When factoring in remarks Jed Hoyer made Monday during the presser to announce Carter Hawkins as the team's new GM, we are starting to get a clearer picture of how Chicago's president of baseball operations and his new sidekick will attack this winter. I don't think anyone knows for certain how much the two will have to spend this year, but we can look at the team from a high level to see what they might have available for expenditures.
Hoyer has said repeatedly that he intends to spend intelligently, which might mean some combination of these premises:
Waiting for the market to come to him, something which could be a little more difficult if a new CBA significantly cuts into the offseason (roughly 110 days);
Offering shorter-term deals with higher AAVs, something Hoyer stated previously;
Reducing high-dollar obligations during players' latter years;
Restraint from entering bidding wars for premium players.
We also know that the front office wants to build its roster around homegrown players while fortifying that group through free agency and trades. Hoyer basically said that verbatim on Monday.
"There's a reason that the best organizations are generally built from within, and they'll use free agency to sort of finish off a club," Hoyer explained. "I think building a club through free agency is really challenging. So, I think when you talk about 'intelligent spending,' I think that's ultimately how I see it.
"You have to be really careful. If you use free agency as the way to build the team, you're probably going to get yourself in trouble because you're committing too many dollars to decline-phase players."
Based on guaranteed commitments, expected arbitration raises, and including contracts for their controlled players, some nifty napkin arithmetic by Michael Cerami of Bleacher Nation puts the Cubs on the hook for $75 million. That could leave Hoyer with potentially somewhere between $75-$85 million to spend.
There are some caveats, though, because there always are. The team has to make decisions on whether to tender Ian Happ or not. Willson Contreras is entering his walk year and we should assume he will either be extended or traded. Since the Cubs want to build a rotation that leads with power arms, the possibility exists that Hawkins could try to trade Kyle Hendricks or Alec Mills.
That's a whole lot of exit routes to the plan and there's no sense in gaming out such scenarios unless something happens. So let's assume the current roster will remain intact. If we are operating with a payroll ceiling of about $150-160 million and take into account all the holes the front office needs to fill, we can start to see through the forest just a bit.
We know the Cubs need at least two starting pitchers, and the potential to entice starters with higher dollar amounts and shorter commitments means the older pitchers on the open market might make a little more sense. In that regard, Justin Verlander could be someone they target for the rotation. Zack Greinke, Alex Cobb, Wade Miley, and Corey Kluber would probably be on the team's shortlist, as well as reclamation projects or pitchers coming off of injuries like James Paxton, Dylan Bundy, Danny Duffy, Noah Syndergaard, and Matt Harvey.
The Cubs also have some openings in the field, where the desire to avoid signing decline-phase players will likely lead them to target free agents who will be 30 years old or younger entering next season. Right now that list could include Kyle Schwarber (29), Javier Báez (29), Carlos Correa (27), Trevor Story (29), Corey Seager (28), Kris Bryant (30), Maikel Franco (29), Joc Pederson (30), Michael Conforto (29), Eddie Rosario (30), Nick Castellanos (30), and Jorge Soler (30). Castellanos and Soler make a lot of sense, especially if the NL adopts the DH, though that will certainly increase their values.
There are some intriguing players who are a little older that might accept two- or three-year deals attached to elevated annual salaries, like Marcus Semien, Chris Taylor, Corey Dickerson, Andrew McCutchen, Mark Canha, Kyle Seager, and Eduardo Escobar. Canha could be a sneaky-good under-the-radar signing, and getting Semien on a short-term, high-AAV deal would have to be considered a coup of sorts because he will likely be seeking a five-year deal. It might also be cool to sign the Seager brothers as a tandem, which could move Patrick Wisdom or Frank Schwindel to DH.
It's at least fun to do a little window shopping, something that hasn't been worth the effort since 2017.
Cubs News & Notes
Odds & Sods
Friendly reminder that you'll need a subscription to The Athletic to get all the details, but some front-office restructuring has started with Randy Bush moving into an advisory role.
More changes coming to the Cubs front office: Randy Bush, a World Series winner as a player and an executive, is transitioning out of the Wrigley Field front office and into an advisory role with the club. https://t.co/VgRoaOnarg

— Patrick Mooney (@PJ_Mooney) October 20, 2021
From the Front Office
"Ultimately, that'll be the key to this next wave of success. We have to do a great job of player development over the next three to five years. Obviously, that was a huge part of my focus in this hire." – Hoyer
Championship Series News & Notes
The Dodgers were trailing 5-2 and facing a 3-0 deficit in their series with the Braves. One swing of the bat took Los Angeles off life support.
The Braves are saying last night's loss was nothing more than a "speed bump."
Houston's bullpen was the key to their 9-2 win over the Red Sox.
Meanwhile, Boston manager Alex Cora would like to forget about last night's disastrous 9th inning.
Though the Red Sox are fighting for a berth in this year's World Series, team owner John Henry says the best is still yet to come and that Boston is positioned to be even better next season.
Yesterday's MVP
Cody Bellinger – His three-run homer to tie the game in the 8th inning is about as clutch as it gets. The Dodgers might be down 3-0 to the Braves otherwise.
How About That!
Josh Donaldson called out TBS announcer and former player Jeff Francouer for criticizing umpire Jerry Meals.
The Yankees have decided to extend manager Aaron Boone, and GM Brian Cashman will now focus on roster construction.
The four-hour playoff game has become endemic. Commercials are probably the biggest culprit, but MLB needs to find a way to reduce game times.
Imagine if Bob Gibson were pitching in these playoffs. He'd probably be a four-inning starter.
The Mets are in a tough spot because they've failed to entice any of their top-tier candidates, so their search for a new president of baseball operations continues with the team's fallback options.
Mike Shildt has declined to talk about the differences with the Cardinals front office that led to his dismissal.
Extra Innings
If there is one thing taking the shine off an otherwise dramatic and exciting postseason, it is piss-poor umpiring.
Top 9
Tied 2-2
2 outs, 2 strikes
Strike 3? Nope

Instead, the Astros scored 7 runs. TOUGH 😬 pic.twitter.com/7QWkKqJSdh

— B/R Walk-Off (@BRWalkoff) October 20, 2021
They Said It
"Obviously, I would lean on [Hoyer] in terms of direction there," he said. "But it is interesting from a standpoint of looking at, 'Hey, there is a lot of opportunity here either for players from the outside or [from the current roster].' " – Hawkins
Wednesday Walk-Up Song
Carry On My Wayward Son by Kansas – I still find it funny that Hawkins has pledged to work around the clock 365 days per year to make the Cubs competitive again. Maybe things are a lot worse than we thought.