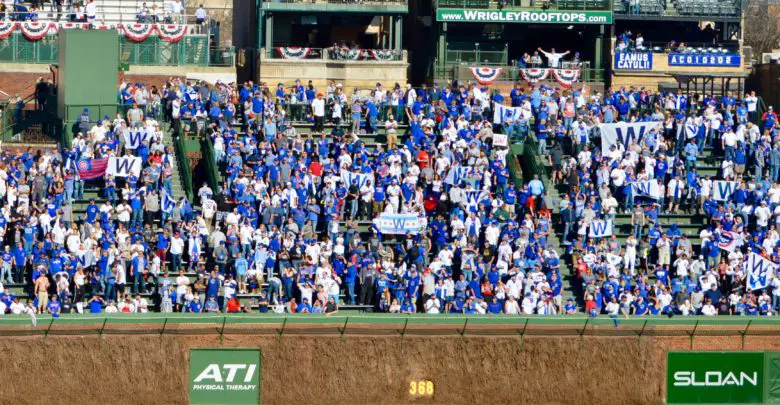 Cubs Make Slight Decreases to 2022 Season Ticket Prices
The Cubs have begun sending out season ticket invoices for the 2022 season, a pretty bold move considering the season they just had and the uncertainty about when they'll be contending again. There's a really in-depth breakdown of the new prices over at Bleed Cubbie Blue, including the chart below and others detailing the specific changes for each seating section. It looks like the average will net out to a drop of around 2% or so, but let's look into that a little further.
The Cubs are certainly going to tout the fact that they've decreased prices, which is absolutely what they should do from a marketing perspective. It's also factually correct, though these lower prices may actually be the result of some accounting with the pricing tiers and they could come back to bite season ticket holders and single-game buyers alike.
Because the pandemic kept fans out of the ballpark entirely in 2020 and limited attendance for much of 2021, ticket pricing data is a little wonky. No one really knew what this past season was going to look like ahead of time, so the last solid numbers we have are from two years ago. With that in mind, here's a breakdown of the number of games in each of the Cubs' six pricing tiers from 2020 to 2022.
---
2022 Price Tier Breakdown (2020)
Marquee – 8 games (12)
Platinum – 16 games (12)
Diamond – 6 games (6)
Gold – 24 games (17)
Silver – 22 games (25)
Bronze – 5 games (9)
---
What really jumps out is that they swapped four games at the Marquee and Platinum levels, then moved a total of seven from the lowest tiers of Bronze and Silver to that mid-tier Gold category. The decrease in Marquee games is probably responsible for a lot of the shift, but you'd think the increase in Gold would mitigate that. Then you consider that the Cubs play only 13 home games during the cooler April weather as opposed to what should have been 18 during March and April of '20.
All in all, it seems as though the Cubs really have taken some legitimate decreases here and should be applauded for it. Ah, but we still need to consider what happens after all this gets settled. Though season-ticket renewal rates are typically very high, the prevailing belief is that those numbers are continuing to drop in light of poor performance and a diminishing return on value. That's not just about the product on the field, either.
We used to have season tickets through Cubs Insider but parted with them when the business investment went sour. Secondary market prices cratered, forcing us and many others to sell our unused tickets at a loss or simply eat them out of principle rather than having StubHub take a big wet bite out of our collective ass. It became much easier to simply pay individually for the games we wanted to attend.
Speaking of which, the decrease in season tickets will almost certainly be made up for by an increase in single-game ticket prices for 2022. A Cubs spokesman said in 2019 that individual tickets are at least $5 more than season tickets for comparable seats, so those price decreases laid out above should be made up for in the end. That could really be the case this year if season-ticket renewal rates indeed drop, causing a shift in the percentage of single-game tickets being sold.
I understand the need to work through a waiting list that is more marketing gimmick than actual roster, but the timing of these invoices seems like a big misstep to me. Maybe Jed Hoyer and Carter Hawkins can deliver a big signing prior to the November 18 deadline for that first 20% deposit, but it's doubtful anything of significance occurs prior to the December 1 expiration of the CBA. The remaining 80% is due by January 19, at which point there could still be labor strife.
While I completely understand that the decision isn't nearly as fraught for those who live in close proximity to Wrigley or who have had tickets in their family for decades, I'm so thankful we gave ours up. Here's to hoping those individual tickets — pricing for which won't be released until the new year — don't go up too much and that the club will give us something worth paying that premium price to see.
If all else fails, they'll have that shiny new sportsbook to generate a different revenue stream by the end of next year.