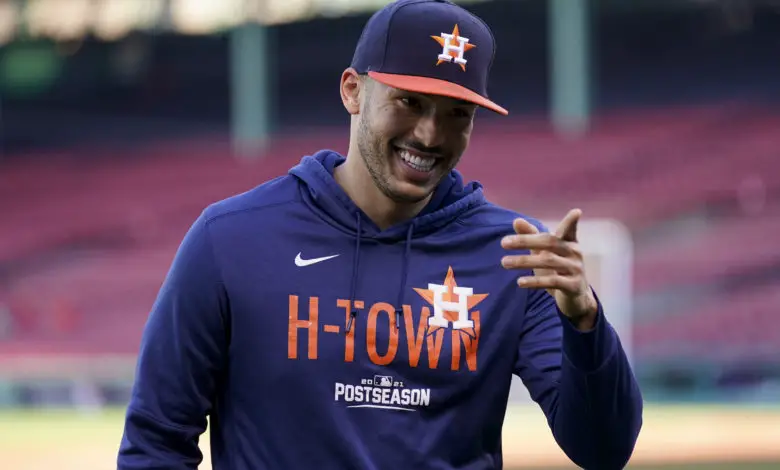 Have Cubs Forced Themselves to Make More Big Moves Post-Lockout?
Jed Hoyer said even before the regular season had concluded that the Cubs were going to be "really active" in free agency, though debate ensued as to what that really meant. Signing 10 new players would represent a great deal of activity, even if they were all minimum deals for players with one collective WAR between them. Or the Cubs could simply check in on several top players, ensuring they could plausibly address the fans with a shrug and say they did their best.
But Hoyer also said the goal was to field a competitive roster as the Cubs looked to put themselves in playoff contention while continuing to build from with by strengthening their development infrastructure. Even Tom Ricketts promised a winner.
Tom Ricketts just promised me we'd be good next year. pic.twitter.com/3Gf65sxqRl

— Danny Rockett (@SonRanto) September 23, 2021
The offseason didn't seem to be trending that way as several pitchers came off the board and even the top shortstops started signing ahead of the December 1 deadline. The Cubs added backup/timeshare catcher Yan Gomes — their biggest free agent position player deal since Jason Heyward — and beleaguered former Yankees outfielder Clint Frazier, moves that seemed like the kind you'd expect from a contender looking to shore up the fringes rather than a rebuilding unit stockpiling warm bodies.
Then came the big surprise signing of Marcus Stroman on a three-year deal that proved the Cubs were serious and immediately re-framed the entire trajectory of the offseason. Assuming, that is, the lockout ends at some point. Stroman had signaled that he wanted to pitch in Chicago, but he wouldn't have joined a team he felt was planning to rebuild throughout his entire tenure.
"I think them going out and getting me kind of speaks to that point," Stroman said during a Zoom media session. "I think they're definitely not in a full rebuild. I think they definitely want to win now.
"I'm coming in here to win."
The Cubs gave Stroman $23.67 million in average annual value, $25 million if he opts out after two years, not the kind of money an owner like Tom Ricketts would be willing to burn simply to save face. But what's even more encouraging for Cubs fans is that the team is almost certainly willing to bump payroll significantly higher still in order to make good on the big pitching addition.
The next step may be to augment the rotation with the power arm they still haven't landed despite Hoyer's pointed statements about that very specific need. Danny Duffy is a name we've mentioned here a few times in the past and Patrick Mooney wrote in The Athletic that the former Royals lefty is "someone they would pursue" when transactions open up again. At 33 years old and carrying some injury baggage, it would be the kind of deal that doesn't impact payroll in a big way.
That same thing can't be said for Carlos Correa, the pursuit of whom continues to be more tangible by the day. From multiple sourced reports about mutual interest to the fact that several Cubs beat writers are hip to the idea of signing the All-Star shortstop, this isn't fanfic any longer. A monster contract isn't out of the question and wouldn't cripple baseball operations, though you can easily find someone willing to cite Jason Heyward as a reason not to sign Correa.
Stroman's deal was for much less money and time than expected, which gives the Cubs a lot more freedom than, say, Jon Lester's deal seven years ago. But the righty also gives the Cubs a pitcher with a 57% career grounder rate who joins a rotation whose average fastball was an MLB-low 89.9 mph last season. That screams for an elite glove at short, among other places, now it's just a matter of paying for that player
"Staying nimble is something we always talk about," Hoyer said Wednesday. "(Stroman) certainly is well-deserving of a high AAV, but being able to keep the deal at three years gives us some financial nimbleness going forward."
Even with Stroman in the fold, the Cubs are projected to carry a mere $114 million actual payroll with $131 million in luxury tax payroll for 2022. Adding a record salary of $350 million over 12 years would put the Cubs at just $143 million and $170 million in those respective areas, giving them plenty of room to continue maneuvering while remaining well under their post-World Series expenditures.
With that in mind, they could still look to add some left-handed thunder to a lineup that is decidedly lacking in that department. The DH is likely in play on a permanent basis, so perhaps a reunion with a slugging fan-favorite first baseman is a possibility. That's right, Dan Vogelbach would be a very inexpensive addition who fills a necessary role.
You probably thought I was going with Anthony Rizzo, though he's not out of the question if his market has dropped enough and he'd be willing to cede some time to Frank Schwindel at first. In addition to providing a little pop, Rizzo's obviously a proven defender who could help the staff quite a bit. Not probable, but fun to think about.
The Cubs are going to make more moves once the lockout ends, and not just because they have to in order to fill the roster. Adding Stroman tells us they are willing to keep moving the needle, but the nature of his skillset means they have to make other additions to be competitive. The nature of his contract further indicates an ability to afford more than just future trivia questions, so let's just hope that's exactly how things work out.