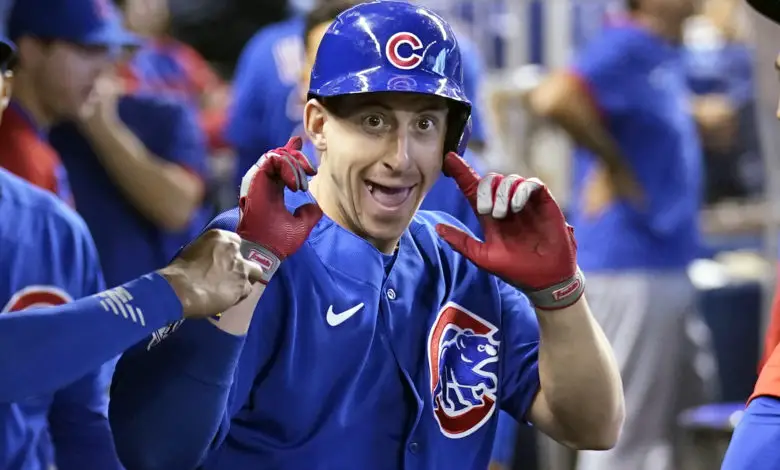 The Rundown: Making a Case for Frank Schwindel, Frazier Throws Shade at Yankees, Iowa Cubs Sold, Venable Interviews for A's Opening
It takes a lot to frustrate me, and being forced to make a case for Frank Schwindel is one thing that does. It's December, baseball has a work stoppage, and I shouldn't have to discuss the merits of rostering a guy who was Chicago's most consistent player of 2021. Yet, here we are.
I'll concede one point, and that's that Schwindel's improbable first season is virtually unsustainable over a full year. Schwindel was picked up off waivers from the A's and completely aced his 56-game tryout in Chicago, slashing .342/.389/1.002 from July 30 forward. He made consistent hard contact, rarely struck out, and had two or more hits in 25 starts. Schwindel's breakout performance earned him Rookie of the Month honors in August and September.
While everybody was hoping the Cubs would lose enough games to get a top-5 pick in the 2022 amateur draft, Frank the Tank was singlehandedly leading his team to about a month of .500 baseball. Even better, he understands that he cannot rest on his laurels, something that comes with being a 29-year-old rookie.
"I'm not letting this go to my head," Schwindel said back in September. "Baseball is the craziest game. You can have three good games in a row, then you have an 0-for-4 for no reason. It's a very humbling game, so you can't get too high. I try to stay as even-keeled as possible. It's easier said than done. The emotions take over sometimes. But you just have to try and keep the same mentality every day."
As the video below shows, Schwindel hits almost every pitch in the strike zone, no matter what is thrown or where it's located.
Did you know …

Frank Schwindel was only the 3rd rookie in the past 10 seasons with 40+ hits in September 🤯 pic.twitter.com/vwTooCebEZ

— Marquee Sports Network (@WatchMarquee) November 9, 2021
The firmly-grounded first baseman was chosen by the Royals in the 18th round of the 2012 draft and batted .300/.336/.431 with six home runs and 42 RBI in 64 rookie league games for Idaho Falls. He continued to hit at every level, but was consistently blocked by players in the big leagues. Even making the Pacific Coast League All-Star team and batting .287 with 24 home runs and 93 RBI at Triple-A in 2018 wasn't enough.
He did make the Royals' Opening Day roster the following season, but was DFA'd in mid-May after getting one hit in 15 plate appearances. Schwindel caught on with the Tigers and bounced around the minors there, then joined the A's on a minor league deal in November of 2020. All the while, he was blocked by a combination of Eric Hosmer, Mitch Moreland, Matt Olson, and Miguel Cabrera.
When Jed Hoyer snatched our hero off the waiver wire on July 18, he was blocked by Anthony Rizzo. That changed 11 days later when Rizzo was traded to the Yankees for Kevin Alcantara and Alexander Vizcaino. Talent is talent, and we would be talking about a potential MVP and future team leader if Schwindel was 24 years old. He can still be those things even though he broke out about five years too late. David Ortiz was 27 and on waivers when Theo Epstein picked him up on waivers in 2003, and Big Papi reeled off five straight top-5 finishes for AL MVP.
It's unlikely Schwindel will enjoy the same type of career, but he'd be a decent facsimile of the guy he replaced if he can give Chicago a couple of 3.0 WAR seasons. Perhaps Mark Grace is a better comp. Who knows, maybe Hoyer has a knack for dumpster diving and an eye for reclamation projects.
Cubs News & Notes
Odds & Sods
Is it just me or do Babe Ruth and his cohorts look like they ran an offseason bootlegging gig?
December 7, 1921 – Babe Ruth visits the White House.#NewYork #Yankees #MLB #1920s #OTD pic.twitter.com/wJQhP1ETVr

— JVAN (@VanderlansJim) December 7, 2021
MLB News & Notes
Fernando Tatis Jr. was involved in a motorcycle accident in the Dominican Republic last night but reports indicate he walked away without serious injury.
Some MLB insiders believe the Yankees might be able to get Trevor Story on a one-year, high AAV contract.
The Red Sox have checked in on Story, too.
Max Scherzer reportedly favors Buck Showalter as the next manager of the Mets.
There are 141 major league free agents waiting for a freeze on roster transactions to lift once a new collective bargaining agreement is reached.
Expect a free agent frenzy similar to the one just before the lockout began.
Dusty Baker was named Manager of the Year by Baseball America.
The league is expected to hold its Rule 5 Draft once the work stoppage ends. There had been rumors that it might be canceled.
From the Bargaining Table
The MLBPA is probably aware that the growth of its player salaries trails the NBA and NFL.
The biggest disconnect between the owners and players involves the structure of salaries and the willingness of teams to spend in order to be competitive.
The current economic system benefits the owners because younger players are not compensated as well as they are in other sports and teams have control over those same players for longer periods of time.
Both sides could provide a service to the game's fans by incorporating several proposed rule changes into the next CBA.
Today's Baseball Jones
How about Mickey Mantle and Ernie Banks going head-to-head in a home run derby? Is that something that might interest you? Take note: Mantle, a switch-hitter, batted righty against a right-handed pitcher. I wonder if that was the show's way of leveling the playing field?
"During my 18 years, I came to bat almost 10,000 times. I struck out about 1,700 times, I walked around 1,800 times. A baseball player averages about 500 at-bats every season. Which means, I played a full seven years without ever hitting the ball." – Mantle
"Work? I never worked a day in my life. I always loved what I was doing, had a passion for it." – Banks
Apropos of Nothing
You can call Santa's hotline for an important Christmas message and a chance to leave the big guy your gift list. His number is (605) 313-4000. I used to tell Sue's daughters that when they stopped believing in Santa they'd stop getting gifts. They still admit they believe at ages 25 and 23.
They Said It
"First off, these uniforms are soooo [sic] sick! I'm so excited to join the Cubs  — one of the biggest reasons I chose to come here was the fan base and how electric you guys can be towards your players." – Frazier
"Me being happy I'm on the Cubs has nothing to do with Yankees fans. It has to do with the fact that I'm happy to be able to play somewhere I'll get a better chance at playing." – Frazier
"We'll experiment, have fun and try to create a family-friendly experience. My lifelong dream is to own the Chicago Cubs. Sometimes dreams come up just a tad short." – Shapiro
Wednesday Walk-Up Song
Lost in My Mind by The Head & The Heart – Frazier seems equally nuts and endearing, and I love it. Let's hope the talent matches the talk.