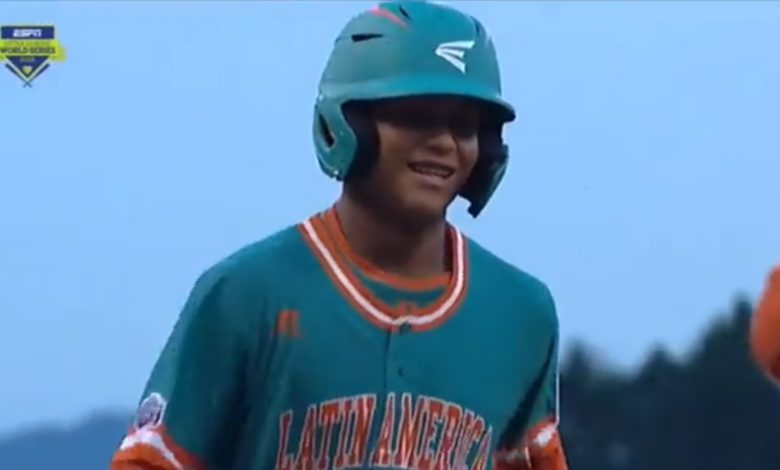 Cubs Signing 5 IFA Targets, Including LLWS Standout David Ross Called 'Absolute Stud' (Updated)
The Cubs opened the international free agent signing period exactly as expected, signing three top-50-ish prospects in catcher Adan Sanchez and shortstops Alexis Hernandez and Jefferson Rojas. MLB Pipeline and Baseball America differ slightly in their rankings, but suffice to say they are all well-regarded and each earned at least a $1 million bonus.
Between Rojas ($1M), Hernandez ($1.3M), and Sanchez ($1.5M), the Cubs have now spent $3.8 million of their approximately $5.2 million IFA bonus pool. Most of that remaining money will go to catcher Carlos Altuve and outfielder Josefrailin Alcantara, both of whom were linked to the Cubs on Friday. There could be more six-figure deals on the horizon, and the Cubs will also hand out several $10,000 bonuses because those don't count toward the pool cap.
Source: #Cubs agree to a $1.3 million deal with SS Alexis Hernandez, #18 on @MLBPipeline's Top 50 Int'l Prospects list, No. 43 INF Adan Sanchez ($1.5 million) and SS Jefferson Rojas for $1 million. https://t.co/LWetCicBy0

— Jesse Sanchez (@JesseSanchezMLB) January 15, 2022
Don't expect to see much of these players for at least another year, as they're all teenagers who will likely need to gain more experience at the organization's Dominican complex before heading stateside. Sanchez is an interesting option for the future because he's already 6 feet tall and 190 pounds at 16 and he's played both catcher and third. He's also got something in common with fellow Cubs prospect Ed Howard.
"I know the Panamanian folks know his name, but you better learn this name," the color man said during the 2018 Little League World Series. "Adan Sanchez is an absolute stud."
That broadcaster was none other than David Ross, who has an outside chance of managing Sanchez at some point in the future.
Today, the Cubs sign 16-year-old catcher Adan Sanchez out of Panama.

Here he is playing in the Little League World Series a few years ago with a familiar voice on the call — David Ross. pic.twitter.com/OSA6R5K5id

— Greg Huss (@OutOfTheVines) January 15, 2022
The 17-year-old Hernandez is the younger brother of Cristian, the Cubs' top IFA signing last year, and has plenty of room to fill out his 6-foot-2, 175-pound frame. Evaluators see five-tool potential and he's got the speed to move to center if that ends up being a better fit.
Rojas has been working out at the same facility as Hernandez and some believe he has the skills and athleticism to stick at shortstop long-term. Not that the Cubs necessarily need that given how many shortstops they've picked up over the last few years, but the beauty of picking up elite athletes at a premium position is that they can easily move elsewhere as needs dictate.
"He has a lean, athletic build with solid bat-to-ball skills and game performance, with a line-drive, all-fields approach when he was younger and gap power that has started to tick up to occasional pull home run power as he's gotten stronger," Baseball America wrote of Rojas.
It's funny to read about what he was doing when he was younger, as though being in your mid-to-late teens makes you a grizzled veteran. But when you're talking about young men going pro at a time when most kids their age are worried about getting a driver's license, I guess that's how it goes.
---
Update: Baseball America's Ben Badler tweeted that the Cubs have signed outfielders Josias Ramirez and Albert Belliard, shortstop Moises Febrillet, catcher Yidel Diaz, and Alcantara (mentioned above) from the Dominican.
More Dominican signings today for the Cubs with OF Josias Ramirez, SS Moises Febrillet, C Yidel Diaz, OFs Josefrailin Alcantara and Albertina Belliard (L to R) https://t.co/ZG8rEgV8vn pic.twitter.com/FvnjNSsqhF

— Ben Badler (@BenBadler) January 15, 2022
---
Update #2: The Cubs have signed 12 international free agents, per Baseball America.
Adan Sanchez, C/3B, Panama
Alexis Hernandez, SS, Dominican Republic
Jefferson Rojas, SS, Dominican Republic
Josefrailyn Alcantata, OF, Dominican Republic
Carlos Altuve, C, Venezuela
Josias Ramirez, OF, Dominican Republic
Moises Febrillet, SS, Dominican Republic
Albertina Belliard, OF, Dominican Republic
Yidel Diaz, C, Dominican Republic
Freylin Silverio, RHP, Dominican Republic
Sandy Sanchez, SS, Dominican Republic
Darlin de Leon, SS, Dominican Republic