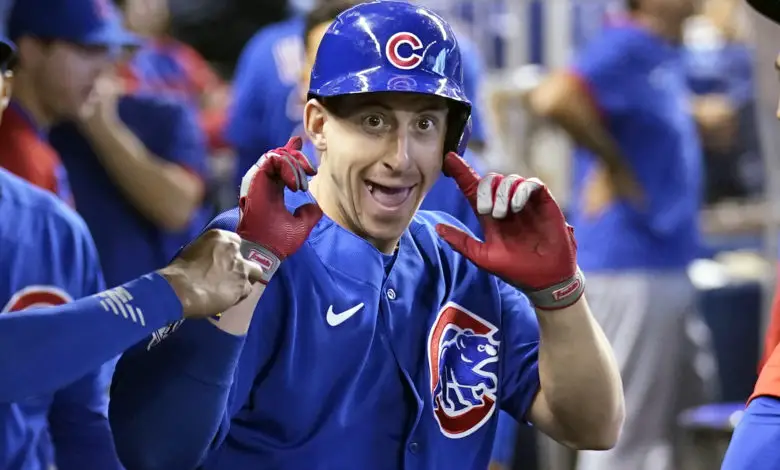 The Rundown: Contemplating New Face of Cubs Franchise, Rizzo Return May Have Legs, CBA Negotiations Going Nowhere
Lost in all the collective bargaining nonsense this winter is that the Cubs are going to look vastly different on Opening Day this season than they did last year. Chicago left Arizona last March with their core intact, having surrendered only Yu Darvish in the offseason. Kris Bryant, Anthony Rizzo, and Javier Báez alternately served as faces of the franchise, but who carries that honor this year?
A case can certainly be made for Willson Contreras, but he may be traded, a probability that increases if the lockout seeps into the regular season and he and the Cubs don't come to an agreement on a contract extension. The backstop is a leader who exhibits a fiery attitude at times, and he most certainly hates losing. While he exudes greatness on the field, those same traits may not necessarily win support in the clubhouse.
Kyle Hendricks is another veteran option, but that's a tough choice. On the one hand, he represents consistency. On the other, he matter-of-factly points out that the Cubs are about to start another season without a true ace, at least not one with a big arm and fearless attitude. The Professor is a fantastic complimentary piece, but his ascension to the face of the franchise might feel a little forced and far too 1997-99 Kevin Tapani.
Patrick Wisdom and Frank Schwindel, who will never be mistaken for Bryzzo, are options if only for their remarkable and unexpected 2021 seasons. Neither are All-Stars, nor will they likely be in the future, and regression is enough of a possibility that it would be unwise to build either a lineup or marketing campaign around them. If the connection to Tapani was bad enough, the last thing we want as Cubs fans is for the Bryan LaHair comps to raise their ugly heads again.
Marcus Stroman is an almost obvious option. He's the first major free agent to sign an offseason deal with the Cubs since Darvish and he has no problem calling out Rob Manfred for bringing baseball to a grinding halt, among other things. He's new, he's feisty, and doesn't it already feel like he's an honest-to-goodness Cub? If Stroman ever leaves town it's going to be a sad day for the team's fanbase.
Manclown and his boys need to figure it out and stop ruining the game of baseball. https://t.co/gfQz4ctQas

— Marcus Stroman (@STR0) February 6, 2022
Still, Stroman might not be the most obvious choice. What if this year's face of the franchise is a throwback to last season? Indeed, rumors pertaining to the possible return of de facto captain and all-around good guy Rizzo have been the rage for most of the last week. If the Cubs are truly prepared to swoop in and sign Big Tony as soon as the lockout ends, that would be a major coup for the team and its flailing PR department. He'd have to be THE guy, at least one would think.
Maybe not. If the Cubs sign Rizzo, and I believe they will, they're going to have to pair that with another major free agent announcement, one whose name might be Carlos Correa. I said it after Jed Hoyer signed Stroman and I still believe Correa and Rizzo will don the royal blue pinstripes this season. I also think that means Hoyer and new GM Carter Hawkins will trade Contreras for a starting pitcher, find someone to back up new starting catcher Yan Gomes, and start the 2022 season as favorites to win the NL Central.
That would mean multiple faces of the franchise once again and a return to debates that are more pleasant in nature than the ones that pit those who carry water for the owners vs. MLBPA supporters in the game's struggle for economic fairness. Tom Ricketts, who can't resist any attempt to alienate fans, needs Correa if he expects to sell $18-per-month subscriptions in the team's proposed foray into over-the-top broadcasting. I don't think he can continue to play the financial victim, especially if he's on the side that is willing to cancel baseball games after previously claiming biblical losses due to the COVID-shortened season.
Then again, it's Ricketts who for better or worse continues to make himself the face of the franchise.
Cubs News & Notes
Odds & Sods
If Wisdom is at third base and Rizzo is at first this season, will Eddie Vedder make a commercial celebrating that partnership? Kiss it goodbye, that ball was "wizzoed."
Lester needs to be hypnotized by Wizzo the clown. pic.twitter.com/kti7iUuxLi

— Danny Rockett (@SonRanto) July 24, 2016
MLB News & Notes
Retired Braves and Yankees outfielder Gerald Williams has succumbed to cancer. Former teammate Derek Jeter announced the outfielder's passing via the Player's Tribune. Williams was 55.
Trevor Bauer will avoid charges for criminal sexual assault, the Los Angeles County District Attorney announced on Tuesday.
Five Athletics players, including Matt Olson and Sean Manaea, sit atop the list of those most likely to be traded once baseball resumes.
The wife of Phillies pitcher Zach Eflin is hilariously pleading with baseball to end its lockout.
Negotiations & Love Songs
In addition to Stroman, veterans Max Scherzer and Rich Hill have also called out Manfred for hurting the game.
Manfred is leading a three-day get-together among the league's owners so that they can regroup ahead of the next scheduled meeting with the MLBPA.
As baseball fights to solve its short-term issues, more pressing problems, such as an increasing lack of interest, continue to loom in the background.
Speaking of problems, the league is not conducting any drug testing during the lockout. Perhaps Manfred is hoping for a PED resurgence to help baseball win back fans after spending all winter pissing on them. There's a pun there, I think, but I'm just too frustrated to make it work.
Free-agent reliever Andrew Miller characterized the CBA meetings as passionate, loud, and sometimes vulgar.
Today's Baseball Jones
A guy who could very well be the face of the franchise one day is Caleb Kilian, who threw six perfect innings with eight strikeouts in the AFL championship game.
Extra Innings
It's looking like no agreement will be reached by February 10, and that's a shame. I expect Manfred will announce the postponement of spring training on Thursday.
ORLANDO, Fla. — Rob Manfred, Dan Halem and MLB owners are meeting at a hotel near Disney World. Tony Clark and Bruce Meyer are meeting with players in Arizona today and then later in the week, Florida. Manfred is to speak to media Thursday. No meeting between MLB, MLBPA scheduled

— Evan Drellich (@EvanDrellich) February 8, 2022
They Said It
"We've always had enough resources to keep a great team on the field, so it didn't limit us. Our business operations have done a really good job of building u the revenue lines and stabilizing all of our financial positions so that we can be with those other teams every year and will be among the top spenders every year and [among] the teams with the most financial resources." – Ricketts, last February.
Wednesday Walk-Up Song
Common People by William Shatner and Joe Jackson (produced by Ben Folds) – Sometimes a song appears to you out of nowhere that is prescient and timely at the same time. Picture Shatner as Manfred trying to relate and Jackson as baseball fans mocking Manfred, and you'll get the biting relevance. By the way, this song is way, way better than you might expect.