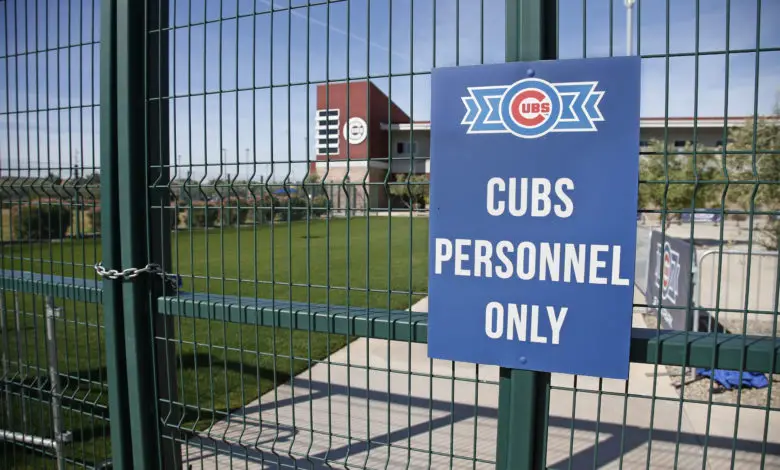 The Rundown: Zero-Hour Arrives, Cubs Prospect Mini-Camp in Full Swing, Mets Make Historic Hire
"And it's one more beer and I don't hear you anymore. We've all gone crazy lately…" – Someone Saved My Life Tonight, Elton John
This is it, right? It's zero-hour and if there is no new collective bargaining agreement by the time our heads hit our pillows tonight the 2022 baseball season could be delayed. Can an agreement be reached today? Of course it can, though I have many doubts and I've been the most optimistic among my peers.
Baseball has a problem and it's more than how to share a multi-billion dollar piece of the pie among its 780 rostered major league players. The sport's mean demographic is a 57-year-old white male, meaning MLB has become the new PGA. Coincidentally, I am the very definition of that primary geometric, and I'm on the fence about what I'll do if games are canceled.
The country's workforce is aging and, though I'd rather not get into analyzing salary disparity among generations, newer entries into the workforce tend to make far fewer dollars than those closer to retirement. As my generation steams toward 401k-supplemented life, corporations are replacing us with more capable hands on the lower end of the wage scale. A perusal of Glass Door and LinkedIn will verify that, but the point is that baseball is okay with targeting my peer group because we have the most spendable dollars, though that's very shortsighted.
There seems to be a chance for a deal tomorrow on deadline day, which is positive. But it remains only a chance. Most on the players side sounded more cautious in their assessment of today's talks. Lots of issues still to resolve. https://t.co/UBk72GGHor

— Jon Heyman (@JonHeyman) February 28, 2022
Jon Heyman is a bit of a contrarian among baseball insiders, and he has anonymously sourced information that indicates things aren't quite as perilous as they seem on the surface. I admire the rosy perspective and I suppose the chance of any agreement being struck today is a positive. Baseball is historically a deadline sport, so there is a reason for a little optimism, as fleeting as that may turn out to be.
Perhaps I'm far too jaded at the moment, but that spoonful of sugar doesn't digest well if it means the players are resigned to sacrificing almost everything they're fighting for just to play baseball and please the fans. Sure, the MLBPA would win the PR battle, but they'd enter every future negotiation with even weaker positioning. Precedent is everything and with Tony Clark in charge, the union has retreated so many times it's difficult to watch. No other sport experiences the labor strife that baseball does, mainly because the 30 MLB team owners are the only ones trying to unilaterally bust a players union. That's what happens when a strong alliance is led by a weak individual.
If an agreement is not reached tonight I may move on, too. I've already given up on the Blackhawks thanks to their vile leadership in the wake of the Kyle Beach accusations and settlement, and I turned my back on the Bears in 2012 after they fired Lovie Smith and subsequently cut Brian Urlacher. I have only recently become a fan again now that the McCaskeys have removed Ted Phillips from the player personnel side of operations.
I can still cover baseball and I'll continue to watch games so that I can stay relevant while writing here at Cubs Insider, but moving on means that I will not spend a single dollar on anything that supports the game. The league relies on consumers like me who are time and again willing to sail over our skis financially to enjoy a day at the ballpark. If we ground ourselves, what becomes of the sport?
Walking away is not a selfish move, either. Someone has to stick up for those who take the brunt of the shrapnel. According to enterprise intelligence platform Craft Co., the league employs 24,219 men and women, and its negative growth rate is surprising but not shocking. That's a lot of employees whose families will be hurt by the league's decision to continue its defensive lockout. Sadly, it also shows how far teams are willing to cut corners to increase profits.
Metrics also show that interest in the sport has waned at a frightful pace since last season ended. It's hard to believe the league is okay with its diminishing fan base, but those fat television contracts and soon-to-be-constructed sportsbooks are quite the elixir. At some point, however, the tail will stop wagging the dog and the game will be on the brink of euthanasia. You don't need a medical degree to understand that a 57-year-old has a limited shelf life, and if baseball doesn't start attracting new fans, it should be very careful not to discard familiar faces.
Cubs News & Notes
Odds & Sods
I admire and agree with Walker Buehler but to the average social media meathead. i.e., those who tend to overuse the words "brah" and "bruh," this is a tough argument to sell.
Buehler speaks up pic.twitter.com/NQ8rQRKor0

— B/R Walk-Off (@BRWalkoff) February 25, 2022
MLB News & Notes
The Mets have made a historic hire by adding Elizabeth Benn as director of major league operations. Benn is now the highest-ranking female baseball ops employee in franchise history.
The Yankees contacted Carlos Correa just before the lockout began and the Mets may have a strong interest in Freddie Freeman.
It appears Mike Foltynewicz has engaged in some very reprehensible behavior, as detailed in a recent Instagram post.
The Red Sox released prospect Brett Netzer on Saturday after he posted a series of racist, homophobic, transphobic, and anti-Semitic tweets.
Former MLB pitcher Bill Lee has found new life as a pitcher with the Savannah Bananas. Believe it or not, the 75-year-old has actively played hardball since retiring 40 years ago.
Negotiations & Love Songs
A miraculous rally is needed to prevent the league from postponing the start of the 2022 season.
If MLB starts canceling games, the competitive balance tax will be the main culprit.
Of course, that depends on how you feel about Rob Manfred, who is directly responsible for what may be baseball's second shortened season in three years.
Extra Innings
If you're feeling optimistic about today, may I suggest a baseball playlist I've curated called "Today is Baseball Day," and you can find it on Spotify. Fun fact: I usually listen to it while I'm writing The Rundown.
They Said It
"Players want this. The attentiveness from the entire group, all of the reps and veteran players who are so involved in what's going on, all the hours that guys have put in. I can't count the number of hours that I've spent on Zoom calls and phone calls and text chains about what's going on and trying to help push this thing in the right direction. The players are so heavily committed to getting this thing back on track and we hope that the fans understand what we're fighting for." – Happ
"I've been on a team with David Ortiz [at DH], and that's nice. He's just going to be in there, you know? And if you want to give somebody a day, again, it just depends on how the roster's formulated. But I do think that's something that a lot of teams look at. It's just a matter of how we want to do things here." – David Ross
"We want to have real research reasons for doing the things that we do. We don't want to do things just because that's the way they've always been done, and we want to be creative and innovative about how we go about doing that. So just focusing on getting these guys a little bit better every day and having a well-rounded approach to it." – Banner
Monday Walk-Up Song
I Want a Little Sugar in My Bowl by Nina Simone – Hoping for a positive outcome today, and one that doesn't hurt the players too much.