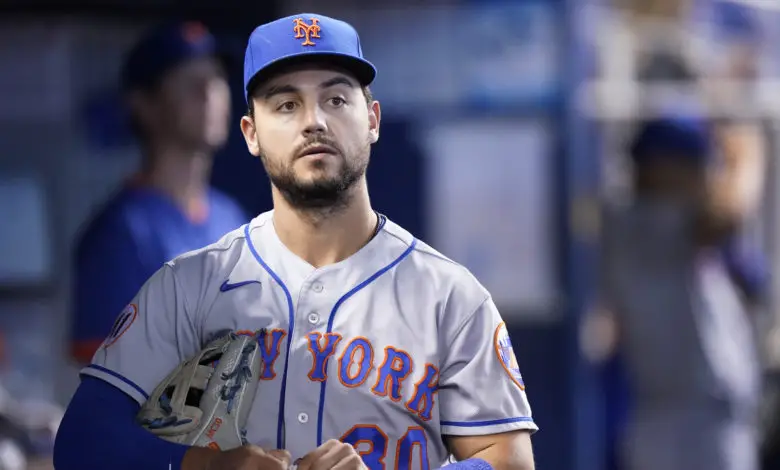 Cubs' Valuation of QO Compensation Losses Helps Explain Offseason Strategy
The Cubs have a desperate need for left-handed power and Michael Conforto is the only remaining free agent who satisfies that, but it doesn't look like there'll be a fit between the two. That's because Conforto received a qualifying offer, so signing him would result in the forfeiture of a team's second-highest draft pick this summer and $500,000 in international free agent pool money. What's more, the loss of a second-round pick means the team's overall bonus pool allotment is decreased significantly.
That latter tidbit might not seem like too big a deal, but it could really hamstring a team that wants to go overslot on a player in later rounds to buy him out of his college commitment. Like, say, giving second-round pick James Triantos a $2.1 million signing bonus rather than the $1.28 million slot value for No. 56 overall.
As Patrick Mooney reported for The Athletic, the Cubs valued the combination of that pool money and draft pick — seventh pick in the second round, No. 43 or so overall — at "around $20 million." That means signing Carlos Correa to the deal the Twins gave him would have carried a cost of at least $55 million, and that's if he chose to opt out after the first year. If the QO process goes away due to an agreement on an international draft, the Cubs would be unable to recoup losses with a comp pick of their own.
Conforto isn't going to command the same sort of contract structure in terms of either cost and options, nor does he impact a team to the same degree that Correa will. So while the total value of his signing will be less than with Correa, the subsequent losses will be that much bigger in a relative sense.
The only way it would make sense to sign Conforto is to swing some sort of deal in which the Cubs could acquire an additional compensation pick and/or international pool money that would offset the losses. But the primary example of such a deal would involve Eric Hosmer, who's got a pretty hefty price tag of his own. Such a combo would immediately address the lefty power gap, though.
As unlikely as a deal for either of those two players, let alone both, seems at this point, the Cubs are still sitting there with a glut of players on the 40-man roster and not much time to figure things out. There will have to be some other moves to make everything fit, so a trade still feels likely. Or maybe we'll just see a series of ho-hum procedural deals.