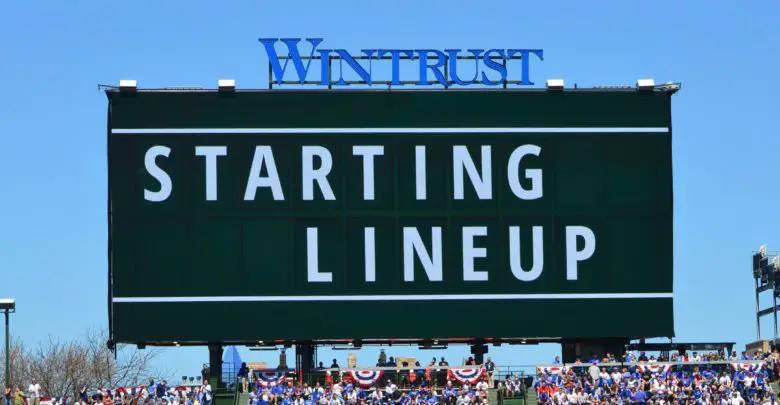 Chicago Cubs Lineup (4/7/22) – Ortega Leads Off at DH, Happ Cleanup, Hendricks Makes Third Straight OD Start
Opening Day is finally here and the Red Sox/Yankees game being postponed means Cubs are playing the first game of the MLB season. What better way to start things off than to welcome the Brewers and reigning Cy Young winner Corbin Burnes to Wrigley on a cold, cloudy afternoon with potential for rain? I suppose the best way would be to win.
Rafael Ortega will lead off as the DH, followed by Nick Madrigal batting and playing second, then Willson Contreras behind the plate. Ian Happ is the left fielder and will bat cleanup just like his offseason elbow procedure, Frank Schwindel is at first, Seiya Suzuki is in right, and Jason Heyward is in center. Patrick Wisdom is at third batting eighth and Nico Hoerner finishes the lineup as the shortstop.
Kyle Hendricks is on the mound to make his third consecutive Opening Day start, the best of which came against the Brewers back in 2020. That one also came after a shortened ramp-up that followed labor disagreements, though the timing and underlying issues were slightly different. Hendricks looked as sharp as ever en route to a complete-game shutout that got the season off to an incredible start.
That could certainly happen again, but the 32-year-old righty has been bitten hard by the home run bug lately and there's more than a little concern for how that will carry over into the regular season. Before dismissing those eight dingers over the last three of his four spring starts, remember that Hendricks allowed a career-high 31 bombs last season.
He's had difficulty finding his groove early in games, which is where the weather and the Brewers lineup might help. The ball probably isn't going to jump out of the park, so maybe some of that hard contact will find gloves and allow Hendricks to settle in.
Burnes manhandled the Cubs in three starts last season, allowing just three total runs across 20 innings while striking out 36 with a mere three walks. That included a game at Wrigley in which he struck out 10 consecutive batters to set an MLB record. His success is largely predicated on his cutter, which he threw more frequently (52.2%) than even Wade Miley (46.6%).
With a value of 24.2 runs saved, that Burnes offering was more valuable than the next 10 highest cutters combined. It's technically better than all other cutters in baseball combined, since FanGraphs has the rest at negative value, and it graded as one of the most valuable overall pitches in baseball last year.
Though you can't use one game as the litmus test for a lineup that isn't truly built to compete for a division title, we should get at least a little clue about whether the Cubs are better with contact and high velocity. Not only did Burnes have the best K/BB ratio (6.88) in MLB last season among qualified pitchers, but his 96.9 average heater ranked fifth and was just one tick lower than Sandy Alcantara.
This one threatens to be ugly, either due to the weather or the performance, but maybe that means the Cubs can drag the Crew down into the mud and wrestle with them a little. That's what this team is going to have to do to get wins because they're not going to out-talent most others. After the last several years, that could be a good thing to an extent.
First pitch is set for 1:20pm CT on 670 The Score and Marquee Sports Network.
Here is today's #Cubs Opening Day lineup! pic.twitter.com/RRi6XLut1T

— Chicago Cubs (@Cubs) April 7, 2022