Quantifying Hope: Solid Start Has Cubs at 7.9% Playoff Odds
We're a week into the season now, which means it's time to dive back into these Friday installments that cover the Cubs' playoff chances. You can check full MLB odds here to get a look at other teams and lines, but we'll limit this conversation to just what the computers are telling us about Seiya Suzuki and Company. And what they're telling us, well, it isn't that great.
The Cubs came out of the gates sprinting as they dominated two of the best pitchers in the NL, but giving up an early lead in the series finale with the Brewers and then dropping their second game in Pittsburgh took some wind out of their sails. Between that and the projections operating somewhat like college football rankings, which is to say there's favoritism in the form of expectation, the Cubs are still viewed as a distant third in the NL Central.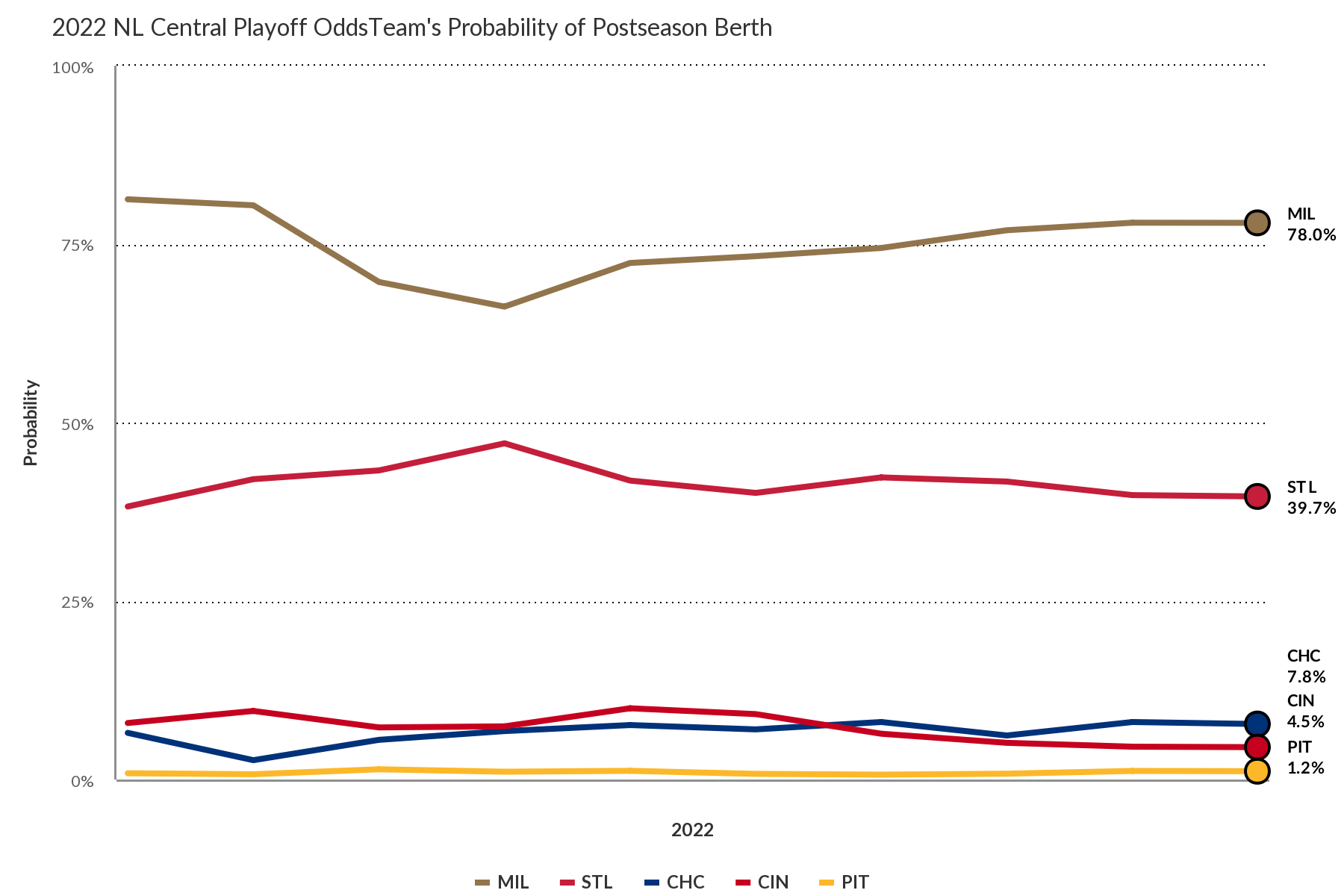 They currently boast mere 7.9% odds — up from 6.1% prior to Thursday's W — to make the playoffs, split almost evenly between the potential to win the division (4%) or capture a Wild Card berth (3.9%). The latter seems far more likely based solely on the expansion to six postseason teams per league, though the NL Central isn't exactly scary this season. The Brewers may not have enough offense to support even their elite pitching, the Cardinals' average age is like 39, and neither the Reds or the Pirates are built to compete.
Ed. note: The odds were 7.8% on Friday morning, but somehow bumped up ever so slightly. The only explanation is magic.
Of course, the Cubs still have a lot of questions to answer as they work through the rotation a second time and wait on would-be starters to get healthy. They've also got a pretty tough schedule that includes series against the Rays, Braves, and Brewers again once their trip to Denver concludes. May is an Oreo cookie with a soft center featuring 14 games against the Diamondbacks, Pirates, and Reds, but the nine games prior to and four following that stretch are against contenders.
By the time next month ends, we should have a much better idea of what this Cubs team really is. Of course, we thought they would be buyers after no-hitting the Dodgers on June 24 last year, and look how that turned out. Barring a similarly jarring reversal of fortune, I have a strong feeling things will have shaken out a little early this time around.
Either way, we'll be following the trends and laying out any changes to the Cubs' outlook right here every Friday.