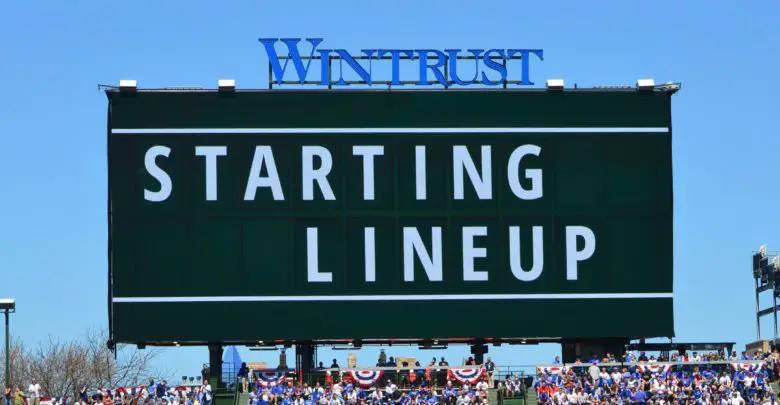 Chicago Cubs Lineup (4/17/22): Frazier Leads in LF, Contreras DH, Smyly Starting for Series Split
The Cubs banged out 13 hits last night, several of which went all the way to the wall, but it was the lack of homers that did them in once more as the Rockies powered through to victory. That was actually the second straight game in which the Cubs out-hit the Rox 13-11, but it was also the second straight game in which the visitors were out-homered 2-0.
Frank Schwindel had an opposite-field shot in the series opener while the Rockies' only Dinger was in a costume, so it feels like there's a trend being established. It also feels like maybe the Cubs shouldn't pitch to C.J. Cron, who has three homers in his last six at-bats.
It's not as simple as saying the team that hits more home runs this afternoon will win, but it sure feels like that's a big key for the Cubs. They've proven they can slap the ball all over the yard, often with a great degree of authority, but about 10 combined feet of height on three or four doubles would have boosted their run-scoring. They should get a chance to clog the bases in this one, now they just need to clear the fence.
Clint Frazier will try to do just that as he leads off in left, followed by Nick Madrigal, who appears to be regaining his stroke. Willson Contreras is the DH, which makes sense when facing a lefty, Frank Schwindel is at first, and Seiya Suzuki is in right. It's odd that Suzuki remains in the bottom half of the order with the way he's been hitting, but this is a much better spot for him than last night.
Yan Gomes is behind the plate, doubles machine Patrick Wisdom is at third, and Michael Hermosillo is in center. Nico Hoerner finishes things up at short.
If Drew Smyly pitches like he did the last time out, the Cubs may not need to do much scoring. The lefty limited Pittsburgh's hitters over five innings, allowing just three hits and getting a career-high 11 outs on the ground. The flip side of that is worrying a little about Smyly getting just one strikeout and no walks with all that contact, especially when he's typically been a fly ball pitcher.
He was able to bust hitters with the cutter and get them to beat his curve into the ground, but pitches don't always move the same way in Denver as they do at lower elevations with higher humidity. I'm personally going to watch his pitch mix, which was made up of around half curves and then an almost even split of fastballs and cutters.
Smyly's velo was down slightly from the past two seasons as well, though only slightly, and he didn't use the splitter/change he'd supposedly been working on this spring. Perhaps that's something we'll see this afternoon.
His counterpart in this one sounds like either a catcher or a Cardinal, which makes sense because Austin Gomber indeed came up with St. Louis before being sent west as part of the Nolan Arenado trade. The Rockies were so high on Gomber, they actually paid the Cards $50 million to take Arenado off their hands. Okay, not really.
The big lefty was decent in his first season as a full-time starter, posting a 4.53 ERA that was only slightly higher than his peripherals indicate it should have been. However, his .264 BABIP allowed tells us he may have been the beneficiary of more good fortune than he deserved. Gomber isn't a big strikeout guy and doesn't get a ton of grounders, plus he walks more batters than league average.
He's pitched to relatively even splits over parts of four seasons, with left-handed hitters posting a higher average and righties doing better in terms of OBP and slugging. That balance comes from having an effective mix of slider, curve, and change to work hitters on both sides of the plate. His fastball sits 91-92 and isn't very dangerous on its own, but the key for Gomber is location.
While he doesn't get a lot of whiffs, he gets called strikes at a higher rate than average and could end up finding success against a lineup that seems a little too patient at times. I'd really like to see the Cubs jump on Gomber right out of the gate because I've got a sense that he'll be able to settle into a groove if they don't.
First pitch is at 2:10pm CT on Marquee Sports Network and 670 The Score.
Here is today's #Cubs starting lineup for the series finale in Colorado. pic.twitter.com/xjZmJ8DOjx

— Chicago Cubs (@Cubs) April 17, 2022