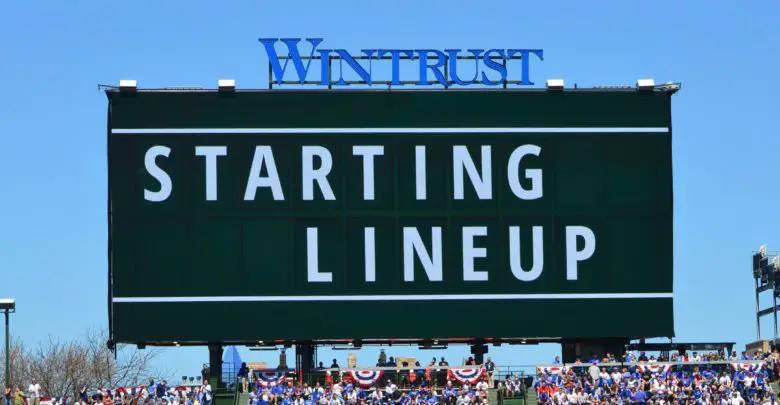 Chicago Cubs Lineup (4/19/22): Steele Starting, Suzuki Batting Second, Villar Starting at 3B
The Cubs got their week-long homestand off to a rousing start, even if their hot hitting from Colorado cooled a bit in the frosty environs of Wrigley Field. The funny thing is that they still managed to hit two homers Monday night, including Patrick Wisdom's first of the season, which is more than they hit in the first three games in Denver combined.
It's really no surprise to see Seiya Suzuki moving up in the order, considering how superb he's been thus far. He's batting second today playing RF following Jonathan Villar who's leading off playing 3B. Willson Contreras is catching and hitting third in the order followed by Ian Happ at LF, and Frank Schwindel at 1B.
Nick Madrigal went 2-for-4 in his debut as the leadoff hitter on Monday helping to lead the Cubs to victory, but Ross has moved him back down in the order batting sixth tonight while playing 2B. This certainly isn't an indictment on Madrigal's ability to bat leadoff, just that he's facing a RHP tonight versus the LHP last night.
Following Madrigal in the order is Jason Heyward at CF, Clint Frazier at DH, and Nico Hoerner at SS.
Justin Steele is making his third start for the Cubs and has looked like the most consistent member of the rotation to this point. The lefty is attacking hitters and getting outs via contact without allowing a homer to this point. If he can just keep doing what he's done, he'll keep his team in the game.
Matt Wisler was a fairly late announcement to take take the bump in this one and he'll be serving as the opener after working five previous relief appearances this season. The 29-year-old righty has bounced around quite a bit, pitching for seven different teams since the start of the 2018 season, but he really seems to have hit his stride since the shortened 2020 season.
That came as the result of a big shift in his repertoire that saw him dial up the slider to become almost his only pitch. He ditched his sinker entirely and threw nearly 84% sliders during the 2020 season, but has since ratcheted it up further to be over 92% of his pitches. His 91 mph fastball is his lone secondary at this point.
Wisler's effectiveness is almost less about what he does this evening and more about how he sets up bulk pitcher Josh Fleming, a lefty sinker-baller. The 25-year-old has racked up 11 strikeouts in 6.2 innings thus far, but the real killer is a 72.2% groundball rate that isn't necessarily an aberration even if it's a few points higher than in previous seasons at MLB and Triple-A.
Between the sinker (66%), slider (14.3%), change (13.3%), and curve (4.7%), Fleming is going to bury pretty much all of his pitches. He hasn't allowed a hit to a left-handed batter yet this season and he's struck out seven of the nine he's faced, but his career splits are much more even and might tell more of the story than his two outings thus far.
This will be a big test for the Cubs just because of the change in styles and handedness, so it'll be interesting to see how they adjust.
Here is tonight's #Cubs starting lineup! pic.twitter.com/eT3SoXK8hj

— Chicago Cubs (@Cubs) April 19, 2022