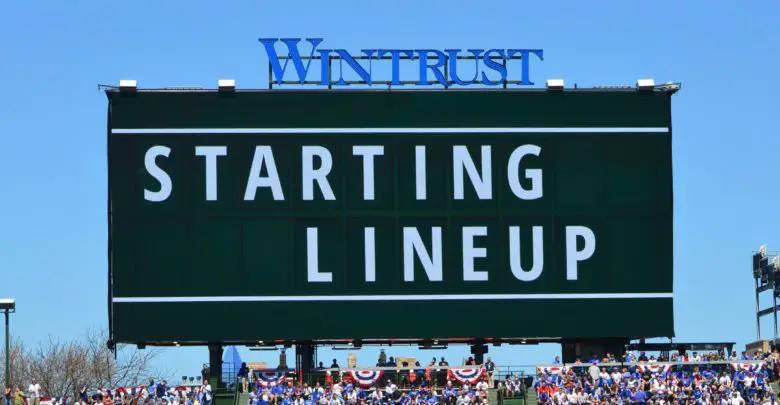 Chicago Cubs Lineup (4/26/22): Hermosillo Leads Off All RHH Group, Stroman Starting
The Cubs had a day off to either stew in or shake off the effects of a 2-5 homestand that saw them score more than the Bears in one game while playing a more or less unbearable brand of baseball the rest of the time. Now they head to Atlanta, where the defending World Series champs are playing just as poorly to this point. Perhaps this series will provide a springboard to one of these teams.
Marcus Stroman is certainly in need of a pick-me-up after allowing 13 runs (12 earned) over his last two starts. He struck out 11 and walked just three over 8.1 innings in that time, but the issue is that he isn't feeling comfortable with his mechanics and hasn't been able to locate consistently. That has led to 14 hits, many of which were barreled up far too well, and two losses.
Stroman really needs to come out of the gate dialed in tonight, and that's not just a matter of the Cubs winning. It'll be terrible for the online commentary if we see a third consecutive poor start. But seriously, getting him into a groove would make this team a lot more fun to watch.
Going for Atlanta is 28-year-old lefty Max Fried, who remains quite thin despite nearly three decades of unhealthy preparation. I'm guessing he changed the pronunciation of his surname just to throw off calorie counters. In any case, he's pitching more or less at his career norms in most categories even though bad luck hampered him in the early going.
Despite walking just one batter and allowing no home runs through three starts, the southpaw has stranded just 58% of baserunners. Most of the damage came in his first outing, however, as he issued the walk in addition to giving up eight hits in that one as five runs came across. His most recent effort in LA saw him throw seven shutout innings with eight strikeouts and just two hits, so perhaps he's found his stride.
There are some notable differences in Fried's repertoire to this point and, while it's possible they're merely a product of the small sample, we should pay attention to them tonight. The first is that his fastball is averaging 95 mph, up a tick from his previous career best. His velo was very consistent last season and wasn't at high as 95 in any single game, so I think this is legit.
The next difference is a big jump in his changeup usage, which is at just over 10% after being at 5% or below the last three seasons. That's a carryover from the World Series, when Fried threw 11 offspeed pitches in the last three innings of Game 6 after having not thrown more than six changeups in any prior game all season. He also topped out at 98.4 mph on the fastball, the highest velo he'd ever recorded.
While we can chalk the radar gun figure up to adrenaline, that masterful performance in shutting down the Astros showed Fried that his change can be a legit weapon no matter who's at the plate. Combined with other adjustments, his splits have flipped markedly from reverse the past two seasons to absolutely dominant against left-handed batters. Things may even out a bit going forward, but that change makes Fried a different pitcher.
In addition to the harder fastball, Fried's firm change is nearly 86 mph and his slider is up 2.1 mph from last season at 86.9 mph. That's not nice for opposing hitters. Though it may sound like hyperbole to say that huge appearance in the Fall Classic impacted the way Fried pitches, it's possible he gained the necessary confidence to simply let all of his pitches rip and beat hitters with strikes.
This looks like a very tough matchup for a Cubs team that thrives on working deep plate appearances and putting lots of runners on base because Fried walks so few batters. Thing is, he's not just pumping strikes. Between the movement on his sinker, the increased changeup usage, and the wicked curve he's had the whole time, he's got the potential to shut down any lineup.
The Cubs will counter with nine right-handed batters, starting with Michael Hermosillo in center (which feels liek a Joe Maddon move) and Seiya Suzuki in right. Patrick Wisdom bats and plays third, Willson Contreras is behind the plate, Frank Schwindel is at first, and Yan Gomes is the DH. Nick Madrigal sings for his supper at second, Ian Happ is in left, and Nico Hoerner is the shortstop.
First pitch from Truist Park is at 6:20pm CT on Marquee Sports Network and 670 The Score.
Here is tonight's #Cubs starting lineup in Atlanta! pic.twitter.com/XV1IXEh5KY

— Chicago Cubs (@Cubs) April 26, 2022