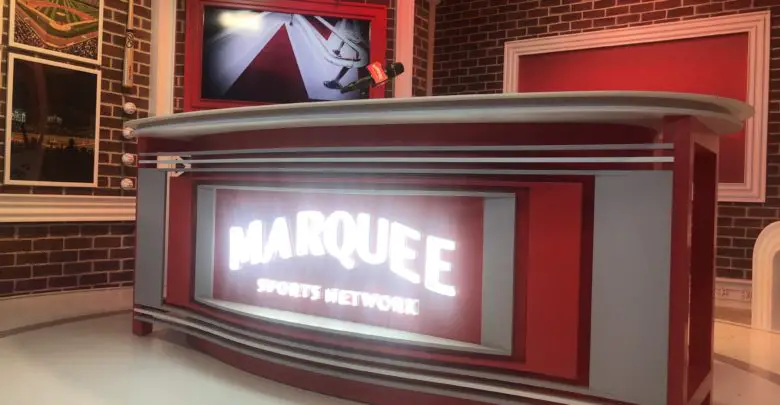 Marquee Sports Network Now Available on DIRECTV Nationwide, Does Not Include Live Cubs Games
Marquee Sports Network and DIRECTV announced today that the network will be carried nationwide on the satellite TV provider. No, that doesn't mean you can now watch live Cubs games if you live outside the MLB-defined local market for the Cubs. It just means you will be able to watch all the other programming on the network not subject to programming restrictions.
It was not announced whether getting Marquee will be part of an upgrade to the basic programming package or not. My guess is that it will require an upgrade to get the channel.
Here's the full press release:
CHICAGO – Marquee Sports Network and DIRECTV today announced an agreement to carry the network on the satellite provider nationwide. DIRECTV, which already carries Marquee Sports Network on channel 664 within the Cubs television territory, will now offer Marquee to consumers across the country, carrying all programming except for live regular season Cubs and Sky games, as well as select local sports programming.
"We are thrilled to now offer Marquee Sports Network to DIRECTV and its customers across the country, giving Cubs fans access to all of our unique programming and studio content," said Marquee Sports Network General Manager Mike McCarthy. "Our goal has always been to deliver Cubs content, as well as all of our programming, to fans nationwide and we're thankful for this expanded carriage agreement with DIRECTV." 
"The addition of Marquee to DIRECTV's Sports Tier further cements our leadership position in regional sports networks across all pay TV providers," said Rob Thun, Chief Content Officer, DIRECTV. "It also gives passionate, displaced Cubs fans nationwide access to popular team content not available elsewhere."
Beginning today, Cubs fans nationwide will have access to exclusive Marquee programming through DIRECTV, including the following shows and much more:
•     Studio coverage throughout the season, including Cubs Live! and Cubs Postgame Live!
•     The Reporters — Sunday morning sports-discussion show featuring Chicago media members
•     Icons of the Ivy — Interviews and roundtable discussions with the greatest players in Cubs history
•     Cubs Classics — Full replays of historic Cubs games
•     Cubs Countdown — Lists of the best games, players and moments in Cubs history
•     Marquee Sports Network documentaries, including features on Ernie Banks (More than Mr. Cub: The Life of Ernie Banks), Harry Caray (The Mayor of Rush Street), Ferguson Jenkins (Glory and Grief: The Ferguson Jenkins Story) and Billy Williams (Billy Williams: The Sweet Swinger)
•     Original interview shows, including Class is in Session with Doug Glanville, Off the Mound with Ryan Dempster and Chris & Tell hosted by Chris Myers
•     Daily and weekly  programming including Follow the Money, The Lombardi Line, Live on the Line and Rush Hour
 Marquee Sports Network earned three Chicago/Midwest Regional Emmy Awards in 2021, including for outstanding achievement in a sports documentary (Mayor of Rush Street) and outstanding achievement in a sports interview/discussion (Class is in Session). 
DIRECTV will continue to carry live Cubs games on Marquee Sports Network on Channel 664 to those authorized subscribers living within the Chicago Cubs television territory. Per MLB policy, DIRECTV's subscribers outside of the Cubs designated television territory must subscribe to the out-of-market  package, MLB Extra Innings, to watch live Cubs games.
ABOUT MARQUEE SPORTS NETWORK: In partnership with the Chicago Cubs and Sinclair Broadcast Group (Nasdaq: SBGI), Marquee Sports Network brings together one of the most iconic sports franchises in the country with one of the largest television broadcasting companies to deliver unparalleled Cubs coverage, as well as additional local live sporting events, including Chicago Sky games, and original programming. Marquee Sports Network is available within the Cubs home television territory in portions of Illinois, Indiana, Iowa and Wisconsin, and is carried on DIRECTV, U-verse TV, and more than 50 cable providers, as well as streaming platforms DIRECTV STREAM (formerly AT&T TV) and fuboTV. For more information, visit marqueesportsnetwork.com/about.
ABOUT DIRECTV: Since its launch in 1994, DIRECTV has continually evolved its product, best-in-class content, service and user experience to provide customers with an industry-leading video offering. DIRECTV offers the industry's best picture format and exciting content in 4K HDR. It is the undisputed leader in sports, bringing NFL Sunday Ticket customers every live out-of-market NFL game, every Sunday during the NFL season. DIRECTV also gives customers the choice of watching movies and TV shows from virtually anywhere – on their TVs at home or their favorite mobile devices via the DIRECTV app. DIRECTV STREAM, the streaming video service, is designed for the household that wants the best of live TV and on-demand, compelling live TV packages, sports and, when using a DIRECTV STREAM device, access to more than 7,000 apps on Google Play. 
DIRECTV products and services are provided or offered by DIRECTV, LLC., its subsidiaries and affiliates under the DIRECTV brand.  DIRECTV, the DIRECTV logo and other marks are trademarks and service marks of DIRECTV or its affiliated companies. Google and Google Play are trademarks of Google LLC.