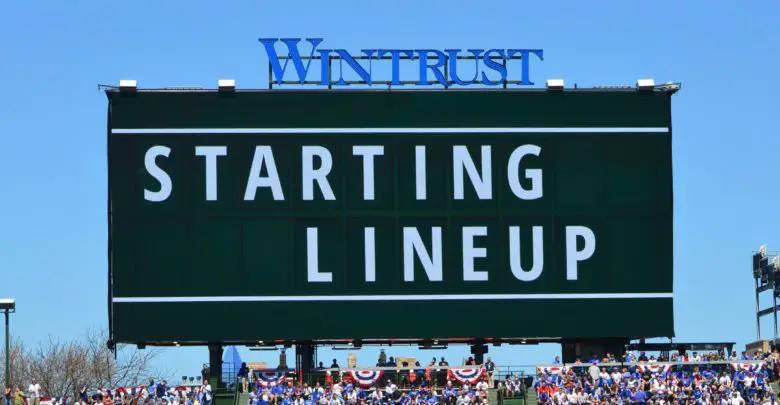 Chicago Cubs Lineup (5/20/22): Schwindel Cleans Up, Morel in CF, Hendricks Pitching on Fergie Day
The game would be getting second billing today even if both teams were atop their respective divisions, but the lack of competitiveness from the home team in particular highlights the pregame festivities even more. That's because the Cubs will unveil a bronze statue of Fergie Jenkins prior to Friday's first pitch in a ceremony that is sure to be more enjoyable than the last two games have been.
Fergie's statue and those of his former teammates have been moved to a new location in Gallagher Way, fittingly dubbed Statue Row. Hey, do I spy two empty pedestals there?
Statue Row will look great when it's completed soon: pic.twitter.com/2zLTHLnhS5

— Mark Gonzales (@MDGonzales) May 18, 2022
Once the action moves to the ballpark, Kyle Hendricks will be on the mound to face the Diamondbacks for the second time in a week. He was excellent in that last one, going 5.2 innings and limiting his opponents to one run on five hits. Getting just two strikeouts was perhaps a little concerning, but Hendricks has posted that total in four games now and his K-rate isn't drastically out of line with his career norms.
Of greater concern for those of us who are always looking for reasons to be skeptical is a 37.5% groundball rate that falls nearly 10 points below his average. He's not giving up many homers, which can either be taken as a very good sign or as a harbinger of bad things to come as the weather warms up. Maybe Hendricks can just get 10 strikeouts and a ton of grounders in this one.
Going for the Snakes is 24-year-old righty Humberto Castellanos, who just started against the Cubs last Sunday. He struck out five and walked just one over 5.1 innings, but a pair of solo home runs allowed the Cubs to stay in the game long enough to stage a late rally.
Castellanos is very deceptive because his motion makes his 90 mph fastball look much harder than it really is. At just 5-foot-11 and with a low three-quarter arm slot, his explosive delivery is indicative of something at least in the mid-90s. Watch him this afternoon and tell me the radar gun doesn't appear to be lying.
Mainly a sinker (33.3%), slider (25.7%), curve (25.1%) guy, Castellanos will mix in a change (8.9%) and four-seam (7.3%) for effect. Recent results aside, he doesn't typically get many strikeouts because he misses bats at below a league-average rate. He doesn't get many grounders either, relying instead on avoiding hard contact in the air and letting his defense do the work.
That should play right into the Cubs' strengths, so it's ironic that their only runs against him last time came via the longball. Both dingers came early, with Ortega and Wisdom going yard to lead off each of the first two innings, but Castellanos settled in after that. In fact, all five Cubs hits and none of their strikeouts came in the first two frames. Once Castellanos started leaning more heavily on his sinker, things changed.
Ortega is leading off in this one, but he slides over to right as Seiya Suzuki gets the day off. Willson Contreras is catching, Ian Happ is in left, and Frank Schwindel is the DH. Alfonso Rivas is at first as he works through a bit of a slump, then it's Wisdom at third, Jonathan Villar at second, and Christopher Morel in center. Ildemaro Vargas rounds things out at short.
I expect this game to come down to which team counters the other's adjustments, or perhaps which executes their own game plan better. That's an area in which the Cubs, particularly their hitters, seem to have been at a disadvantage for the past few years. It's as though they had a static strategy that was great when it worked and easy to pick apart when teams were able to make good on their own plan.
Though the tools are very different in 2022, we've seen a lot of the same hallmarks of an offense that tends to fall asleep with greater frequency than you'd like. Perhaps they'll draw energy from Jenkins, who was a darn fine hitter when he wasn't busy dominating from the mound.
First pitch is set for 1:20pm CT on Marquee Sports Network and 670 The Score, but you can tun into the TV broadcast at 11:30am for the ceremony.
Here is today's #Cubs starting lineup! pic.twitter.com/dDM7mcLipz

— Chicago Cubs (@Cubs) May 20, 2022